Ellen's Dilemna

By John H. T. Stewart, Jr.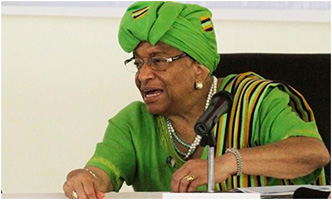 President Ellen Johnson Sirleaf
As the clock ticks to October 2017, so too has the race to replace President Ellen Sirleaf not only begun in earnest but is intensifying with each passing day. Already the number of presidential candidates vying for the nation's top job stands at 12 and the list is not closed yet. As expected, accusations and counter accusations are already being traded and from the look of things, the mudslinging, the parade of lies and half-truths, the posturing, the grandstanding and the continuous spiral into the abyss of what should be a national debate as well as the groveling of critical national issues into the dirt are all likely to continue.
And there has been no shortage of drama either. First it was the attempted arrest of the Movement for Political Change (MPC) political leader, Simeon Freeman who subsequently fled the country citing threats to his life from the powers that be. He (Simeon Freeman) had accused the government, of President Sirleaf, of being the masterminds behind the brutal and mysterious killing of Harry Greaves and further accused the government of organizing a "Hit List" of political opponents and targeting them for execution.
Mr. Freeman has since remained in exile although recent public pronouncements by the authorities stating that Simeon Freeman was no longer wanted for questioning by the Police has apparently proved insufficient to prompt his return to the country. Following in its wake and equally melodramatic was the revelation by transparency watchdog, Global Witness accusing Grand Cape Mount Senator Varney Sherman, House Speaker Alex Tyler and others of involvement in a bribery scam intended to secure favorable legislation for Sable Mining.
And the swift reaction of President Sirleaf to the Global Witness report evidenced by her decision to constitute a Presidential Taskforce to probe and establish the veracity of the allegations and to prosecute where and when necessary raised eyebrows as to the real motives and intent underlying her (President Sirleaf's) decision to constitute such a body. Was it her lack of confidence in the prosecutorial abilities and competencies of both the Justice Ministry and the Liberia Anti-Corruption Commission or what? 
And as if to add more fuel to the explosive mix, President Sirleaf's choice of appointment to head the Taskforce was none other than Liberty Party stalwart, Cllr. Jonathan Fonati Koffa, who had previously served a prison stint in the U.S. following conviction for fraud. But just what was President Sirleaf up to was the question foremost on the minds of the public. Was it a case of "Cunning die, Cunning bury" a Krio saying meaning it takes a wise man to fool another wise man? In other words, was a former crook now being primed to catch alleged crooks?
Indeed the public was abuzz with rumors and speculations that President Sirleaf had, so to speak, unleashed her attack dogs to make mincemeat of Senator Varney Sherman and Speaker Alex Tyler both of whom had earlier crossed paths with her. Senator Sherman is said to have enjoyed a rather tenuous relationship with President Sirleaf lately especially in the wake of his ( the Party's) disavowal of President Sirleaf's favorite son, Robert Sirleaf during the last legislative (senatorial) elections and his virtual takeover of the leadership of the Unity Party.

Speaker Tyler for his part had parted company with the President, organized a political party of his own and declared his intention to contest the presidency in 2017. And in doing so he did not fail to launch a stinging attack on the Unity Party accusing it, among other things, of reneging on its many promises to the Liberian people. According to some political observers, Tyler's move was in apparent response to the snub from President Sirleaf who had earlier refused to honor an invitation from him (Speaker Tyler) to attend the grand opening of his luxury hotel, Jandy's Paradise, on the highway leading to the airport.
At the time it was widely speculated that the President's reason for snubbing Speaker Tyler's grand occasion was because his was a lavish display of stolen wealth which she simply could not dignify by her presence. But whatever may have been the case, it was clear to keen observers who know the President that somewhere down the road she would have thrown wide open the gauntlet and forced both  Tyler and Sherman to make a run.
That time finally did come when Global Witness published its report alleging that Speaker Tyler, Senator Varney Sherman and others had accepted bribes from Sable Mining in order to change concession laws and grant Sable Mining favorable status comparable to that which Firestone allegedly enjoys. And as sure as day follows night, and before the proverbial  40 gods put together could skin a flea, Senator Sherman and Speaker Tyler found themselves facing their nemesis, the "Cunning die, Cunning bury man" waving in their faces an indictment charging them for violating the laws of Liberia.
Moreover and perhaps of overriding concern to President Sirleaf  is what some observers say is her inability so far, owing to Senator Sherman's deft maneuverings in the Unity Party, to determine and decide with finality who succeeds her in 2018. In an apparent attempt to have herself reinstalled in the driver's seat she made a go for it at the recently held Gbarnga Unity Party (UP) convention, securing the post of Secretary-General, Women Wing head, and heads of other important party organs.
And in the opinion of some of her staunchest supporters, she had emerged triumphant despite what they say were attempts to marginalize her and despite the fact that Vice President Joseph Boakai, much to her chagrin, had been overwhelmingly approved by Party Convention delegates as her chosen successor. They (her supporters) cite Eugene Nagbe's election as Party Secretary-General as ample proof of President Sirleaf's sway over the party since his candidacy (Nagbe's) was vigorously opposed by outgoing Chairman Varney Sherman.
But whether such victory can be interpreted to mean that going forward newly elected Secretary-`General, Eugene Nagbe, with a nod of approval from President Sirleaf, will take full reins of control over the Party's direction remains to be seen. It also remains to be seen to what extent newly elected Chairman Wilmot Paye will be able to exert his authority over the Unity Party. From all what it appears, a battle of proxies representing Senator Varney Sherman and President Ellen Sirleaf is likely to ensue.
And, it is at this point where Vice President Boakai will have call into play all his skills that will enable him straddle the divide, seal the rift and heal the wounds. But that rift may not soon be sealed and the wounds healed especially if the Government goes ahead with plans to prosecute indictees in the Sable Mining saga, particularly Senator Varney Sherman. For now the case appears to have stalled for reasons that still remain unclear.  And it remains unclear for the most part whether Government's prosecutorial initiatives are informed by the political context within which these alleged crimes are said to have occurred.
As it appears, Government's politicization of the pursuit of justice, in this case of alleged bribery, has virtually incapacitated its ability to pursue accountability all because, its poor and reckless handling of the matter has served to create and reinforce the impression that the presumption of innocence until proven guilty, a legal principle hoary with age in Liberian jurisprudence, has been grossly disrespected and trampled upon by the Presidential Task force thus detracting from the fairness that respect for the rule of law demands.
And disrespect for the rule of law is indeed a key challenge which cannot be overlooked. Further, the public still remains unsure also of whether Government's current prosecutorial initiatives, in this case, are being driven by a genuine commitment to Criminal Accountability at the political level or, whether this is a political vendetta gone awry. If the former is the case then why are others who have been indicted in official General Auditing Commission (GAC) reports being let off the hook? And so the question on the minds of the public is whether this (prosecution) is a genuine commitment to criminal accountability or is it simply a vendetta?
For example, the mix-up, i.e. the confusing lines of prosecutorial authority between the Presidential Task Force, the Ministry of Justice and the Liberia Anti-Corruption Commission have all helped to reinforce the impression in the minds of the public that Senator Varney Sherman is being especially targeted and the "Cunning die- Cunning bury" man whose purported nomination as Justice Minister was allegedly vigorously opposed by Senator Sherman is the chosen hatchet-man to get the job done. 
Whatever the case, President Sirleaf will have to reconsider her strategy. She must not remain unmindful of the fact that her Government's decision to proceed with prosecutions has raised a lot of expectations that she will also hold accountable those indicted in official GAC reports and they, according to observers, include some family members and close associates. Further, she must remain mindful of the political context within which the alleged bribery of legislators occurred.
To be sure, allegations of bribery of Legislators are not uncommon news in contemporary Liberian legislative history. Representative Bhofal Chambers is said to be on record for accusing President Sirleaf of using bribery as an inducement to secure the concurrence of the House of Representatives on the SIFCA agreement. Then there is the case of Bomi County Senator Sando Johnson who publicly displayed a check said to have been paid to him as a bribe in another deal. And, as is commonly known to the public, Presidential nominees have to pay up before being confirmed by the Senate. And they call it "Common Law Practice".
And lest we forget, Criminal Accountability at the political level is indeed a tall order that will require from President Sirleaf, a lot of nerve and political will and the process may very well outlast her term in office. One thing for sure is that this indictment of a sitting Speaker of the House of Representatives is a precedent which has, to a significant extent, peeled off a veneer of that seemingly impenetrable cloak of impunity that has shielded members of the Legislature from public scrutiny and accountability for so long and this bold precedent can be attributed to President Sirleaf.
But this was not the first bold precedent she had set. It was during her presidency that former Transitional Government Chairman Gyude Bryant was dragged before the Courts to answer to charges of corruption. Again this was a clear signal that going forward, future former presidents could be brought to book for unlawful acts committed during their tenure of office. Apparently, this looming fear of the possibility of being prosecuted after she leaves office is a dilemma which now stares her in the face as she begins the countdown to her exit from office and is one which, for want of a better description, has become her, (Ellen's) Dilemma.
And so President Sirleaf should be mindful of the fact that, with such limited time left in office, there is so much and no more that she can do. She has already, perhaps unwittingly, set into motion a process which could develop dynamics of its own over which she may have little control. And perhaps as wise counsel would suggest, "selective prosecutions" could or should wait. And although Reconciliation has ranked low on her list of priorities she must now begin to up its ante. And no better place to begin than within the ranks of her own party.
To start she must begin to part company with wayside opportunists and power mongers for they are already poised to hop aboard the next "Shoo Shoo Train". And whether she believes it or not, some of her close associates may be or are already making secret overtures to other Presidential hopefuls, especially to Vice President Boakai who many now see as the heir apparent to the throne. Predictably by the end of the second- quarter of next year, many of those now shouting "Hosanna" to President Ellen Sirleaf including family members will have been long gone leaving her to an uncertain fate.
Accordingly, she must studiously avoid those die-hards and greedy power mongers some of whom, in these last few months of her tenure, are mindlessly fomenting new wars and creating new enemies for her. President Sirleaf's term ends in January 2018 but, before that, she must seek to put the country firmly on the path of Reconciliation and that TRC report –long since shelved and now dusty- provides a good reference point in this regard. First in order of precedence, amongst the steps she will have to take is, a National Apology to the Liberian People on behalf of all previous governments for not respecting, defending and upholding their human rights over the course of the country's 169 year history.
Next in line following that all important step/gesture, President Sirleaf should, in keeping with the recommendations of the TRC Report, appoint a National Palaver Hut Commission whose composition, task and terms of reference are outlined in the Report. Thirdly, she should set up a National Reparations Trust Fund and a National Reparations Commission, with the view to commencing the payment of Reparations before she leaves office in January 2018. (The UN Peace Building Fund could prove useful in this regard.)
Undoubtedly, this will require some bold, outside the box thinking and strong political will by President Sirleaf to take the equally bold steps required to see this through. And those steps should be carefully sequenced and appropriately nuanced for maximum effect.  And in so doing, she must be guided by lessons learnt from the failed Peace Building Commission (PBC) whose so called "Road Map to Peace" eventually turned out to be a roadmap to nowhere and which has now left the National Human Rights Commission saddled with a very challenging problem, racing against time to conduct the Palaver Hut .
As such the Palaver Hut program still remains in limbo and there is no telling, given the current outlook that it will commence anytime soon. And time is not on the side of President Sirleaf. As it looks, intraparty feuding is likely to continue, current prosecutorial initiatives against Senator Sherman, Speaker Tyler and others, now stalled, may drag on thru her term of office without securing a conviction before her exit and, the Palaver Hut program, a major adjunct to Reconciliation, still in the doldrums, appears unlikely to takeoff any time soon.

For one thing, President Sirleaf needs to consider the fact that right next door in neighboring Sierra Leone, which is as poverty stricken as we are and which also experienced a brutal civil war, a war directly exported from Liberia, also had a TRC process like Liberia. In that country, in spite of all its economic difficulties and challenges, Reparations were paid and are still being paid to victims of that country's civil conflict. This clearly signaled the all-important fact that the Government of Sierra had recognized their suffering and their status as victims of the brutal civil conflict and that the payment of Reparations, though insufficient in itself, can do much to provide, to some extent, some guarantees, however inadequate, of non-repetition against future gross abuses of human rights.
Admittedly though, much of the funding for Reparations was sourced from the UN Peace Building Fund, the Government of Sierra Leone however made substantial input and contribution to the exercise which I believe is still ongoing. And truth be told, President Sirleaf must be cognizant of the fact that the Liberian people, victims of the civil conflict, of which there exists a huge universe, have a right to Reparations especially from a democracy whose birth pangs lasted through 14 years of excruciating pain, imposing hardships and senseless bloodletting.
And she must correctly be reminded time and again that Liberians do not fit her definition as a "lazy people" neither are they an unappreciative people. And there are sufficient examples in history to establish this. From the building of the Suez and Panama canals and the establishment of vast Spanish owned cocoa plantations in Fernando Po, now Equatorial Guinea, it was Liberian labor involved, involuntarily sought and most often underpaid and working in slave like conditions to create millions in profit from which they did not benefit.
And it is on the backs of Liberian underpaid, overexploited labor that foreign Companies like Firestone, LAC, Guthrie, etc. continue to rake in millions of dollars in annual profits. So the question remains whether it is laziness on the part of the Liberian people or whether it is the dearth of honest, responsible, progressive and accountable leadership over the years that has left its noticeable imprints such as mass illiteracy, very high infant and maternal mortality rates, pervasive poverty and an ever declining sense of moral rectitude encompassing national leadership.

And talking about appreciation, President Sirleaf should be reminded how, in 2005, thousands of ordinary Liberians from across ethnic, social, political and religious divides, in runoff elections, voted her (President Sirleaf) into office as opposed to the ever popular footballer, George Weah, who was then making his first bid for the Liberian Presidency. And they rallied to her call in appreciation of her struggle, over the years, against dictatorship in Liberia and, yearning for good national leadership and in appreciation of all what she had stood for over the years, the Liberian people voted her into office trusting her ability to lead and her promises to make things better for all. How is it that she now finds Liberians unappreciative and lazy?
To sum up, the few remaining months of President Ellen Sirleaf's tenure will indeed prove to be heady given the immensity of the challenges at hand. But Ellen has established for herself, a reputation for toughness and single-mindedness in decision making even against the wishes of her closest advisors. But can Ellen pull it off in spite of these difficult challenges and the complex "to prosecute or not to prosecute" dilemma she faces? Only time will tell!
---
About the Author: Mr. John H.T. Stewart, Jr. is a Freelance Journalist and Former Commissioner of the Truth and Reconciliation Commission of Liberia.

---
---