The Ghost of July 29, 1990

By: Lekpele M. Nyamalon
Monrovia- The story of the Liberian civil war remains incomplete when the horrific memory of the massacre at the St. Peter's Lutheran Church is omitted. In the early morning hours of July 29, 1990, cowards-in-arms stormed the sacred edifice of the St. Peter's Lutheran Church and murdered scores of men, women and children in cold blood. Eye witnesses' accounts speak of the sounds of machetes, gunshots and screams struggling for sound in thin air as armless civilians became preys of blood thirsty armed men.  As a 7-year old child in 1990, I remember my mother had left our home in Matadi and had gone in search of food/relief items and to confer with our Parish Pastor of St. Peter's Lutheran, the Rev. Joseph Allison (sainted memory)

I remember her coming back home slowly, sobbing and explaining to my older relatives about her experience en route to the Church. As a child, I couldn't fathom exactly what had happened nor pin the puzzles clearly, but I knew then that something terrible had happened. Several years on, we are reminded that on that day in 1990, one of the worst forms of atrocities meted against mankind occurred in that edifice.  The Truth and Reconciliation commission's report has documented stories of survivals of the massacre and how uniformed soldiers became perpetrators of violence against armless civilians they should have been otherwise protecting.  The Truth and Reconciliation Commission stated as follow:

'The St. Peter's Lutheran Church  Massacre is a depiction of wide spread massacres committed by various warring factions during the civil war and these massacres are termed widely to refer to individual, civil, or military mass killings where the deaths were  intentional, or the force used was excessive in comparison to a real or perceived threat. Examples include the Massacre in Cow Field, Duport Road, Montserrado County, Massacre at the Episcopal Church, Camp Johnson Road, Massacre at Carter Camp, in Margibi County etc,etc. '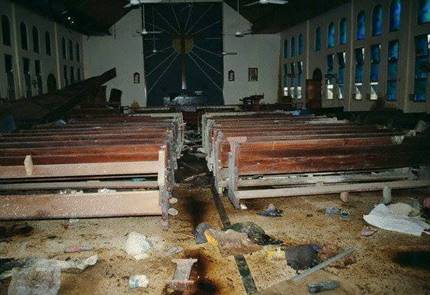 As a member of the St. Peter's Lutheran Church, each time I walk into the compound of that Church, I stumble across the mass graves of men, women and children, whose stories have not been completely told, of people whose accounts have been buried in the graves.  That does not have to happen. We can lift their stories by bringing national and International attention to the events that led to that day.  Up to this day, the blood stains of the victims and bullet ridden windows stare at us to remind us of the blood, sweat and tears and screams of the innocent victims. What can we learn as a nation and people from the massacre of July 29? We may not have a war crimes court to put the perpetrators on trial, but eachtime we commemorate that day, we put fire on the consciences of those who committed those atrocities and make them restless. We put them in prison, eachtime we remember. A failure to do so is to set them loose and vindicated. Lest we forget, those that died didn't have to die under such circumstances.  There is an account of a Jefferson Sonjah whose father was shot and bled to death. Jefferson explained that he had to sit with his father and watch him die. Jefferson's account is the tip of the scores of stories buried in those mass graves. Because many of the survivors had not had the opportunity to tell their stories, an avenue should be set to allow them to freely tell their stories and experiences in the war. Such experiences should be documented and archived.

We can't dig the graves and rewrite them, but we can put the names of the victims on a National monument that each day that passes, a story is written in the minds of generations to come, lest they stumble upon the errors of their fathers and repeat them.  May the souls of the victims and thousand others who were shot in cold blood, by stray bullets, left to die due to illness and killed simply because of their names or how they looked continue to rest in peace and may the light perpetual from above shine upon them.  God bless Liberia!

---
Author's Statement: Lekpele M. Nyamalon is a Poet, Writer, Pan Africanist and the founder of Africa's Life. He is the Author of 'Yearnings of a traveler' a collection of poetry. He can be reached at nyamalon23@gmail.com.

---
---