The Unforgotten Story: Shakie Kamara Deserves Justice  


By Martin K. N. Kollie
Contributor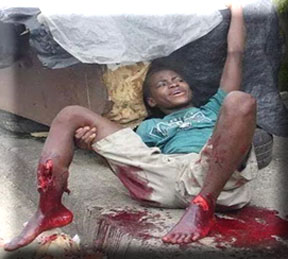 Little Shakie Kamara died in pain
Defense Minister Samukai said Shakie was just cut by barbed wire.
Liberia was engulfed by a fatal disease it has never known in 2014. The Ebola Virus Disease was rapidly ravaging our nation and posing serious risk to its sovereignty. As a result of this deadly plague, 4,810 of our countrymen had to fall prey. After almost 2 years since this common enemy (Ebola) was axed, its scars remain noticeable across our nation. The orphans, widows, widowers and survivors of Ebola are still in a state of discomfort, disbelief and trauma. Getting over such tragedy may not be anytime soon due to its dreadful and overflowing impact.

As our nation inks its gloomy encounter and sad experience with Ebola, this chapter in our national chronicle would be incomplete if nothing is said about a tragic episode that captured public and global concern in the township of West Point on August 20, 2014. On this day in Liberia's largest slum community, a teenage boy laid in a pool of blood after sustaining fatal wounds as a result of the random firing of bullets by untrained and unprofessional soldiers of the Armed Forces of Liberia (AFL).

The scene was pathetic as little Shakie Kamara cried aloud for rescue. The pain he went through before his demise was far beyond his age. As this 15-year-old child cried out loudly for rescue, his murderers had no sense of remorse and compassion to immediately console him either by performing first-aid or by rushing him to a nearby health facility for medical care. It seemed like their action of using lethal weapons and live-rounds against unarmed civilians of West Point on August 20, 2014 was preplanned and well-intentioned. So soon they had forgotten that the use of lethal weapons and live-rounds against armless civilians and peaceful protestors was totally prohibited according to Military Science and International Law.

For almost an hour, Shakie bled in cold-blood from his wounded legs. The severe brunt of the bullet(s) had one of his legs hanging with his bones seriously damaged. Even if Shakie had lived, he would have been amputated for lifetime – What a sad account to narrate! The murderous action by soldiers of the AFL to have used deadly force and live-rounds against armless West Pointers while enforcing an order to quarantine local residents as a means of containing Ebola constitutes murder, which is a first degree felony under our laws.

After 2 days of bleeding profusely, little Shakie Kamara was confirmed dead at the Redemption Hospital in New Kru Town on August 22, 2014. Shakie died of hypovolemic shock, or severe blood and fluid loss according to medical reports. Somebody must take full responsibility for this reckless action, because the blood of Shakie keeps on crying out for justice. Justice must prevail in Shakie's case no matter what.

As Shakie lies restless in his lonely vault, his memory continues to live on especially in the hearts of those who believe in protecting child rights and ensuring justice for juvenile. From the very day Shakie was shot, he has been crying out for justice; unfortunately, his killer is being shielded by big-shots. 
Looking back after 2 years since the death of little Shakie Kamara, his memory is still alive and deeply imbued in our history as a teenager who was murdered in cold-blood by ruthless soldiers. The tragic end of this teenager remains unforgotten by his family, friends, love ones and crusaders of justice. Surely, August 20 of each year does not only renew our courage to demand justice for little Shakie, but it also reminds us that Liberia is a country where a soldier goes with impunity for brutally murdering a teenager. 

We have every reason to believe that access to justice for children is still far from the shores of Liberia as impunity grows teeth. We have every reason to believe that violence against children in Liberia is far from ending. We deserve to know who kill Shakie. No amount of cash can replace Shakie's life. Shakie deserves nothing less, but JUSTICE. Rev. Dr. Martin Luther King said "Injustice anywhere is a threat to justice everywhere." We wonder today why justice is being delayed in the case of Shakie.

Why is the family of 15-year-old Shakie being denied justice? Why is the law so silent in the case of Shakie Kamara? Is it because he does not come from the ranks of the bourgeoisies? Or, is it because he hails from the slum of the plebeians and the lumpenproletariats? These are repeated questions we continue to ponder over. The denial of one's justice simply because of his or her social class, political rank or economic status goes contrary to upholding those fundamental values of democracy, which are inscribed in our constitution and global statutes.

As a means of memorializing the second anniversary of Shakie's death and reaffirming our undying resilience in pursuit of justice for this teenager, family members, friends and love ones including children gathered in the Township of West Point to re-echoe the unforgotten story of August 20, 2014. Amidst the heavy downpour of rain, drum majors of justice and proponents of equality marched from the Conscious African Corner on Benson Street to West Point with the portrait of Shakie Kamara. Saturday, August 20, 2016 was another scene of mourning and paying tribute to honor Shakie.

Our gratitude to the Union of Conscious Africans (UCA) headed by Arthur Wahwehlee, Montserrado Student Union (MONSU) headed by Mohammed Donzo and the Liberian Children's Parliament headed by Speaker Satta Sherriff for organizing such an elaborate memorial service for little Shakie Kamara, which was climaxed by a mass clean-up campaign in the Township of West Point. This shows that Shakie's family is not standing alone in this fight for justice. We too are standing with them until the end…

During the memorial of Shakie Kamara this gone Saturday, his grandparents who he lived with before his demise kept on looking at his portrait in a state of regret, disbelief and grief. Their distressing mood evoked an atmosphere of apprehension and lamentation. As I stood pathetically along with other comrades looking at Shakie's portrait and the outward appearance of his grandparents, my inner spirit became disquieted. Momentarily, I could feel the deep pain and sorrow his grandparents were feeling inward.

Grandma Eva Nah and Grandpa Aballo were again confronted with another heartbreaking moment as they recalled a past that seems too difficult to accept even up to now.  When I spoke to Grandpa Aballo who hails from Webbo in Maryland County, these were his exact words to me:

"My son, it is not easy to be without my grandson, Shakie. Shakie was like everything to us and he was someone who we totally depended on to get most of our works done at home and even in the field. As a plank dealer in Battery Factory, Shakie used to even help me offload my planks and sell them. He was like our backbone. His grandma and I could not do without him. Today, he is no more, and we are really missing him. We miss him a lot. We miss him every day. Almost every night, we miss our grandson. We cannot stop mourning his death, because even today, we have no one to help us. We hope Shakie was around, but he is no more. We hope that those who killed my grandson Shakie will take responsibility for his death."
As I stood listening to Shakie's grandfather speaking in a soft and grief-stricken tone, I was overwhelmed with sympathy and empathy. One keen message I gathered from his speech was "We hope that those who killed my grandson Shakie will take responsibility for his death" The easiest interpretation of this message is that grandpa Aballo needs justice for his grandson – grandma Eva keeps crying out for justice for her beloved grandson –the friends, love ones and sympathizers of Shakie are as well eager to get justice in Shakie's case – the inhabitants of West Point are aggrieved and impatient because Shakie is yet to get justice. We hope that the government will take heed and act fast to ensure Shakie's murderer is identified and brought before the throne of JUSTICE. 

As a youth activist who is very concerned about ensuring Justice in the case of little Shakie Kamara, I would like to recommend that the government:
Set-up a 9-member independent body to thoroughly investigate the death of little Shakie Kamara. This body should consist of representative from the following institutions: Independent Human Rights Commission, Ministry of Justice, Ministry of Gender Children & Social Protection, UNICEF, African Union, PLAN International, CARTER Center, UNMIL and Civil Society Organization. This would eventually lead to identifying Shakie's killer and ensure that Justice prevails.
Construct a Peace and Conflict Resolution Center (PCRC) in West Point to memorialize Shakie Kamara.
Build a Library and Reading Room for Children of Liberia that would be named Shakie Kamara Library and Reading Room (ShaKaLib).
Launch a foundation in honor of Shakie Kamara to educate teenagers, empower girls and boys, and recognize the good works of Liberian children. This Foundation would be called SHAKAM Foundation. 
Provide continuous psychosocial and financial support for the grandparents of the late Shakie Kamara.  
Initiate a one-week dialogue, reconciliation and peace program (clean-up campaign, symposium, sport jamboree, etc.) between the people of West Point and the Armed Forces of Liberia (AFL). Regaining the confidence of the people is very important for the AFL.
---
Author's Statement: Martin K. N. Kollie is a Liberian youth activist, a student leader, an emerging economist and a young writer. He hails from central Liberia, specifically Bong County. Martin currently reads Economics with distinction at the University of Liberia and he is a loyal stalwart of the Student Unification Party (SUP). He can be reached at: martinkerkukla1989@yahoo.com
---
---