Ay-yah!   Ah Bai Seedee  Gurva Wanneh: A Tribute to Ms. Wynn Seedee of Barclayville

By Ray Martin Toe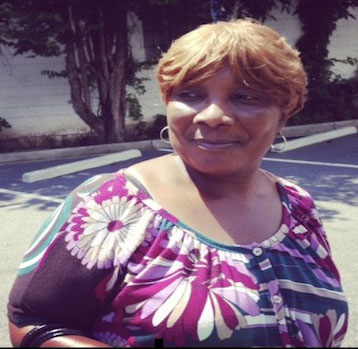 Ms. Wynn Seedee
It is still heartrending to reflect on the short life of Wynnie Seedee - even three years after her untimely passing in the United States. Wynnie suddenly died on July 26, 2013 in Atlanta, Georgia where she was visiting her daughter. She was laid to rest on August 24 in Highland, Maryland.  If Wynnie had woken up on that July 26 morning, she would have picked up the phone and conveyed her July 26 compliments to her many friends and relatives. She would have certainly done the same on that August 24 had she not lain in state to be buried in a few hours.
Yes, courtesy was Wynnie's gift to her diverse friends, relatives and acquaintances. In her courtesy, she especially embodied the spirit of her Kplio kindred. She was a true ah bai, her Kplio catchphrase meaning our sister/brother which she always used to address or greet every Kplio person she came to know. I was close friends with her for 12 years. I therefore have fond memories of her outgoing personality, courtesy and endearment to her kith and kin. I write these few words in remembrance of that courteous Kplio spirit.
The news of Wynnie's passing blew me up. I'd just had a lengthy on-phone conversation with her in spring when she travelled to Trenton, New Jersey to attend a wedding of a Kplio couple--Alonzo Munyeneh and Klahdee Krah. The Alonzo-Klahdee wedding had drawn together thousands of invited guests, including scores of young Kplio people who had travelled from across the United States.  When she realized that I wasn't at the wedding, she had called me up and talked for nearly forty minutes, excitedly describing the reveling at the wedding. She had especially marveled at the spectacle of fashionably dressed young Kplio women and girls who were basking in the merriment of the party.
 "Come and see how modern and trendy our young Kplio women are!" she had said.
 She had later extended me Father's Day as well as 4th of July greetings. So when Jeanette Sonpon-Sarsih called from Minnesota on that 26 Day and gave me the sad news, it was like a nightmare. I know Jeanette Sonpon to be a respectable Kplio woman, but I almost doubted her. But then a call came from Hayford Jarpa, president of the Kplio Association USA. "Maaten, Wanneh kohne-o", (Martin, Wannie is dead), he said in Kplio.  On hearing Jarpa on the phone, my unfounded doubt gave way to sadness which literally had me dumbfounded. I invariably found it difficult to come to terms with the death of this vibrant Kplio woman I had come close to in the United States.
  I then found myself thinking aloud, reciting her catchphrase, progeny, and traditional Kplio name structure, rather than the Anglicized Wynnie Seedee name structure:  Ah bai Seedee Gurva Wannie, Hiah Tawlay Seedee Gurva Wanneh, Gbi Jappah Joplo Tanneh Gurva Wanneh.
Come to think of her poise and the aura that Wynnie Seedee exuded; I came to realize that she was a pedigree of a notable Kplio family. She was the first daughter of the late Senator Thomas K. Seedee of Grand Kru County. Thomas Seedee (alias Seedee Gurva) was a grandson of the venerated Gbi Jappah Joplo of Flenken, one of the major clans in Kplioland.  In the early 1900s or so, Joplo became a Golago (Head of Council of Elders or traditional prime minister) of the Flenken Clan.
Joplo was a contemporary of Wan Nah; the warrior founder of Jufuken, a defunct Flenken town situated 10 miles north of Barclayville City. Amidst encroachments from hostile neighboring clans, Joplo played a pivotal leadership role in maintaining the territorial integrity of the Flenken Clan, its autonomy and unity on the Kru Coast. No wonder, the lyrics of the anthem of the Flenken Clan (Yes, each of the four clans in Kplioland has an anthem!) center round the name and leadership of Gbi Jappah Joplo.
Jappah Joplo had a daughter, named Joplo Tanneh  who in turn gave birth to Sedee Gurva. Amidst erosion of indigenous name structures in Kplioland, Seedee Guva became Thomas Koffa Seedee. 
And by the time Wynnie was born in Barclayville, Mr. Seedee had imbibed the kwi ways that had engulfed the Kru Coast through seafaring, labor migration, missionary and public education.  Rumored in Flenken to have been the incarnate personality of his maternal grandfather,Thomas Seedee had a daring spirit, albeit a controversial personality. He soon established himself as a formidable force to reckon with not only in Wakpeken (Barclayville) but also in what was Kru Coast Territory.
  A veteran public school teacher, Thomas Seedee cofounded A. Doris Banks Henries Junior High School (now Barclayville Central High School)—historically a trailblazer in Kplioland--and became its first principal in 1964.  He was instrumental in granting Barclayville a city status and became the first mayor of the city in the 1970s.
Meanwhile, Thomas Seedee sent his young daughter Wynnie away to be socialized in Harper, the hub of kwi ways in southeastern Liberia.  Thus, for the most part of her short life, Wynnie Seedee lived outside of her ancestral Kplio homeland--whether as a teenager living with people and going to school or as a working adult in Monrovia and in the United States. In Monrovia, she rubbed shoulders with ruling elites on the corridors of power while working as an executive secretary in President William R. Tolbert's Executive Mansion and effectively aiding her father's political ambitions. In the United States, Wynnie worked with  retarded people as a social worker in  Maryland.
Wynnie's trajectory from a rural homeland to the outside world afforded her  the experience of a third culture individual and a viable network of friends and acquaintances which transcended ethnic, social, and cultural boundaries. She maintained this tapestry of friendly ties with her gift of courtesy.
Nonetheless, Wynnie Seedee unpretentiously maintained her Kplio identity wherever she lived. She was a founding  member of Kplio Jaykleh, a Monrovia-based Kplio organization founded in the 1970s to give young Kplio people in Monrovia a sense of belonging. Wynnie was also a founding member of Kplio Association USA, a nonprofit organization founded in the 1990s to bring relief to Kplioland while fostering Kplio unity and identity among Kplio  immigrants in the United States.  
Little wonder, Wynnie Seedee's funeral was a somber but rousing event-- with hundreds of mourners and sympathizers from far and near showing up to pay their last respects and bury the fires of her vibrant life. Her funeral service was held in Mount Zion United Methodist Church, the church she had faithfully attended  in Highland, Maryland for nearly two decades. The church was  especially filled  with hundreds of Kru-speaking Liberians.
Incidentally, this remarkable Kplio woman  was laid to rest in the exclusive Mount Zion Memorial Garden -- amidst Kru drums and dirges echoed by the soul-stirring voice of the famous Kru folks singer Nagbe Senyon of Tijajlu. Founded in 1912 by the Women's Aid Society of the Mount Zion United Methodist Church, the memorial garden had been a white-only cemetery. Wynnie Seedee was the first black person whose remains have been interred there since the Civil Rights Act of the 1960s.

Three long years have gone by, but I still have fond memories of Wynnie Seedee's courteous spirit. The months of July and August evoke not only these memories but also the  indelible void she has left in the Kplio Community, if not in the entire Kru-speaking community in the United States. May her soul rest in peace--in the blissful world of venerated Kplio ancestors.
Ay-yah, ah bai Seedee Gurva Wanneh, Kayken nyonoh.  Mu ne mu muehn, jo!
---
---