5   Key Lessons from Trump Shocking Victory for Liberian Oppositions

By Lee H. Williams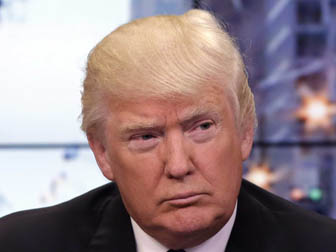 President-Elect Donald Trump
#1: The outside-inside theory of presidential triumphant, as I would like to call this. You cannot claim to be a 'serious' opposition/oppositions when you are considered or seemed to be considered  insider/insiders harvesting  from the very failed status quo, ruling class and elites you claimed you want to change. In short, you cannot be part of President Ellen Johnson Sirleaf and want to defeat her Vice President Joseph Boakai. You have to demonstrate a strong will, commitment, moral clarity for "time to change" by being a true outsider who wants to come in to change the establishment for the best. Trump is an outsider who battled for the white house race and became insider after his victory.
Trump met President Obama, whom he had openly accused of being born outside the US, for the very first time. This is no suggestion that you should not meet President Sirleaf or cut of speech from her, but matter of fact, you cannot make her "god mother" to feed on her-begging for gas slips, allowances, per-diems, air travels, children schools fees, food and virtually everything. Stand on your own feet and be the opposition you say you are, not straddling the fence. He, who controls your stomach and wallet, controls your mind and will power. Trump was viewed credible by voters, as he was an outsider. I will not be surprised, when Unity Party (UP) soon become opposition party to another insider opposition party supported by the president. Imagine a President wanting to support an opposition party. This is an admission of defeat and failed policy by the ruling party and the President. This should be a signal to some of the very few true opposition parties that you do not need the President to win.

#2: Clear, bold, defined and consistent policy messages that repudiated the establishment and rallied supporters for need for unadulterated change that will only come, first by voting and then the implementation follow. Trump message of "Crooked" Hilary. "Corrupt" Hilary. "Rigged" System. "Corrupt" establishment and promises to prosecute Hilary resonated throughout his campaign and among his supporters who believe in him and believe there was a need for change in those areas. Trump promised to "drain the swamp" and his supporters believed that.

Where are the bold consistent policy messages of opposition parties for the last two elections? Which of the insider opposition will be bold to call a spade a spade and stand for Liberian people by being courageous and unrelenting to effectuate such policy of prosecuting Ellen and all corrupt public officials, and guarantee that their ill gotten wealth return to the country's treasury when found guilty and that TRC report at any cost be implemented as a strong deterrence fighting impunity.

All that is heard of from insider oppositions basically are the same, "we will fight corruption and impunity", when asked how they refused to tell you, nobody knows, even the electorates do not know the how. One opposition party senior officials answered to this concerned when asked recently: "We always do mature campaign and politics not to mention prosecuting Ellen and her officials who are corrupt. We will do it when we get there." What is mature about that? Wish Trump had listened to such advice. Be clear to the voters, except you do not believe you will want to implement your promises or do not want to offend your bread winner Ellen Johnson Sirleaf. You have to get the guts when you claimed to be a true opposition.
#3: Trump message: Hilary is President Obama and President Obama is Hilary. Whether this was true or not, Trump supporters saw the need to believe that. Trump message: Hilary worked for the system and establishment for 30 years and there has been no viable change. Trump supporters voted that Hilary was continuity of President Obama. True or false, they were tired of some of the policies of President Obama and a vote for Hilary was a vote for Obama's replication.
Here we have President Ellen Sirleaf, VP Joseph Boakai contesting 2017 presidential election. A vote for Boakai is a vote for Ellen failed and corrupt regime. For two terms Ellen and her cronies drain our resources to the core, signed bogus concessions with huge kick backs with little or no benefits to the suffering masses and country, government 7 times corrupt than previous administrations, corrupt officials feast in stealing public money with joy of always going free, basic social services restoration is purely a failure, rape swells  sky high than any successive administrations with most perpetrators, never brought to court, or brought to court and "escape," or free because of some connection or role in government, education system is a complete jack ass mess and  judiciary contaminated to highest bidders-a failed system!
#4: People power and public official's power are not the same. People power shows that independence and sovereignty belong to the people, by the people and of the people, not recycled public officials and establishment who will always want to decide course of action to protect the corrupt system. When the Liberian people want what they want, they will have to go for it, whether the political field is level or not. Trump has never worked in government before, never being a politician; so you do not necessary have to be a public officials before you get people power.
#5: Sometimes character, temperament and personality, becomes at time, of less concern, when the people going to be actually saved from the lesser of two contradictions. Despite how outrageous and appalling    the slogan during Charles Taylor election "you killed my pa, you killed my ma, I will still vote for you," this was a manifestation of complete frustration over the entire Liberian establishment. Not that the voters were literally happy about the death and destruction of Taylor, they were wearied of the corruption and crooked establishment. What was sad though, he too, Taylor became a big disappointment, but this does not always happen that way for true Savior.
---
Author's Statement: Lee H. Williams is a freelancer who has written articles about social justice issues in Liberia. Some of his articles include, "Liberia: Measuring Budget Performance in the Public Sector - the Way Forward."  He can be reached at williamsleeh@gmail.com
---
---