Matter of Ethics
By: Bai M. Gbala, Sr.
Contributor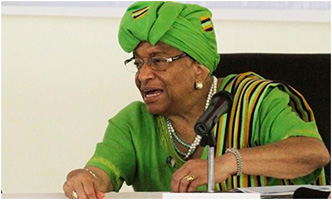 President Ellen Johnson Sirleaf
Indeed, the unprecedented, present-prevailing rising/risen tide of flagrant dishonesty, decadent, moral rectitude of deceit, lies, thievery, graft and greed by highly-placed officials of the Liberian government – the National Legislature, Executive, Judiciary, all other agencies of government, the recent wave of resignations and flight/departure from Liberia - raise serious critical, crucial questions about the credibility, integrity, loyalty, patriotism and Legacy ("to be appreciated") of the "democratically-elected" chief executive officer of the Liberian Nation, Mrs. Ellen Johnson-Sirleaf.  
For, on her proverbial Desk, the Bucks (important, final life or death national Decisions) "stop" or are made.  For more than a century and half, and continuing, in Liberia, "nothing gets done without the practical participation or approval by the President".
Recent cases (there are many forced resignations and flights from the country) in point are the reported and evidence-validated allegations of bribery against presidential legal and economic advisor who operated in close contact with the President from the Executive suites of the Presidency, and other major policy advisors and confidants who confessed presidential support of the action for which bribery was allegedly paid.
Importantly, Human Resource Management having the responsibility and functions to recruit, interview, select, hire and place applicants having the requisite qualifications, not only for successful performance, but also, for protection of the image and integrity of the institution or organization from dishonest and unethical practices. This process depends upon and utilizes the Resume and interviews of former employers for verification of employment experiences and references cited on the resume.
Apparently, this process had not been, and is not being, followed. The Ellen Johnson-Sirleaf Government, for apparent political, economic and personal reasons, had been recruiting, hiring and promoting dual citizens without regard to character and integrity, with disastrous results.
The case of Mr. Sebastian Muah is an excellent example. According to Front Page Africa newspaper (January 6, 2017), Mr. Muah rose from Deputy Minister of Finance for Budgetto Managing Director of Liberia Telecommunications Corporation (LIBTELCO) in a little less than three years. During this time, Mr. Muah was able to "earn" and invest a quarter of a million US dollars, in cold cash, in a Casino not in Liberia, but in Bangui, the Central African Republic. Exposed by the Front Page newspaper, Mr. Muah was forced to resign his position. "What's next"is the question for the Ellen Johnson-Sirleaf Government to answer.
But this is not all. Mr. Muah, perhaps a US citizen, returned home to Liberia from the United States where he states ". . . I am in debt with Wells Fargo (a US Bank) for money I borrowed from them over 50k . . . I would first pay off my mortgage" in a November 5, 2016 e-mail to Front Page.
Similarly, the second example is the resignation of Professor Willie Belleh as Chair of the nation's Public Procurement Concessions Commission (PPCC) who, it may be said, fled from justice.  
According to the Daily Observer newspaper (January 18, 2017), Professor Belleh ". . . is currently on post-surgery consultations in the United States . . . ", a condition made possible for him and several other Ellen Johnson-Sirleaf recruited-appointed confidants & advisors to afford, upon receipt of hundreds of thousands of US dollars in alleged bribe-payments.
The Critical Requirement
To the overwhelming majority of the Liberian People, these resignations and flights from the country, including the recent pomp and pageantry of the Investiture of "Super Minister of Finance & Development Planning", the Honorable Amara Konneh (who was quietly rewarded with recommended appointment and quietly sent to Kenya, away from Liberia for obvious reasons)   are not enough and do not address the problem.
Rather, President Ellen Johnson-Sirleaf must, now, come clean, with resignation, for her mind-boggling, nationally- and internationally-validated numerous acts of plunder, looting, destruction, war, refugees, human suffering and death in Liberia of a quarter of a million Liberians.
Noting the increased level of sharped criticism, specifically, directed at her regime's major policy actions by her traditional, powerful-supporting, wealthy, western nations-dominated International Community, Mrs. Ellen Johnson-Sirleaf, current President of Liberia, sought socio-political cooperation, solidarity, alignment and acquired refuge with African regimes noted for notorious, dishonest and questionable dictatorial tendencies.  
For example, she is, now, the Darling and Chair of ECOWAS Heads of State and Government, including the puppet-regime President, Allansan Ouattara of La Cote d'Ivoire, and the ousted, former President of Burkina Faso, now resident and citizen of La Cote d'Ivoire.  Both Excellences Aided & Abetted Mrs. Ellen Johnson-Sirleaf's military war of invasion or aggression against the Sister Republic of Liberia.
And finally, today, approaching the inevitable retirement, the end of it all, President Ellen Johnson-Sirleaf sought, frantically, but failed the "Kingmaker" attempt to select, name and appoint her successor as president to ensure protection against prosecution after retirement. For, Mrs. Ellen Johnson-Sirleaf is highly to flee Liberia to a friendly African nation, in the event of prosecution attempt for her alleged war crimes.  
---
---