Can Prince Johnson Backed Boakai - Gongloe Ticket Save The Day For VP Boakai & Liberia?

By Jerry Wehtee Wion
Contributor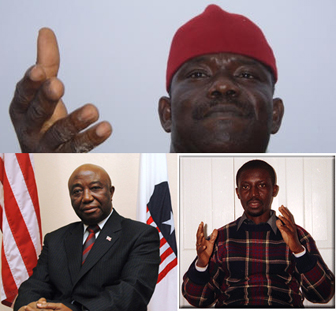 Sen Prince Johnson, VP Boakai and Clr. Gongloe
Should I have waited and kept my mouth shut until Charles Brumskine and VP Boakai pick their VPs? Then the damage would have gone beyond repair. So, our fellow native Liberian politicians, please hear me. But what I don't understand about these native political figures is, why must they run to political parties headed by Congua only to lobby for VP positions? Why? Are they not good enough to head the ticket and ask Congua or whoever to be VP to them?

Or why couldn't Harrison Kanwea and Jeremiah Sulunteh and Joe Boakai work out a deal to have one of them go as VP to Boakai; Boakai would then agree to serve one term at his age, then his VP moves up and pick the other person to be the VP? It would mean a win-win situation for native candidates and voters.


What is this notion that after nearly 170 years of so-called independence that natives who constitute 95 percent of the population have produced just one President, Samuel Kanyon Doe out of a total of 24 presidents? And here we are with our big native politicians fighting to be VPs to Congua? There is a curse hanging over natives from the century-plus years of native marginalization by the Congua that we natives don't see any good in ourselves. Sad indeed.

I have written so many times about historic importance of native unity so we can take our country back from these political vultures and vampires whose only interest is to enrich themselves while our people wallow in grinding poverty. Why wouldn't natives Joe Boakai, George Weah, Jeremiah Sulunteh, Harrison Kanwea and Prince Yormie Johnson work together for an unstoppable tribal coalition? Now some of them are crawling for crumbs and bones that fall from the master Congua dinner table.

Everyone is abandoning the Unity Party that put clothes on their backs, roof over their heads, food on the table and money in their pockets all because a native man, Joe Boakai is heading the party. But they were all comfortable when Congua Ellen ran the show. So they must run now to other Congua talking about how they have been marginalized in the Unity Party, and running to Charles Brumskine who and both Charles Taylor and Ellen masterminded the genocide that whipped out promised entry of native politicians from both Nimba and Bong Counties: Jackson F, Doe, Same Dokie, Moses Dopoe, Emoch Dokoleah of Nimba and Gabriel Kpolleh of Bong.


This leaves Prince Johnson and Tiawonn Gongloe to try and work with VP Boakai and see reason for Nimba and its elders to put forth someone for consideration as VP to Boakai. If Sulunteh goes with Alex Cummings and Jewel Taylor now with Weah, Bong County is not a sure bet anymore just as Nimba is with Kanwea bolting the Unity Party running to Brumskine. But Prince Johnson still holds sway as kingmaker in Nimba. Young Tiawon Gongloe, with the endorsement of PYJ and the Chiefs of Nimba could then deliver Nimba, the second vote-rich county next to Montserrado as the knockout punch in round one for Boakai in October.

That our educated natives feel they can fare any better as VPs under a Congua is simply to look back and see how Jackson Doe was overlooked by William Tolbert and the TWP who went for James E. Greene as VP. Or still, Enoch Dokoleah and Moses Blah under Charles Taylor and now Joe Boakai under Ellen Johnson Sirleaf. When are we tribal politicians going to learn from history and our mistakes? And we all know how Ellen is supporting Congua Charles Brumskine to protect her interest when she leaves office in about 10 months. Wake up native people and smell the fire or we could be holding our heads and cry again. Da me say so.

---
About The Author: Jerry Wehtee Wion, Journalist and Political Commentator, Washington,,DC, USA

---
---