PRINCE JOHNSON:   Liberia's Most Notorious Murderer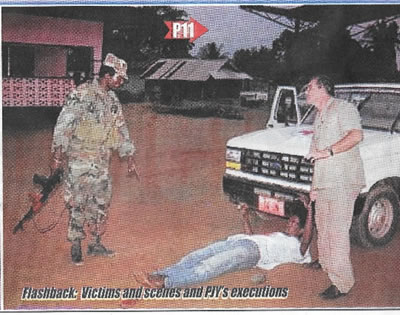 "A tree is identified by its fruit. If a tree is good, its fruit will be good. If a tree is bad, its fruit will be bad. You brood of snakes! How could evil men like you speak what is good and right?"
Honorable Prince Y. Johnson, an honorable member of the Liberian Senate is a notorious murderer!

His killings of innocent civilians outside the theater of war, coupled with other crimes of war against humanity was egregious and a moral outrage. The incident of murders committed by Hon. Prince Johnson during the civil war in Liberia was outstanding in a class of its own, having no match or comparison to any other warlord or perpetrator of crimes against humanity in the Liberian civil war, even for the limited period he was active.

Honorable Prince Johnson was on a murderous spree during the war in Liberia. He performed his murders, executions, and deprivations mostly in the public glare. The eye witnesses to his murders, execution, hostage taking, kidnapping and sexual slavery are numerous. Many Liberians know and saw our Honorable man in action and will never forget!

The singular crimes, murders committed by Honorable Prince Johnson personally as the leader of the disbanded Independent National Patriotic Front (INPFL) warring faction, which he founded and led as "Field Mashall" exceeded, without comparison, all the crimes committed by all members of his INPFL combined. Also, the disbanded MODEL warring faction committed fewer incidents of war crimes and murders than Honorable Prince Y. Johnson.

Honorable Prince Y. Johnson will be prosecuted
Honorable Prince Y. Johnson is an honorable man, but he is a notorious mass murderer. He does not deserve recognition as he is craving, he deserves justice!

Honorable Prince Y. Johnson, like several others, will be tried and prosecuted for war crimes and crimes against humanity as justice demands. He deserves to be sentenced and put behind bars for the rest of his useful life just as his leader, former President Charles G. Taylor.  For the crimes of murders, public executions, property destruction, abductions, kidnappings, cruel and inhumane treatments of civilians, mass displacement, hostage taking, recruitment of children soldiers, sexual imprisonment and slavery, and many others crimes the "honorable man" committed. Until he faces a trial court, Prince Johnson stands accused and will never be exonerated otherwise. A guilty conscience needs no accuser and will always flee or fear justice.

Nowhere to run, nowhere to hide
The wheels of justice continue to spin slowly. But it never stops turning. Honorable Prince Johnson and several others who committed war crimes and crimes against humanity will be prosecuted. There is no statute of limitation on prosecution for war crimes. No matter how long it takes, they will be prosecuted and brought to justice. The end is nearing and no matter where they hide, they will be exposed and in due course, arrested!

Not every former fighter will be arrested, in fact, most former fighters will never be touched only those who committed war crimes and deliberately killed many people will be arrested and brought to justice. It is worth noting that Honorable Prince Johnson stands alone in his class of veteran murderers. NO OTHER FORMER FIGHTER IS ATTACHED TO HIM OR WILL JOIN HIM.
No moral equivalence
Prince Y. Johnson has no moral authority or standing to speak about good or bad; right or wrong with war crimes charges hanging over his head for war crimes he mostly committed during times of peace, or ceasefire away from any war theater when he deliberately targeted and killed civilians. Hon Prince Y. Johnson cannot compare his acts and deeds of war crimes deliberately committed against innocent civilians away from the theaters of war to situations of accidents and mistakes or where the enemy deliberately uses civilians as human shields unbeknown to a coalition of international forces clearly on the onslaught of the enemy positions. A subsequent investigation of recent events will determine the extent to which the enemy exposed civilians to danger or that which is most likely that the enemy deliberately bombed the building as they fled international coalition onslaught, leaving civilians exposed in either way to the danger of being bombed in the building or suffer international coalition air strikes.

There is no moral equivalence to the crimes Honorable Prince Johnson has committed, mostly away from the theaters of war and the accidental casualties from the war theaters of Syria, Iraq, for example, to assuage his conscience. It is abundantly evident that the international community adopts extreme measures to preserve civilian lives and properties during times of international conflicts, especially in recent conflicts such that civilian casualties are purely accidental, a mistake and never a criminal scheme intentionally targeting civilians. 

Reminder to the Liberian People – don't vote for war and economic criminals
Don't vote for any of them! Don't vote for anyone who killed your people or steal public money – that is human rights violators and economic criminals.

These people are never in the interest of the Liberian people and do not deserve to be working for Liberian people. They cannot work for the Liberian people and work against them at the same time. Then who are they – opportunists!

Signed:
Jerome J. Verdier, Sr (Cllr)
Jerome J. Verdier, Sr (Cllr)

---
---