Dutch court makes legal history in sentencing timber baron Gus Kouwenhoven to 19 years for war crimes and arms smuggling during Liberian civil war

Press Release Issued by Global Witness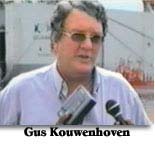 The conviction of Gus Kouwenhoven by the Dutch Appeal Court for war crimes and arms smuggling during the height of Liberia's brutal civil war is an historic victory for the Liberian people, said Global Witness today. The landmark ruling sends a clear message that those who profit from war will be held to account, and sets a significant legal precedent in recognizing that trading arms for natural resources is a war crime.

Kouwenhoven was head of the Oriental Timber Corporation (OTC) during the regime of dictator Charles Taylor, who waged a brutal war against the people of Liberia and Sierra Leone. This campaign, which claimed over 250,000 lives, was funded largely through the sale of diamonds and timber plundered from Liberia's rainforests. After a lengthy appeals process today's historic ruling finds Kouwenhoven guilty of delivering weapons to the regime of former Liberian President Charles Taylor, in return for special treatment for his timber company.

The tenacity of the Dutch Authorities in pursuing this case despite significant challenges now means that two backers of the Liberian civil war will soon be behind bars. Charles Taylor was convicted in Sierra Leone in 2012 on 11 counts of war crimes and crimes against humanity, and is now serving 50 years in jail in the UK.

"This verdict sends a clear message to those who profit from war - they can and will be held to account. If you buy natural resources like timber in full knowledge that you're helping to fund a conflict or trafficking arms, there's only a cheque book between your company and the murder of thousands of people, in this case over 250,000." said Patrick Alley, co-founder of Global Witness.

Alley continued, "We applaud the Dutch authorities for their vision in charging Kouwenhoven back in 2005, for their tenacity in pursuing the case for so long and for imposing this sentence. Whilst this can never make up for the countless Liberian lives lost and ruined by Kouwenhoven's murderous business model, it will at least mean he faces consequences for his crimes. Too often those who profit from war go unpunished, which in turn encourages further abuses."
Warlord Charles Taylor
Global Witness first documented the involvement of Kouwenhoven in illegal logging and arms trafficking in its 2001 report, Taylor Made. Kouwenhoven was placed on UN travel ban list in 2001 and in July 2003 sanctions on Liberian timber were put in place, on the grounds that timber was being traded by rebel and government forces in exchange for arms, thereby fueling the civil crisis.

OTC, also known also as 'Old Taylor's Children' or 'Only Taylor Chops' because of its close ties with the former President, was the most notorious logging company in the country, dominating the Liberian timber industry with 1.6 million hectares of concessions.

Many European timber companies such as the Swiss/German Danzer Group and the Danish DLH Group – who claim to be one of the world's leading timber traders - bought timber from Kouwenhoven in full knowledge of his close links with the brutal dictator, yet have never been held to account. Any companies that bought timber from Liberia during Taylors' rule should also face prosecution for aiding and abetting war crimes.
---
---