NEC Chairman Korkoya Falsified Liberian Citizenship, Lied Under Oath and Violated Other Laws of the Land

A Letter Sent to President Sirleaf by the National Democratic Coalition

H.E Madam Ellen Johnson-Sirleaf
President
Republic of Liberia, and Chairperson of ECOWAS
Executive Mansion Capitol Hill Monrovia, Liberia
17 April 2017
Madam President:
We bring you warm Easter greetings and heart-felt facilitations.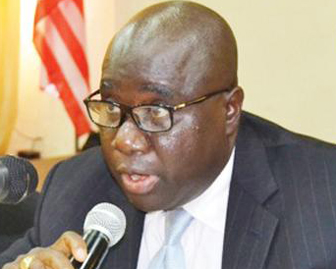 NEC Chairman Jerome Korkoyah
The National  Democratic Coalition  (NDC), comprising  two  of  Liberia's  foremost  political Parties - the New DEAL Movement and the Free Democratic Party (FDP), both signatories to the Accra Comprehensive Peace Agreement (CPA) that successfully brought peace to Liberia, has in its possession, prima facie evidence that the current Chairman of the National Elections Commission, Cllr. Jerome George Korkoya, is a citizen of a foreign country, the United States of America.
Madam President, to have a foreign citizen knowingly and openly preside over our national elections without the political will to take the appropriate action required against such a character is an insult to our statehood and hard-earned democracy as a people; it also amounts to gross disregard for the laws of the land which all public officials (elected and appointed) took oath to uphold, defend and protect, including yourself, as Head of State and Government.
Cllr. Korkoya acquired his American citizenship by naturalization through the pledge of an oath of allegiance to a foreign state, and in so doing, he correspondingly renounced his original citizenship by birth as a Liberian. Accordingly, a foreign citizen masquerading as a Liberian, who took oath to become NEC's National Chairman,  Cllr.  Korkoya falsified Liberian citizenship, lied under oath and violated other laws of the land.
In view of the gravity of the matter under consideration, and in order to preserve the credibility, integrity and legitimacy of the processes and outcomes of the 2017 elections under review, the NDC calls on you, Madam President, in upholding the laws of Liberia, to dismiss your current Chairman of NEC with immediate effect, and have him turned over to the Ministry of Justice for further investigation, indictment and subsequent prosecution for crimes committed against the Liberian state.
Madam President, Chairman Korkoya as an American citizen holds an American passport issued on March 18, 2010, with the expiration date of March 17, 2020. His US passport bears the number:  4670780024.  While holding an American  Passport  as  an  American  citizen,  Cllr. Korkoya simultaneously criminally acquired a Liberian Diplomatic Passport (expired, copy herewith attached).  He fraudulently used his diplomatic passport in transit countries between the United States and Liberia.  Please find copies of said passport attached.
It should be further emphasized that dual citizenship is illegal and legally impermissible within the Republic. The action by the Chairman of NEC is a gross criminal legal breach. These acts of duplicity and incredibility in Government by public officials must be firmly checked within the context of respect for the rule of law and the tenants of democratic governance.
Section 22.1. of the Aliens and Nationality Law of Liberia, Title 4, Liberian Code of Laws Revised, approved May 15, 1974, establishes the following grounds for loss of Liberian Citizenship whether by birth or naturalization as in the current case under review:
(a)       Obtaining naturalization in a foreign state upon his own application, upon the application of a duly authorized agent, or through the naturalization of a parent having legal custody of such person…
(b)        Taking an oath or making an affirmation or other formal declaration of allegiance to a foreign state or a political subdivision thereof; or
(c)       Exercising a free choice to enter or serve in the armed forces of a foreign state, unless, prior to such entry or service, such entry or service is specifically authorized by the President;
(d)       Voting in a political election in a foreign state or voting in an election or plebiscite to determine the sovereignty of a foreign state over foreign territory; or;
(e)        Making a formal renunciation of Liberian nationality before a diplomatic or consular officer of Liberia in a foreign state in such form may be prescribed by the Secretary of State.
Additionally, Chairman Korkoya has violated 1.3.6 of the National Code of Conduct, bordering on "Conflict of Interest". Other laws violated include, sections 12.30 and 12.31 of the Penal Code of Liberia, representing acts  of  Perjury  (lying  under  oath)  and  misinformation, respectively. He has also violated other provisions of the Alien and National Law and the Penal Code of Liberia, including citizenship falsification and criminal impersonation. By these violations, Cllr. Korkoya as Chairman of NEC, has illegally managed strategic state resources and information, and has generally duped the Government of Liberia.
Madam President, you are aware that the 2017 General and Presidential Elections are very crucial to a peaceful and orderly transfer of power from one constitutional administration to the other. The processes and outcomes of the impending elections, as a matter of urgency, as stated supra, must   therefore   be   politically, morally   and   legally   credible   and   legitimate.
As the current Chair of ECOWAS who has been involved in mitigating post-elections crises in the Sub-Region, you cannot afford to allow the 2017 Elections to degenerate into confusion and the subsequent breakdown of law and order on account of personal interests in government that are countered to the larger national security interest of the country, during these last few months of your administration.
Madam President, election-related political violence can be avoided and essentially guaranteed by the unimpeachable characters of the men and women appointed as officials of the National Election Commission (NEC), particularly its Boards of Commissioners, including the Chair, who must be a Liberian and an upright personality with the virtues of integrity, transparency, accountability and honesty, and as well be divested of all forms of dubious records.
We should be reminded that fraudulent management of elections by men and women without integrity has historically served as sparks of violent conflicts in Liberia.    For instance, the 1985
Elections, its gross manipulations in favor of the incumbent Head of State sparked the 1985 abortive coup, the adverse consequences of which culminated into the 14 years of rebellious armed conflicts that destroyed the nation.  Much earlier, the ignominious rigging of the 1930 elections by the sitting President provoked the Fernando Po Crisis that caused the President C.D.B. King and his Vice President to abdicate power.
Madam President, these  are  historical  presidencies,  you  as  a  onetime  opposition  leader  in
Liberian politics, are very familiar with.
Looking forward to your timely response in upholding integrity within the public service, we remain in the premise.
AFRICA IS RISING! LIBERIA FIRST!
Respectfully yours,
| Ciapha Saah Gbollie | Dr. Nyanquoi K. Kargbo |
| --- | --- |
| Acting National Chair of the NDC | Political Leader |
CC:
The Honorable Speaker of the House of Representatives
The Liberia National Students Union
The Press Union of Liberia
The Honorable President Pro Tempore of the Senate
H.E. Excellency the US Ambassador to Liberia
The SRSG/UNMIL
H.E. ECOWAS Ambassador to Liberia
H.E. AU Ambassador to Liberia
The National Civil Society Working Group
The Liberia Council of Churches
The National Muslim Council
The Federation of Liberian Youth The Liberia Traditional Council NDI Resident Director
NEC Commissioners: Hon. Sarah Jegede Toe Hon. Jonathan K. Weedor Hon. Samuel Joe
Cllr. Jeanette A. Ebba-Davidson Hon. Davidetta Browne-Lansanah Hon. Boakai A. Dukuly
---
---