"Liberia and every Liberian could prosper if public finance is managed in the most disciplined way," Says IMF Christine Lagarde

By Martin K. N. Kollie
Contributor & Youth Activist

Editor's Note: The Editorial Board of the Perspective Web Site contacted Mr. Martin Kollie to submit the budget documents to support his budgetary numbers after discovering that he understated the total amount of the six Spending entities of the 20176/2017 Liberian Budget. For example, the Office of the President is reported to have used $14,718,651.00 according page #10 of the 2016/2017 Liberian Budget and not the $3,943,340 million Mr. Kollie reported in the article. The General Allownce for the Office of the President is $881,629 as compared the $119,844 reported.

Also, the $2,431,003 million figure he reported for the Office of the Vice President is correct; however, he mistakenly stated that the Office of the Vice President used $215,688 as Special Allowance. The 2016/2017 Liberian Budget shows that the Office of the Vice President used $36,538 and $79,597 as Special Allowance and General Allowance respectively.  

The Editorial Board of the Perspective feels obliged to add this statement since Mr. Kollie has publically discussed these numbers and other Liberian local news media have carried this article without correcting the numbers.
In a period of 12 months (FY2016-2017), Liberia is spending over US$10.2 million on just six (6) public offices, namely: President, Vice President, Speaker, Senate Pro Tempore, Deputy Speaker and Chief Justice. The budget of these six offices far exceeds the two biggest referral hospitals in Liberia: JFK Medical Center (US$5.3 million) and Jackson F. Doe Hospital (US$2.9 million). Where does the interest of the people lie? The budget of these six offices in 12 months could pay 571 medical doctors per annum (a doctor currently receives US$18,000 per year in Liberia). Even though Liberia has a broken health sector with just 298 medical doctors to a population of 4.5 million people (1 doctor to 15,100 people in contrast to WHO's doctor-patient ratio of 1 doctor to 5,000 patients), but the Ministry of Health said about 3 days ago that there is no money to employ more doctors. No money to employ more doctors, but there is money to pay for the medical bills of government officials abroad and increase their salaries and allowances annually. No money for doctors now, but there was money to spend US$55.3 million in just 7 years (FY2006 – 2013) on buying very expensive cars for government officials (LIPI 2013 Report).
This is a financial summary of THE BIG SIX for fiscal year 2016-2017:
President – US$3,943,030
Vice President – US$2,431,003
Senate Pro Temp – US$1,369,423
Speaker – US$1,000,370
Deputy Speaker – US$930,132
Chief Justice – US$616,374
Total – US$10,290,332            
Liberia has a long way to go in so far managers of its resources care more about themselves than those they serve. A nation is doomed when self-interest suffices public interest. I agree with the International Monetary Fund through its Managing Director Christine Lagarde when she said in September 2015 "Liberia and every Liberian could prosper if public finance is managed in the most disciplined way."

Officials of government in Liberia, especially higher-ups, continue to get lucrative salaries in the midst of extreme poverty and harsh economic conditions. Though the national budget of Liberia now is US$600.2 million with a Direct Foreign Investment of over US16.9 billion, but nothing really justifies these huge numbers. The fact of the matter is a handful of Liberians continue to live in luxury at the expense of the struggling masses that have the inherent POWER.

Having written two separate articles calling for at least 30% cuts in the astronomical salaries and benefits of senior government officials, I thought it would be important as well to focus briefly on the BIG SIX since they are in a better position to even effectuate this change. Change through appropriate cuts in astronomical salaries and benefits must begin with THE BIG SIX in our government. This cut-approach could curtail wasteful spending and save millions of dollars to improve the appalling condition of the ordinary people. This approach is working in countries like Tanzania, Ghana, Rwanda, Senegal, etc. Why is Liberia even spending over 80% of its national budget on recurrent expenditure? In fact, there are too many priorities/items repeating in the National Budget. For example, what is the difference between special project and special operation? Is Liberia really ready for CHANGE? The choice to CHANGE Liberia for good lies with every Liberian in October 2017.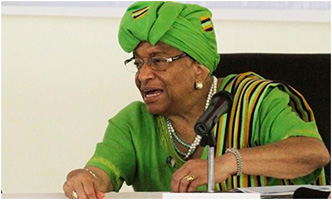 President Ellen Johnson-Sirleaf
Beyond this analysis, it is patriotically sensitive and rational that the BIG SIX (President, Vice President, Speaker, Senate Pro Temp, Deputy Speaker and Chief Justice) willingly and collectively decide to cut their salaries and benefits. If this landmark and patriotic decision is taken, it could lead to cuts in the salaries and incentives of Lawmakers, Ministers, Managing Directors, Consultants, Board Members, Directors, etc. What a perfect example and way to go. The BIG SIX must lead by example. Until our leaders can begin to understand more practically that national leadership is about service and not self-enrichment, Liberia is on a journey to nowhere even after 170 years. The budget analysis below is excluding consumption of fixed capital and grant. Now, follow me as we reveal THE HARD FACTS.
OFFICE OF THE PRESIDENT (US$3,943,030.00 IN 12 MONTHS)
Basic Salary – US$75,000
Special Allowance – US$90,000
Foreign Travel – Means of Travel – US$276,000
Foreign Travel Daily Subsistence Allowance – US$210,000
Foreign Travel Incidental Allowance – US$105,000
Domestic Travel Means of Travel – US$112,500
Domestic Travel Incidental Allowance  - US$239,686
Fuel and Lubricant – Vehicle – US$330,000
Repairs and Maintenance – Vehicles – US$85,000
Stationery – US$20,000
Printing, Publication and Binding – US$60,000
Consultancy –US$550,000
Special Presidential Projects – US$650,000
Special Operation Services – US$270,000
General Allowance – US$119,844
We are spending US$550,300.00 just on consultancy for President Sirleaf's office in 12 months. This could pay 353 public school teachers per year in Liberia (US$130 is the average net wage per teacher in Liberia currently).

We are spending US$650,000.00 on Special Presidential Projects and US$270,000.00 on Special Operation Services. What is the difference between Special Presidential Projects and Special Operation Services? Why are we spending this huge sum of money when 3.7 million people lack access to sanitation in Liberia (WaterAid International 2016)?

We have challenged them to show us those special projects and operations, but to no avail up to now. So, this means that we are spending almost a million (US$920,000) just on presidential projects and operations. This could pay 361 nurses and 225 immigration officers per year.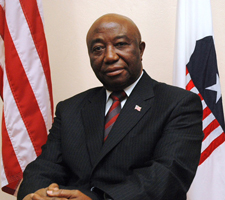 Vice President Joseph N. Boakai
The annual budget of the office of President Sirleaf is US$3,943,030. This is even more than what the second largest referral hospital (Jackson F. Doe Hospital) in Liberia gets per annum (US$2,966,095). This justifies why our health sector is so weak and why over 4810 of our countrymen had to die from Ebola (May their soul rest in peace).
OFFICE OF THE VICE PRESIDENT (US$2,431,003.00 IN 12 MONTHS)
Basic Salary – US$109,188
Special Allowance – US$215,688
Foreign Travel – Means of Travel – US$113,000
Foreign Travel Daily Subsistence Allowance – US$112,000
Foreign Travel Incidental Allowance – US$50,000
Domestic Travel – Daily Subsistence Allowance – US$512,116
Telecoms, Internet, Postage and Courier – US$20,440
Fuel and Lubricant – Vehicle – US$70,755
Fuel and Lubricant – Generator – US$111,176
Repairs and Maintenance – Civil – US$12,000
Repairs and Maintenance – Vehicles – US$89,936
Repairs and Maintenance, Machinery Equipment – US$2,900

Stationery – US$35,120

Consultancy Services – US$36,000
Food and Catering Services – US$38,004
Entertainment and Gifts – US$79,596
Operational Expenses – US$133,032
General Allowance – US$524,052

We are spending US$215,688.00 as special allowance alone on VP Joseph Boakai. This is even more than what AMEU (US$50,000), AMEZU (US$50,000), Stella Maris Polytechnic (US$40,000) and St. Clement University College (US$50,000) receive as subsidies.



Speaker
Emmanuel Nuquah

We are spending US$79,596.00 on entertainment and gifts for VP Boakai. This could pay the tuition of 1,380 students at the University of Liberia per semester. The annual budget of VP Joe Boakai's office is US$2,431,003. This exceeds the budget of both the Liberia Coast Guard (US$240,000) and the Drug Enforcement Agency (US$1,845,518). No wonder why Liberia has too many illegal immigrants with drug abuse and mental illness on the increase

OFFICE OF THE SPEAKER (US$1,000,370.00 IN 12 MONTHS)
Basic Salary – US$65,210
Special Allowance – US$285,303
 Foreign Travel – Means of Travel – US$31,650
Foreign Travel Daily Subsistence Allowance – US$33,417
Foreign Travel Incidental Allowance – US$33,656
Domestic Travel Means of Travel – US$12,000
Telecoms, Internet, Postage and Courier – US$3,000 
Residential Property Rental and Lease – US$6,000
Fuel and Lubricant – Vehicle – US$117,960
Fuel and Lubricant – Generator – US$47,256
Repairs and Maintenance – Vehicles – US$10,000
Stationery – US$15,000
Printing, Publication and Binding – US$12,006
Newspapers, Books and Periodical - US$6,000
Other Specialized Material – US$30,000
Local Scholarship – US$15,000
Entertainment and Gifts – US$4,500
Operational Expenses – US$15,000
General Allowance - US$132,065

In 2015/2016 fiscal year, the special allowance of the Speaker was US$72,000. But it has increased this fiscal year (2016/2017) to US$285,303. This is 396.2% increment while education is a mess in Liberia. This could pay 151 police officers per annum. In a period of 12 months, we are spending US$1,000,370 on the office of the Speaker alone.



Pro temp Armah Z. Jallah  

The budget of the Speaker's office goes beyond what we give to the National Commission on Disabilities (US$470,976) and Palace of Correction (US$380,982). We are spending this money on the Speaker's office alone when 1.1 million of our people lack access to safe water (WaterAid International 2016) while 81.86% of our population remains poor (UNDP HDI 2015 Report).

OFFICE OF THE SENATE PRO TEMPORE (US$1,369,423.00 IN 12 MONTHS)
Basic Salary – US$105,227
Special Allowance – US$362,000
Foreign Travel – Means of Travel – US$29,849
Foreign Travel Daily Subsistence Allowance – US$22,478
Foreign Travel Incidential Allowance – US$2,415
Domestic Travel Means of Travel – US$7,800
Telecoms, Internet, Postage and Courier – US$3,360
Residential Property Rental and Lease – US$3,358
Fuel and Lubricant – Vehicle – US$84,850
Fuel and Lubricant – Generator – US$33,408
Stationery – US$15,000
Printing, Publication and Binding – US$4,477
Other Specialized Material – US$54,411
Local Scholarship – US$6,028
Entertainment and Gifts – US$22,943
Operational Expenses – US$15,000
Constituency Visit – US$33,589
General Allowance – US$277,562

In 2015/2016 fiscal year, just the special allowance of the Senate Pro Tempore was US$78,000. But it has increased this fiscal year (2016/2017) to US$362,000. This is 464.1% increment when the salaries/wages of civil servants cannot even be increased by 5%. Can you imagine? Let the public judge!



Dep. Speaker Hans Barchue

The special allowance of our Senate Pro Tempore in 12 months is more than what we give to SD Cooper Hospital (US$50,000), ELWA Hospital (US$150,000) and St. Joseph Catholic Hospital (US$150,000) combined. The budget of the Office of the Pro Tempore in 12 months is US$1,369,423 when infant mortality rate in Liberia is 1,072 deaths to every 100,000 lives according to World Health Organization.

OFFICE OF THE DEPUTY SPEAKER (US$930,132.00 IN 12 MONTHS)
Basic Salary – US$64,740
Special Allowance – US$244,057
Foreign Travel – Means of Travel – US$14,400
Foreign Travel Daily Subsistence Allowance – US$32,461
Foreign Travel Incidential Allowance – US$14,400
Domestic Travel Means of Travel – US$12,600
Telecoms, Internet, Postage and Courier – US$7,000
Residential Property Rental and Lease – US$6,000
Fuel and Lubricant – Vehicle – US$100,056
Fuel and Lubricant – Generator – US$41,004
Repairs and Maintenance – Vehicles – US$8,250
Stationery – US$6,000
Printing, Publication and Binding – US$5,000
Newspapers, Books and Periodicals – US$2,100
Other Specialized Material – US$21,249
Local Scholarship – US$10,000
Entertainment and Gifts – US$3,750
Operational Expenses – US$205,000
General Allowance – US$132,065

In 2015/2016 fiscal year, the special allowance of the Deputy Speaker was US$60,000. But it has increased to US$244,057. This is 406.76% increment when a nurse is receiving US$150 per month while an immigration officer gets US$100. The special allowance (US$244,057) of the Deputy Speaker this fiscal year could pay 1627 nurses or 2440 immigration officers per month. It is pathetic that Liberia cannot boast of even 1000 immigration officers. No wonder why our borders remain porous.

Chief Justice
Francis Korkpor 

OFFICE OF THE CHIEF JUSTICE (US$616,374.00 IN 12 MONTHS)
Special Allowance – US$126,000
Meal Reimbursement Allowance – US$15,600
Residential Property Rental and Lease – US$12,500
Foreign Travel Means of Travel – US$30,000
Foreign Travel-Daily Subsistence Allowance – US$45,000
Foreign Travel-Incidental Allowance – US$3,000
Domestic Travel-Means of Travel – US$2,579
Domestic Travel-Daily Subsistence Allowance – US$18,000
Electricity – US$10,000
Telecoms, Internet, Postage and Courier – US$7,440
Fuel and Lubricants – Vehicles – US$52,435
Fuel and Lubricants – Generator – US$38,100
Repairs and Maintenance – Vehicles – US$9,405
Repairs and Maintenance – Generators  - US$8,000
Repairs and Maintenance, Machinery, Equipment – US$500
Cleaning Materials and Services – US$1,500
Stationery – US$4,000
Printing, Binding and Publication Services – US$4,000
Newspapers, Books and Periodicals – US$800
Computer Supplies and ICT Services – US$3,500
Uniforms and Special Cloth – US$1,500
Vehicle Insurance – US$5,375
General Allowance – US$217,140

The number of allowances in our budget for officials of government is too many. What is the rationale for all these allowances when the people are suffering? Must our nation be responsible to pay meal allowance too? Why are we paying US$10,000 for electricity for the office of the Chief Justice when there is a provision for electricity in the general budget of the Supreme Court, where the Chief Justice office is housed? Why are we paying for uniforms and special cloth along with cleaning materials/services?

Liberia has a long way to go if we cannot redefine our priorities as a nation. Public service has become a source of attraction in Liberia where people go and get rich easily. Greed is on the move. Patriotism has become a taboo. Accountability is forbidden. Corruption is a national priority. Integrity is outlawed. Poverty is a leading public policy. Such is the case of Africa's oldest republic and the second black republic in the world.

Recommendations to curb wasteful spending, financial indiscipline and promote public interest:

Set-up a technical committee of fiscal and monetary experts to review and identify areas of wasteful spending within the National Budget of Liberia.
Carryout at least 30% cut in the salaries, allowances and benefits of high-ranking public officials in the Legislature, Executive and Judiciary Branches of Government.
Pass into law a bill to set reasonable 'salary standards' for all public servants including elected officials and political appointees.
Establish by law an Independent National Authority on Salaries and Wages.
Hold mass public hearing and awareness every fiscal year in each of the 73 districts before the passage of the annual budget.
Ensure an annual audit of every government functionary including the National Legislature.
Set-up an anti-corruption Court to adjudicate cases of economic sabotage and corruption only.

It is no secret that officials of government in Liberia are becoming millionaires even though 81.86% of Liberians remain poor. It is no secret that Liberians are at war with poverty in the midst of millions and vast mineral resources. Change through appropriate cuts in astronomical salaries and benefits must begin with THE BIG SIX in our government. This cannot be overemphasized! Because we have made public service in Liberia too attractive, almost everyone wants to run for public office.

If we can cut-down some of these huge salaries and benefits of lawmakers, ministers, managing directors, consultants, directors, board members, commissioners, etc., we could bridge the gap of poverty and inequality before 2030. The Agenda for Transformation, Vision 2030, SDGs 2030 and AU Agenda 2063 would remain monumental instruments of failure in Liberia until public interest becomes an indispensable priority. Greed has done more harm than good to our nation.

From the largest slum of West Point and the top of Ducor, I see a NEW LIBERIA rising above the African Continent.


---

About The Author: Martin K. N. Kollie is a Liberian youth and student activist, a columnist and an emerging economist who hails from Bong County. He currently studies Economics at the University of Liberia and is a Lux-in-Tenebris Scholar. Martin is a youth ambassador of the International Human Rights Commission and a loyal stalwart of the Student Unification Party (SUP). He can be reached at: martinkerkula1989@yahoo.com

---

---