Our Response To James Sirleaf's Threat & "Desist Order"



By Bai M. Gbala, Sr 
Contributor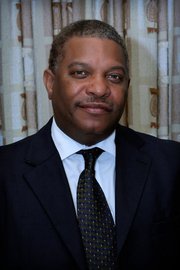 James Sirleaf
In a recent outburst, Mr. James Sirleaf, son of President Ellen Johnson-Sirleaf, threatened court action with a "Desist Order" against "former members of the Doe administration".
As the visible, former member of the Doe (the late former President, Samuel K. Doe) administration under threat of a court action, I submit this Response to Mr. Sirleaf.
In his article, My Reply to Francis Kwarteng (Analyst Liberia, May 9, 2017),Mr. James Sirleaf writes:
1. "I am prepared to take court action on all former members of the Doe administration for my incarceration and desolateness . . . by . . . security officers . . . led by the late Jenkins Scott (then Minister of Justice)".
2. "I was arrested by the Doe administration in 1985, intimidated, placed in jail, falsely accused and humiliated . . . almost lost my life as a consequence, brought before military tribunal, almost killed . . . never ever charged with any crime . . .".
3. "... I escaped from Liberia in May, 1990 . . . I have a lot to hate for. I would have been one of those that (took up arms) would . . . take the gun to take revenge on any one part of the late administration".
4. "I want to say here that those people who continue to place my President and mother's name in a line-up with the iniquitous elements . . . former warlords in Liberia, to immediately desist.  She reacted to the scandalous mayhem in Liberia as most intelligent . . . people would".
5. "The Truth & Reconciliation Commission (TRC) or no other group constitutes enough authority to make the 'charge-less', 'charge-for'.  All of these were reasons why a civil war was fought in the country. Not so?"
6. "It is high time now for National Reconciliation in Liberia and (that) we must let by-gones be by-gones".
Our Response
Indeed, Mr. Sirleaf makes a powerful, compelling, reasonable and strong case for national reconciliation – "forgive, but not forget", mindful of the saying "that those who ignore the lessons (mistakes) of history are likely to repeat them". His apparent anger is understandable defense-protection of Mother by son.  
We, in Liberia, have come a long, long way to achieve national unity by inter-marriages, other socio-unions, business-unions, education, cultural-mix and ethnic diversity as a public policy, such that today, it is not possible to find a 100% "Country" (indigenous), "Congo" or "African-American", the so-called "Americo-Liberian" among age 30 and below, the highly-educated.
But the problem of the DIVIDE IS THERE AND A REALITY, promoted, preached and practiced by the very few for wealth and political power, exacerbated by the recent, Un-civil War, warlords.
So Much to "Hate" for
Yes, we will be first to admit that during the period, immediately, following the military adventure of the deadly un-civil war, the historic demonstration of Man's profound "inhumanity to Man", "hate" was inevitable. Comparatively expressed, the impact of this military-styled, deadly un-civil war was, and is, felt, clearly, in terms of level and scope, upon the people of this nation. Take the case of Mr. James Sirleaf's wartime experience and consequences of a lone, innocent, un-armed civilian; and the case of Grand Gedeh County, the overwhelming majority of its population of men, women and children, also innocent, un-armed civilians.
According to objective, validated facts of history of the Liberian un-civil War, Grand Gedeh County was captured by force of arms and occupied in about March, 1990 by the NPFL, agents of the Association for Constitutional Democracy in Liberia (ACDL), the premier organization that conceived, planned, financed and managed the un-civil war by non-other than Mrs. Ellen Johnson-Sirleaf (Thomas Woewiyu, Open Letter to Madam Ellen Johnson-Sirleaf, Liberia Dialogue, August 30, 2005).
During the NPFL occupation, thousands, not individuals of a single family, were subjected to summary executions, rape, looting and destruction of their properties, etc.  Families - men, women and children, fled into the Konobo and Putu-Gedeh forests; others fled across the Cavalla River to La Cote d'Ivoire; while still other took to their heels to neighboring Sierra Leone and La Guinea. But the NPFL followed and inflicted death and destruction upon the Grand Gedean and other Liberian refugees in Sierra Leone. The rest is validated facts of history.
Back in Liberia, the NPFL announced a policy decision to annex Grand Gedeh County to its northeast neighbor, Nimba County. Thus, had the un-civil war successful as planned, Grand Gedeh County would be wiped off the face of Liberian map. Of the entire nation of 15 counties, Grand Gedeh suffered the worst of the NPFL-ACDL brutalities, including destruction of the economic and political infrastructure, and the socio-cultural fabric of the County, with more refugees displaced, per capita, than any other county.
Finally driven out of the county, the NPFL left the towns and villages in ruins, including the once vibrant, highly-developed, populated City of Zwedru, former capital of the-then Eastern Province. Today, the remnants of the NPFL occupation are clearly visible and troubling. The County had been, and is, after the un-civil war, effectively isolated and forgotten.
Grand Gedeh County, the Victim
We argue, reasonably, based on the facts of History, that the citizens of Grand Gedeh County did not attack nor made war against any other county or people, but that it was the NPFL, without any provocation, that rained death and destruction on the County and people. We challenge an open debate on the chronology – who started the un-civil war and for what - of its events. 
Our writings on the un-civil war have been, and are, basically historical, the truths or facts of history, not criticisms, "mindful not to ignore the lessons (mistakes) of history", relevant, compelling message for the young people, in whose hand rests the future of our country.
National Reconciliation
Yes, given the un-civil war developments, "hate" was inevitable. But we cannot succeed in building a peaceful, democratic and thriving nation, hating our friends, associates, other citizens, neighbors, our family members and ourselves in the process.
Therefore, "It is high time, now, for National Reconciliation in Liberia and (that) we must let by-gones be by-gones".
---
---