President Sirleaf Is Installing Charles Walker Brumskine To Run Liberia (The Congua Money Making Plantation)

By Jerry Wehtee Wion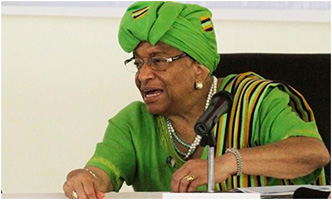 President Ellen Johnson Sirleaf
I hope it is not too late now for crying out loud. I have organized and led protest rallies against Ellen at the United Nations in New York City and in front of the White House in Washington, DC, but Liberians are always "too busy working" to show up. Then they ask you, "how many of you were at the protest?" I then tell them everyone was there except YOU.

But one such protest that was successful was in September 2013 outside the United Nations headquarters in New York City that led to the release from jail of Frontpageafrica publisher and journalist Rodney Sieh and the reopening of his newspaper and this website that provides constantly this kind of information.

WE let Ellen get away with all sorts of crimes and now she is rubbing the salt and pepper in our eyes as she leaves office with the loot.

People will get the kind of leaders that rule over them if they are complacent and refuse to get in involved in political activism. Now we are complaining about Ellen helping her family hotel thrive while other Liberian-owned hotels and other businesses "eat sand." It is the law/nature of self-preservation. I will take care of "me, my family and friends/cronies" and to hell with you Liberians.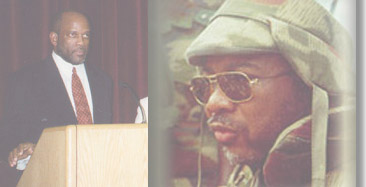 Charlie Brumskine with Charlie Taylor
Now to make sure the "Plantation" keeps making money for The Sirleaf Clan after she leaves office, she is doing everything to install her fellow Congua Charles Walker Brumskine to keep running their money making Plantation.

And if you tell our people to vote for Joe Boakai then you are branded a "tribalist." Ironically, they don't criticize the Congua who are encouraging top native politicians to leave Boakai for Congua Brumskine and Alex Cummings and Mills Jones and Bennoi Urey. What kind of logic us that?

Thus, I am unapologetic in shaping the debate in this election to Natives versus Congua. You can vote for Ellen's choice Brumskine but we the majority tribal people will support and vote for Joseph Boakai. Then we will begin to undo the damage that Ellen has done to Liberia by sponsoring the war and reaping the spoils of war.

Keep whining all you want but we are busy laying the foundation of a Peoples Revolution that begins on October 10, 2017. In life, you either lead, follow or get the hell out of the way. We are going to make history in this election. Enough of the crying from the abuses by the Congua against our people for 170 years.
---
About The Author: Jerry Wehtee Wion, Journalist and Political Commentator, Washington, DC, USA.
---
---