Is Archbishop Francis the New Target of Charles Taylor?

By Our Correspondent
The Perspective
Atlanta, Georgia
March 31, 2003

Dr. Amos Sawyer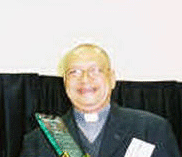 Archbishop Michael Francis

Over the weekend, Charles Taylor's station Kiss FM radio announced that there was a secret meeting held at the residence of Archbishop Michael K. Francis. According to the radio station, which is owned by Mr. Taylor and has become the mouthpiece of the Taylor regime, the meeting had a two pronged objectives. First, it is alleged that some opposition members are trying to make Dr. Amos Sawyer an interim president. Second, the Kiss broadcast further indicated that some opposition members including the Archbishop are allegedly planning to create chaos in Monrovia, once Taylor leaves for Bamako. The broadcast did not give names of individuals who supposedly attended the meeting in question.



The radio broadcast went on to say that those who are the "plotters" have men already posted at the U. S. embassy at Mamba Point waiting to get their marching order. This implies that the U. S. government is a party to their imaginary plan. Many Liberians do not believe that such plan is in the making. They, however, feel that when Taylor and his people are making baseless accusations, they always have something under their sleeves. Observers quickly point out that Taylor is a desperado wanting to take people down with him. And the best Liberians and friends of Liberia can do at all times is to expose his vicious plans in advance, though he will quickly go back on the drawing board to concoct more baseless accusations in a bid to perpetuate the prevailing terror in Liberia.



The same Kiss FM informed us that Gbarnga "has been retaken by government security personnel." The broadcast went on to say that the retreating LURD remnants were in a pickup with a BZT mounted on it and were allegedly heading towards Ganta. Later, the government reported that its forces were fighting LURD's in Ganta. Many people here cannot imagine LURD driving on a highway fully controlled by government forces because there are over ten check-points from Gbarnga to Ganta. Even the most insane person would not make such a venture! The claims LURD's forces fled Gbarnga in a pick-up even make the question of LURD being in Gbarnga with "severe fighting" taking place just laughable. Which highway is accessible to LURD? They would be committing suicide by driving on the highway to Ganta because the government has a communication system in place to inform security personnel at the various check-points about enemy forces movement. In fact, how many LURD's forces were on the pick-truck? This further expose the fact that most of these LURD's attacks (if not all) are staged by the government.

---