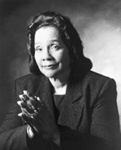 Coretta Scott King
Today the world will pay its last respect to Mrs. Coretta Scott King, whose body will be laid to rest in Atlanta, Georgia. She was born of humble origin and lived a memorable life. She encountered and endured many a tragic moment in her lifetime, in the end her face can easily be recognized as a universal portrait of dignity; she was a personification of bravery and determination. She will be remembered by many as a woman upon whose shoulders great burden was placed --- she always managed to triumph over tribulation, with quiet dignity.
Coretta Scott King was not just a wife to Dr. Martin Luther King, Jr., she was also a trusted comrade, a confidante and, as many have echoed lately, "a full partner in the Dream". She gives meaning to the saying, "Behind every great man stands a good woman". She was the good woman who stood beside the great man, M.L.K. Jr. and she will be remembered for dedicating her life to his great legacy. His legacy became hers and D.C. Representative Eleanor Holmes Norton puts it correctly when she says: "With Coretta Scott King today passes the only civil rights leader besides King himself who is irreplaceable". Now, that is a compliment of the highest order.
The little girl who grew up picking cotton to help her family make ends meet will be given a funeral befitting a queen. She will lie in state at the Georgia Capitol, the first woman to be given such an honor. The President of the United States will be among various dignitaries delivering eulogies. Her life reads like a fairy tale, if ever there was one – she rose from the lowliest to the highest pedestal; her life was a triumph.
And so today, as many cry tears of sorrow, many others will shed tears of joy and pride for a woman who dedicated her life to making our common world a better place – a consummate freedom fighter. Her bravery and fierce determination put racists to shame – the bombs and whippings and bully tactics did not deter her. She was on a mission and freedom was her ultimate goal. It is fair to say she left the world a better place than she met it. And as she takes her final rest, I can almost hear those sacred words her partner made famous: "Free at last! Free at last! Thank God almighty, we're free at last."
Go well, Mother King. May you and the Drum Major for peace rest in bliss eternally.
---