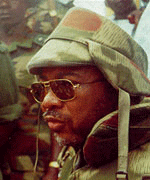 Charles Taylor
A recent statement attributed to Mr. Charles Taylor that he is an indigent is surprising and perhaps untrue. After all, the talk of Mr. Taylor raping Liberia and looting the national coffers are well documented. Even as he left Liberia in August 2003, his underling, Mr. Elias Saleeby, former Governor of the National Bank, assisted him in emptying the national bank of about L$49 million dollars. As a guest of the Nigerian Government he need not have spent a dime, so what happened to the last loot he carted away? Mr. Taylor once told journalists that diamonds were plentiful in Liberia and they littered Duport Road. I am sure he went there and collected as many as he could, so what has he done with all those diamonds. It was rumored in Monrovia that several international convoys who visited Liberia, went back to their countries singing a different tune. Remember the Chicago Conference on Liberia, hosted by the (Rev?) Jesse Jackson?
Now our new President is reported to have hinted that Liberia could foot the bill for Mr. Taylor's lawyer. I have always doubted Liberians who say that there is "something in the Mansion" that tend to obscure the vision of those who occupied/y it. I am now beginning to think that there is something true to this other wise superstition. How else can one explain the dramatic detour in our President's priorities. At one point, the Charles Taylor issue was not a priority but all of a sudden it is the priority of the Liberian Government to pay his lawyers. Mind you we are not talking about lawyers as in Theophilus Gould. We are talking about the likes of Alan Dershowitz of Harvard Law School fame. No doubt his fees could run into the millions. Is this something the Liberian Government can afford when our road networks are in disrepair and almost unusable, when our children don't have copy books and pencils while our teachers are using their nails to scrawl on black boards because there is no chalk? What are we thinking?
Someone whom I have admired since high school, Mr. Martin Scott, and is now a prolific writer in the Letters to the Editor column of the Daily Observer, has proffered a solution, which I will address later, but to first say something about Mr. Scott. I met Mr. Scott for the first time in 1976 in Gbarnga, Bong County at a Young Catholic Students Annual Conference. He was the best dressed guy, who didn't mince his words. Others at that Conference were Dr. George Flahn, who is practicing medicine in England, Mr. Siapha Kamara, the founder and director of a successful Ghana-based NGO, working on development issues, Counselor Tiawan Gongloe, currently the Solicitor General of Liberia, amongst others. The theme of the Conference was the Role of Students in the Transformation of Society and Dr, Amos Sawyer was the keynote speaker. Hon. Dusty Wolokolie was also a speaker at that conference. That was my turning moment in alternative politics and ideas. I have never looked back since. So I am beholden to the likes of Mr. Scott for his ability to cut to the chase.
Mr. Scott has said that since Mr. Taylor is claiming to be broke, his estranged wife, Senator Jewel Howard Taylor, the new found praise singer for Mittal Steel, should sell her jewelry and use the proceeds to pay Mr. Taylor lawyers' fees. I don't think this will be enough. Therefore, to this I would add that all of Mr. T aylor's hanger-ons to come forward and assist their "friend" as Mr. Benoni Urey refers to him. Mr. Urey, Ms. Bell Dunbar, Speaker Edwin Snowe and the rest of them who got rich, thanks to Taylor's misrule of Liberia, should come forward and cough up some money to assist their once upon a time benefactor. After all, we learned in Sunday School that "a friend in need is a friend indeed". Was that really Sunday School or school recess talk? How can they now leave their man to hang and dry. "With friends like these who needs enemies," is this a Liberian saying as well?
It has also been reported sufficiently that the Lonestar Cell Company, a mobile phone company that virtually dominated Liberia, if not a monopoly, during the years 1999-2003 is beholden to the Taylor years of misrule in Liberia. Most Liberians believe that Mr. Taylor is an important shareholder in the company. One can't say this as a fact since the Lonestar Cell Company would not make public the list of its owners but the fact that it enjoyed such prominence under Taylor and is on the UN Sanction List is adequate to suggest that something was afoot, as our people say, where there is "smoke, there is fire".
Therefore, all the hoopla about Mr. Taylor not having money to pay his lawyers is balderdash. It is even worse, that the Liberian Government is offering to pay for his lawyers. As a matter of due process, if a plaintiff qualifies as an indigent, the court is responsible to provide for his defense. The Special Court for Sierra Leone has already made this offer. As our President has always said we have more important things here at home to spend our pecuniary resources on. Our objective was to remove the threats that Taylor posed to our nascent democracy and we have achieved that. We now need to move on as a Government to address the drastic conditions in our country and we all know what our priorities should not be. Charles Taylor is not our priority now.
---
*ezekiel pajibo works as Director of the Center for Democratic Empowerment (CEDE) based in Monrovia, Liberia.