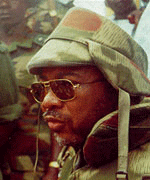 Charles Taylor
When Nigerian President Olusegun Obasanjo paid frequent visits to Liberia during Charles Taylor's chaotic presidency, many Liberians believed one of Africa's most powerful and influential statesmen was seeking a genuine peace for Liberia, leaving no stone unturned to end the country's brutal conflict that had claimed the lives of over a quarter of a million people and destabilized the West African subregion.
People believed this way because previous Nigerian leaders who were involved with the Liberian peace process never visited Liberia. They simply told Taylor and other major players in the conflict to proceed to Abuja for talks regarding the peace process.
President Obasanjo changed the "host policy" and became ambassador for peace in Liberia, shuttling between Abuja and Monrovia.
But beneath that unique concern demonstrated by the Nigerian leader, it has been gathered, was a selfish agenda obscured by power and influence to heighten the hope and expectations of an oppressed people while surreptitiously carousing with their oppressor
What is sad about what has now become an open secret in Liberia – President Obasanjo's personal relationship with Charles Taylor's sister Geebioh (a situation widely believed to be behind the Nigerian leader's refusal to hand over Taylor for trial as an indicted war criminal) - is the potential to undercut Nigeria's unmatched sacrifices for the restoration of lasting peace to Liberia.
According to an inside source, Charles Taylor is reported to have personally initiated the relationship between his sister and President Obasanjo during one of his "official" visits to Monrovia The source said Taylor told Obasanjo: "Mr. President, we are Africans. This is my sister; she'll take care of you while you are in our country." Since then, the source added, the relationship has expanded into a "regular love affair". And because President Obasanjo has no reason to visit Liberia at this time, it's now Geebioh who has embarked on the road trip, going in and out of Nigeria at will. Even the United Nations travel ban slammed on Taylor, his former officials, associates, and family members cannot stop the presidential concubine who is said to be one of the main conduits through which Charles Taylor receives large amounts of money from his agents in Liberia and other parts of the world.
Geebioh Taylor Cassell, the wife of convicted murderer Henri Cassell, the senior immigration officer who shot and killed a taxi driver in Monrovia for allegedly overtaking his vehicle, is said to have "impressed the president" so much that they appeared in public many times and took several "official" photos together, even though Geebioh neither works for the Executive Mansion nor the Ministry of Foreign Affairs.
No wonder the Nigerian President told the world from day one he would not surrender Taylor. "Nigeria will not be harassed into surrendering Charles Taylor," Mr. Obasanjo told a gathering at Taylor's disgraceful departure ceremonies held at the Executive Mansion in Monrovia on August 11, 2003, while rebel forces were poised for their final push on the bloody dictator.
Using the so called Accra Comprehensive Peace Accord to back his action, President Obasanjo maintains the asylum granted Charles Taylor by Nigeria was based on an agreement reached by the international community to prevent a bloodbath in Liberia. But Taylor's asylum was granted on condition that he wouldn't interfere in Liberian politics, a promise Taylor has now broken.
President Obasanjo has, however, repeatedly said he would hand over Taylor to an elected government in Liberia upon request. But because Charles Taylor is now clearly interfering in Liberia's domestic politics by supporting a particular presidential candidate, thereby contravening his asylum status with impunity, and given our experience in the role Nigeria played in Taylor's 1997 election victory, it is doubtful such a handover will ever take place.
And reports that Taylor recently traveled to Burkina Faso to concur with his choice for president, despite a United Nations travel ban, create even more suspicion about Abuja's role in the Taylor's asylum issue.
The former warlord's failure to desist from interfering in Liberian politics in line with his status is further evidenced by the fact that his former legal counsel and a candidate for the standardbearership of his (Taylor's) National Patriotic Party, Cllr. Francis Garlawolo, has withdrawn from the race, accusing Taylor of interference. The UN Mission in Liberia has also catalogued a number of allegations that Charles Taylor is meddling in Liberian politics, but President Obasanjo sees the man who killed a huge but unknown number of Nigerian peacekeepers from a different perspective, obviously allowing his commitment to Taylor as his "brother-in-law" to overshadow his responsibility as president of a regional power.
The issue of bringing Taylor to justice has become increasingly popular in the global community, and that didn't happen by chance. Charles Taylor celebrated his 1997 election victory over the bones and skulls of more than 250,000 Liberians and in neighboring Sierra Leone, over the permanent misery of thousands of amputees (that's those who survived to tell the story) who had their limps chopped off by Taylor-backed rebels of the notorious Revolutionary United Front (RUF).
Upon assuming office as president, Taylor inflicted more wounds instead of healing old ones. His gangster-style of governance, which included politically motivated killings and running the country as a private firm, gave rise to the proliferation of opposition rebel groups and mass exodus of Liberian professionals. He intensified the war in Sierra Lone by supplying the rebels with more arms and beefing up their numerical strength, receiving as reward what had been branded as "blood diamonds". Considered as "monster of evil", Charles Taylor also instigated a bloody conflict in the Ivory Coast and Guinea is now feeling the pinch resisting Taylor-style revolution.
With his illegally amassed wealth and known links with international terrorist groups, Charles Taylor remains a serious threat to international peace and security. Recent reports that the Liberian former dictator was behind a plot to assassinate Guinean President Lansanah Conte is another reason Taylor should be confined.
Is Obasanjo waiting to see Taylor create another Ivory Coast in his backyard before realizing that the little man he's playing with is the devils' devil?
Frankly, it's difficult to believe or even imagine that Obasanjo would set out to risk his entire political career to protect a man who undoubtedly bears the greatest responsibility for war crimes in the West African subregion, as international pressure culminates into a U.N. sanction over Nigeria if Obasanjo fails to hand over his brother-in-law.
During his recent visit to Washington, Obasanjo met with President George W. Bush at the White House, with the transfer of Taylor to the War Crimes Tribunal for Sierra Leone high on the agenda. And to coincide this his visit, the United States Congress called on Nigeria to transfer Taylor to the court to face justice. The European Union Parliament, comprising some 25 countries, is also vigorously pushing for Taylor to be tried for his war crimes, which include crimes against humanity and violation of international humanitarian laws, for his role in the war in Sierra Leone.
But reacting to the United States Congress demand at a dinner in Washington, Obasanjo said Taylor's asylum shouldn't be an issue, reiterating that Nigeria was only implementing a decision reached by the international community to prevent a bloodbath in Liberia. He made no gesture he would bow to what has now become a popular world opinion.
Former U.S. Secretary of State Collin Powel, not surprisingly, concurred with Obasanjo's stance on Charles Taylor. But the two men did not dwell on the issue; instead, they spoke lengthily on issues relating to what they called "African-Americans and Africa", thereby downplaying what was thought to have been a key issue at the dinner.
To Taylor-war victims, that was a loss, but out of that loss should come a renewed hope for justice because the world is now on their side. To Charles Taylor, it was a huge victory, but a victory that conveys the wrong message that one can commit crimes to catastrophic proportions and yet still have men in high places who shape a new world order to be your friends and defenders.
As we can see here, there're many reasons history makers are those history is not always kind to. In this instance, it's the continued shielding of Charles Taylor by the Nigerian leader amid credible allegations that he's flirting with the murderer's sister that history will not record so kindly.
But for now, President Obasanjo must be reminded that the peace and security of the subregion is more important than taking another man's wife as reward for shielding a war criminal.
---
About the Author:
James Seitua is former editor of Liberian Daily Observer currently residing in the United States. He can be contacted at:
jksisg@yahoo.com