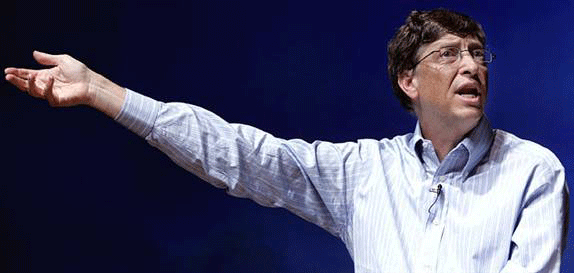 Bill Gates
President Ellen Johnson Sirleaf should capitalize on the Gates Foundation's initiatives and provide employment opportunity to many of our unskilled youths. By launching a program to produce food, an economic activity that requires comparatively limited investment in human resources and technology, Liberia would reduce some of its problems such as high crime rate, poor health, etc.
The Bill and Melinda Gates Foundation announced on September 12, 2006 that, after a 16-month review on global health, that it was teaming up with the Rockefeller Foundation to invest $150 million dollars on food production in Africa. The review concluded that Africa, which is behind in food production, could not only increase its food supplies, but it could reduce poverty and increase children's school attendance because time needed to work on farms is shorter than working time for other industries.

The Gates Foundation's focus on increasing agricultural products in Africa could not have come at a better time for Liberia. With such an idea emanating from a major U.S. corporate Foundation, which is contrary to the old idea of dumping cheap farm products into Africa, Liberia has a chance to fight the war on poverty. Conventionally, profiteers prefer poor countries to import food and produce cash crops because food production, primarily consumed locally, does not increase a country's foreign currency exchange to be used in repaying loans owed to the World Bank, etc.
But now with the dismal records of the World Bank in the war on poverty in contrast with success stories of food production experimented by the Rockefeller Foundation in countries, including Kenya, Africa could fulfill a food production program. Also, with the Rockefeller Foundation discovering new rice-type, which has proved resistant to weeds, drought and other challenges, profiteers would have little, if any, reasons to object to Africa's food program.
Ideologically, the cold war rivalry should become mute since the two principal sponsors of the idea for Africa to become self-sufficient in food production are U.S. corporate giants. Coincidentally, if I may add, the International Monetary Fund and World Trade Organization, two prominent vehicles of profiteers, are now enticing socialist countries. For example, China, although it joined the World Trade Organization on December 11, 2001 with the belief that it would institute market driven polices such as privatizing its state-owned companies, has done the opposite. In fact it is strengthening its state-controlled companies at the angst of profiteers. Within the media industry, for instant, Joseph Kahn (NY Times, 9/15/06) reported that China's government news agency issued regulations on 9/10/06 making it the revenue collector of news revenue that comes from banks and brokerage firms.
Another socialist country, Russia, is also refusing to privatize its energy and banking institutions. More so Russia has not only increased the portfolios of state-controlled businesses, it is buying companies owned by Western countries. For instant, in addition to other investment made in companies in Western countries, Nicola Clark and Andrew Kramer (NY Times, 9/12/06) reported that State-owned Russian Bank bought a 5% stake of the European Defense and Space Company. Is the cold war over?
Even if the cold war were over, Liberia, for obvious reasons, can't be compared to China or Russia. Additionally, if one were to put politics aside, there are many critics, such as rice importers, who would use scare tactics to fight food production. Would economic conditions allow them, this time, to undermine a government food production policy? President Sirleaf could use the issue of food security, the high rate of unemployment, Liberia's $3.5 billion dollar debt and regional instability to defend such a program. Importantly, with investors shying away from Liberia because of the shortage of skilled manpower, a government sponsored food production program would provide quick and plenty employment opportunities for many workers who are unskilled.
Well, embarking on a government sponsored food program shouldn't impede our efforts in correcting the policies of the agriculture sector as President Sirleaf's agricultural advisor, the minister of Agriculture, Dr. Chris Toe had complained. (The Analyst, 9/8/06). Dr. Toe said his ministry lacks support and its policies were ineffective. Along with a government sponsored project, we should review policies of the Agricultural Development Bank, Liberian Produce and Marketing Corporation, and Lofa County Agricultural Development Project and Bong County Agricultural Development Project, etc. Profiteers had argued then that encouraging individuals' initiatives and limiting government role, as they insist now on privatizing utility entities, that those policies would make agriculture the engine of Liberia's prosperity.
Yet some critics may argue that government is incompetent to implement such a program. It is true government would find it difficult to minimize corruption in such a new program. However, the benefits would surely surpass the risks. On the other hand, Liberian entrepreneurs might not find food producing venture enticing. For instant, besides the difficulties in obtaining adequate funding, the prospect of earning quick profit, if any, is unlikely. But unlike profiteers, Liberian government's investment in food program would provide many hidden benefits. Many of those unemployed youths would be relocated from Monrovia to designated towns or camps, thereby reducing not only violence, but reducing excessive costs bore by utility companies to operate beyond their normal capacities.
How would the government finance a food production venture? The government could work out the land issue with local leaders. For initial investment, government should freeze all foreign travels for the next six to twelve months, bonuses allocated for Legislators, compensations for board of directors of public corporations, other excessive wastes, etc. I agree that the beginning would be difficult, but with a political will, Liberia might begin to see a light at the end of the tunnel.
---
© 2006 by T
he Perspective
E-mail: editor@theperspective.org
To Submit article for publication, go to the following URL: http://www.theperspective.org/submittingarticles.html