Recently, a team of election monitors visited Liberia to assess the political and security conditions of the country as it prepares for the ensuing Presidential and Legislative elections. There were, however, concerns raised by the advance team. These concerns centered around the possibility of electoral violence, the increasing of incidents of armed robbery, poor road conditions and lack of UNMIL presence in certain areas of the country.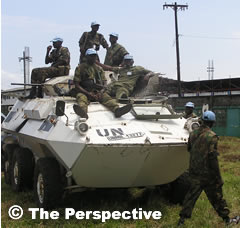 UNMIL
There are presently 22 presidential candidates participating in the October presidential and close to 780 candidates for the legislature. As they crisscross the nation, they come across supporters and not so-supportive individuals and groups. For example, in the opening days of the campaign, violence and unruly behavior of some partisans led the Ministry of justice to ban all public demonstrations. This forced political parties to hold rallies in-doors. Although this may be a way to safeguard the public and candidates, it takes the fun out of the campaign. Political campaign is a sort of carnival, giving a chance to people to take up the streets and voice their opinions. Banning demonstration may have helped those parties that could not control the mob actions of their partisans but it was not fair to those parties whose partisans are mature enough to hold rallies without breaking car windows and tearing down others' posters.
Last week, the peacekeepers deployed hundreds of troops around the Centennial Pavilion during the debate. However after the debate, UNMIL soldiers and the Liberian Riot Police retreated to their bases, with major incident to report. Another debate is scheduled for September 27, with another group of candidates. Will partisans be as civil as they were in the first instance?
Since the end of that debate, many candidates have taken their campaign out of Monrovia. Varney Sherman is getting ready to hit the southeastern region, Ellen Johnson Sirleaf is headed for Buchanan and Charles Brumskine was in western counties. So far, there has been no physical attempt on any candidate. But will the system continue to work as the campaign enters the last weeks and days and tension is raising everywhere, security forces – UNMIL and the Ministry of Justice - may want to err on the side of caution. Deterrent is sometimes the best protection.
So far protection for all of these aspirants has been funded and staffed by their respective political parties. All aspects of the physical security of political aspirants and their political parties are either provided internally by their partisans or are outsourced to private security contractors (most of these contractors are either ex-policemen, ex-SSS personnel or private security guards).
Unfortunately, this raises crucial questions that need to be addressed not only by political parties, but also the Government of Liberia and UNMIL:
1. Do political parties have the capacity to provide adequate coverage for their standard bearers?
2. Does the Government of Liberia have the capacity to provide protection for all political aspirants?
3. What is UNMIL's mandate as it relates to security in Liberia? Does their mandate preclude them from providing security for presidential aspirants?
4. If a political aspirant becomes a target of opportunity and is either injured or assassinated, what are the political repercussions of such an event? Would this be a lapse in the Government's or UNMIL's response to security during the electoral process? Would this give way to conspiracy theories that these lapses in security were deliberate on the part of the government and UNMIL?
5. With close to 15,000 troops in the country, does UNMIL lack the capacity to provide protection for 22 presidential aspirants and their running mates?
If political parties, the NTGL and UNMIL are looking for a model to address the issue of security coverage for presidential aspirants, then they may need to revisit the system that was put into play by ECOMOG in the 1997 presidential elections, which according to reports provided the same level of protection to all candidates. Even-though the West African force had access to a lot less resources than UNMIL, it made as part of its duty –as peacekeepers to show its presence everywhere candidates traveled. This deployment on the part of ECOMOG was a critical component of its strategy to minimize electoral violence.
The need for political parties, the NTGL and UNMIL to rethink their strategies for elections security, especially as it relates to the close protection of presidential aspirants can not be more relevant. All stakeholders in the Liberian peace process need to quickly address this issue because it will be too unimaginable to contemplate the consequences of inaction.
These elections, in the words of one candidate, represent the most important in the history of Liberia. It would be unfortunate if it were disrupted because of a preventable occurrence. One could say that UNMIL is not providing protection because it wants to shows that peace is here and that people are really free to move around. Peace is not necessarily the absence of war; Liberia is still dealing with a traumatized population. The passion exhibited by some partisans for their candidates could also be expressed in the negative for opponents. Peacekeeping also means insuring that nothing happens to disrupt the political process.