If we trace the history of Liberia, chronicling its upheavals, tribulations, shortcomings and growth, we must confess we've come a long ways. As we are set to proceed forward, the horizon appears brighter because we've given ourselves another opportunity to begin again through the use of that most prominent of democratic tenets, the exercise of suffrage. This has been a fantastic voyage, so far.
By agreeing to settle our differences through elections, Liberians are experiencing a new day. Although it took some arm-twisting and a few shoves in the buttocks by our friends in the international community – not forgetting the conspicuous presence of the largest UN peacekeeping force on the continent – we've managed to plan a national election. Within a short while, the most important phase of that exercise will end: Ballots will be cast and new national leaders will emerge.

When the schedule for elections was announced, there were as many as a hundred candidates vying for just the presidency. How could so many contestants be eying one position, many wondered? To many, the very thought was absurd; others saw it differently, insisting it was each contestant's right to run. Such matters usually get sorted out in a democracy; it did in Liberia. The final count of presidential candidates is down to a manageable twenty-two (22).
Let's examine a bit of history to put this into full perspective: In the first national referendum after Liberia attained statehood, J.J. Roberts became our first president by winning about 97% of the votes cast, according to C.H. Huberich in the book, "The Political and Legislative History of Liberia", (volume 2, 1947). But let students of history be reminded that "Franchise was limited only to some Americo-Liberian males until 1947". (Blaustein and Flanz, "Liberia", 1971).
The 1952 national election was the first time in Liberian history that universal suffrage was recognized in Liberia. In his now famous book, "Liberia: The Evolution of Privilege", Professor Gus Liebenow wrote: "Suffrage, moreover, is now an individual right in contrast to the past, when a chief, acting in his corporate capacity as the holder of title to tribal land could register and vote the members of his community as a unit. Imagine such outrage for a moment! It took over a hundred years for indigenous Liberian citizens and women to earn the right to vote. Yes, we've come a long way!

After J.J. Roberts got about 97% of the votes in the first election, every other president, including J.J. Roberts for another stint, got one hundred percent of the votes, except in two cases: Running for his third term in 1927, C.D.B. King only managed to get about 72.5% of the votes cast, with five percent of the population voting. Again in 1955, W.V.S. Tubman only managed to collect about 99.5% of the votes cast. I guess it would be fair to say he was having a bad year. But his next four terms (1959, 1963, 1967, and 1971) were clean sweeps; netting him 100% of the votes each time. His successor, William R. Tolbert followed the tradition of getting a clean sweep in 1975, after completing Tubman's un-expired term.

During the last national elections held in 1997, Charles Taylor is said to have won about 75% of the votes cast. Although international observers declared the elections free and fair (relatively) there were a number of obstacles. For example, Taylor had the vast majority of the country under siege; his opponents were not allowed to freely campaign throughout the country. Makes one wonder what exactly was meant by "free and fair".

This time around, the landscape has changed dramatically; all for the better. Imagine this scenario: Two of the five most popular candidates (referred to many as the top front runners), George Weah and Ellen Johnson-Sirleaf could never have become viable candidates until just about twenty-five years ago: George Weah, because of his indigenous birth background and Ellen Johnson-Sirleaf because of her gender.

Bobby Mcferrin, a songwriter and prolific musician wrote a song that became a popular hit during the 1980's: "Don't Worry, Be Happy". This should be our theme song.

If I had a chance to console one of the losing candidates those would be my exact sentiments. To Mr. George Weah, should he fall short, I would say, for a young man born and raised in the city slums of Claratown, could you have imagined reaching such a pinnacle at age 39? To have amassed such a strong following among Liberians across all spectrums is itself a notable achievement. Your life story is a marvelous one, be proud.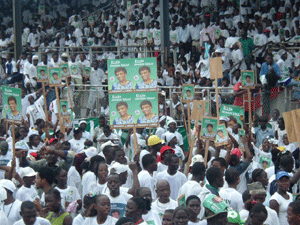 If Ellen Johnson-Sirleaf loses I'd say, be proud Iron Lady, you fought a most gallant fight in a man's race. I think Mrs. Sirleaf's run should be a new lesson to all Liberian women: The political arena is not just a man's domain anymore; women of this generation have been given a new sense of pride and worth. The future looks good for all.
To all the other contestants such as Brumskine, Tubman, Tipoteh and Sherman, (and others too numerous to list), I salute you too. Each of you did your country and your supporters proud. What we expect from all of you is to put away your fighting gear and get ready to pull Liberia up through your collective leadership. This is not a singular, but a collective fight. Yes, the winner shall be named captain, but we expect a team effort to move our country forward. Of course, I hope the team captain will extend that friendly hand to all potential players. That is the challenge that beckons. Are you aboard?
We've all become winners. The Liberian nation should be proud and the entire crop of candidates should be thankful for being a part of history; it has undoubtedly been a fantastic voyage. We are living during an exciting time in history, may God bless Liberia.
Of course we must not forget to thank our international partners, we owe them dearly.