November 11, 2005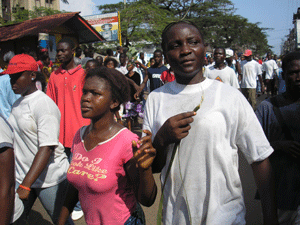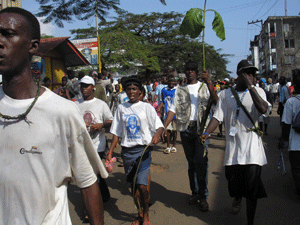 CDC DEmonstration
Sandy Springs, Maryland, USA



Dear Ambassador Weah:


The game is over. Please take note and govern yourself accordingly. This was an experience we all treasured and cherished, while it lasted. It was a good exercise for a fledging democracy; that you were allowed to compete in such a high-stake race. This sent the message out from Liberia to the world at large that any citizen who has certain prerequisite qualifications can run for the highest office of the land. Your run for the presidency was really a good experiment.


Although I agreed with those who didn't think you were the best qualified for the job, I still supported you. I think your success in the field of sports and your humanitarian record could compensate for your lack of credentials or managerial experience. That is why many favored you.


Now, I must take the opportunity to advise you to see the whole picture and understand the reason why it came down to this disappointing result. The "Hands" to be didn't like your Aces. Now you must take a break and sleep well. The fight has just begun.


I, Christian Kofa Nelson, aka "noko4", aka Nimely Weah Kofa, ask you to sign up for school. Return to the classroom for more basic education. If you work hard and remain committed, you will become a book man within six years. By then, there will be no excuse to question your academic level. If you follow this simple advice, you will put your self at a tremendous advantage by the time the next national election rolls around in 2011.


This is my humble advice to you. In the meantime, for the sake of peace, please tell your followers and handlers to abide by the majority decision now. Concede defeat and congratulate Mrs. Sirleaf. Everyone will respect you for that in the long run.


Best wishes,


Christian K. "Noko4" Nelson

---