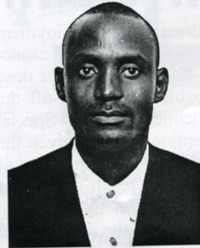 Aloysius Toe
Not too long ago, one of our contributors submitted an article on the human rights outfits in Liberia to The Perspective for publication. The writer, Mr. John Morlu II, launched a scathing attack on the human rights entities in the country, saying it had become the most lucrative job in the country. He added that Charles Taylor had made heroes out of the individuals heading these institutions. After careful examination of the article, we informed the author that his article was too harsh.
I first met Aloysius Toe - one of those guys labeled human rights defenders, a year ago during the national elections campaign. We discussed Weah, Sirleaf, Brumskine, Sherman, Topoteh, Kieh, etc. As the discussion progressed, I started thinking about Mr. Morlu's article on the human rights empire in Liberia when Mr. Toe said he would not live to see a woman become president of Liberia. He talked about Ellen's affiliation with Taylor and how she said the Executive Mansion should be burned down. He however pointed out that Mrs. Sirleaf had apologized to the Liberian people for making that statement.
I mentioned to him that I also had problem with Mrs. Sirleaf, but not for making that statement on BBC, rather for apologizing for it. First, Taylor was not taking instructions from Mrs. Sirleaf. If he did, he would have burned down the Mansion. I argued that even if Taylor had burned down the Mansion, two bad things would have happened: President Doe would have been killed and Taylor would have become president. Though Taylor did not burn down the Mansion, those two things happened.
On the other hand, the infrastructure of the nation would have been saved if the Mansion was burned down at the time: Liberia would have still had running water, electricity, better roads, etc. So I didn't think that Mrs. Sirleaf had any apology to make.
Mr. Toe was unhappy about my stance on the issue: he said if Mrs. Sirleaf had come up with such position, he would have personally taken her to court.
I brought Mr. Toe back to the statement he had made earlier about a female becoming a president of Liberia or any African country. I told him that I did not expect to hear such statement from anyone who claims to be a human rights defender. I asked him if women do not have rights in Africa. I told him how surprised I was to hear such statement from someone who won a human rights award. I also pointed out that The Perspective was on record for promoting human rights defenders with the belief that they were all real human rights defenders. As we talked, I could still remember the article rejected. For about ten years The Perspective promoted and defended human rights advocates, journalists, etc. Some of us could not enter the country during those years because of our stance in arousing the international community's attention to the then prevailing anarchy in the country.
Mr. Toe's opinion, however, was not buried with the results of the 2005 presidential elections, judging from his activities since the election of this administration. He is bent on destroying the administration. He currently runs a newsletter called Poverty Watch, which along with his numerous press releases, seems to only focus on discrediting the government. The publication which is only circulated within the international community is funded by the Concern International, Amnesty International and the Human Rights Division of the United Nations Mission In Liberia (UNMIL) through one of its operatives involved with many civil society organizations including the Truth and Reconciliation Commission (TRC).
Mr. Toe, a human rights defender, is therefore making money out of badmouthing the government, not to offer criticisms that Liberians and their leaders could use to improve things, but rather to criticize so that he can receive funding. This also helps many agents of the international community in justifying their continued presence in Liberia and getting rich at the expenses of Liberians.
The next issue of Mr. Toe's publication is dedicated to the TRC. After that, he will move on to the National Security. It is a calculative agenda to go after the president and any government entity that is near and dear to her heart. There seems to be a rift within the TRC and Mr. Toe is trying to cash in on that.
Who is Alloysius Toe?
The FOHRD Executive Director received a major boost in his misguided and selfish quest for national prominence, when the former President, Charles Taylor inadvertently made him into a hero by trying to quiet him, albeit mafia style.
During this period, Aloysius Toe went into hiding whilst at the same time making desperate contacts with several foreign based Rights groups such as Amnesty International, Human Rights Watch and the United Nations High Commission on Human Rights in Geneva.
It was during this period that Mr. Toe went over board in cashing in on his newly found acclaim as a champion of the rights of the down trodden. An insidious side of this period was his failure to give account of the multiple extensive funding he was receiving from various Rights groups.
This failure to give proper account for the thousands of United States Dollars, the bulk of which was misappropriated, cost him a lot of good will among the local NGO community.
The recent – last quarter – edition of Poverty Watch like the previous editions was fully funded by Concern International, Amnesty International and the United Nations High Commission on Human Rights through their local representative at UNMIL headquarters at the Pan African Plaza. Within a short period of time Mr. Toe has built three houses in Monrovia. One can say that posing as a right defender while writing exclusively for the benefits of the international community is a very lucrative job. The contact of Mr. Toe at the Truth and Reconciliation Commission is certain Ken Attafuah who is one of the international Community's advisors to the commission. His job, it seems, is to find as much as negative things on the commission as possible and pass them to UNMIL.

Ken Attafuah & The TRC
The TRC saga began when members of the Commission voted overwhelmingly to dismiss Mr. Ken Attafuah who is one of the Technical Advisors to the TRC. Mr. Attafuah served on the Ghana TRC as its executive secretary - those who know him say that he was a controversial figure on the Ghana TRC.
The Act that created the Liberia TRC calls for International Technical Advisory Committee. It was initially thought that such person with TRC experience would serve as a resourceful individual to the Commission, but many people close to the Commission consider his presence on the commission as a nightmare to the operation of the Commission. He is said to have refused signing the Memorandum of Understanding created by the Commission in which the job description and other related issues are spelled out. Some even accuse him of taking unexcused vacation to his home country, just about every other week. His dismissal has plunged the commission into chaos.
Mr. Attafuah decided to fight back instead of returning Ghana. It is alleged that he has gone to the Ghanaian Embassy, UNMIL, the office of the president (just to name a few) to plead his case. He feels that he should have been impeached by the Legislature instead of being fired by the Commission. In fact, it is said that the United Nations Mission in Liberia had threatened that if he was not reinstated, UN would withhold its support to the Commission. As executive secretary of the Ghana TRC, Mr. Attafuah earned US$500.00 per month, while on the Liberia TRC he earns over US$8,000 per month!

Toe and Attafuah
Just recently Mr. Toe published the salary of every high rankly government official in his magazine called Poverty Watch. He cannot understand why the president is earning US$6000.00 per month while civil servant earns US$30.00, why a minister earns US$1,500, while civil servant earns US$30.00. But, ironically, Mr. Toe is now teaming with a Ghananian who earns US$2,000 more than the president of Liberia. Toe's FOHRD interviewed Mr. Attafuah on October 9, 2006 - not at his office at the TRC, but at the Ghanian Embassy. Details of this and other interviews are on file.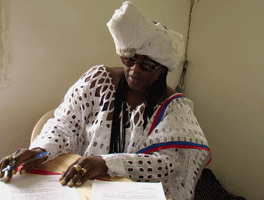 Pearl Bull
Pearl Brown Bull
Cllr. Bull is a member of the TRC. She could have been one of the lawyers on the commission who provided the legal grounds for the commission to dismiss Mr. Attafuah through vote – stating that only a citizen of Liberia can be impeached by the Liberia Legislature. But she is now teaming up with Mr. Attafuah in a bid to destroy the commission. Besides, she is still running her law firm, though she is to work fulltime for the TRC as one of its commissioners. She is also on the Independent Committee of Experts now vetting for the Human Rights Commission of Liberia. Commissioner Pearl Brown Bull was on Radio Veritas last Friday, November 10, along with other members of the Human Rights Committee discussing that organization's programs... Conflict of interest? FOHRD interviewed her at on October 11, 2006 at her Randal Street law office. Like Mr. Attafuah, she had nothing good to say about the chairman of the commission and other hardworking members.
| | |
| --- | --- |
| | |
| Dorothea Gierycz | Rafael Ambiem |
Dorothea Gierycz and Rafael Ambiem
Ms. Gierycz heads the Human Rights Protection Division of UNMIL. She is said to be bankrolling Mr. Toe's sinister agenda through a third party. Mr. Ambiem is an Sudanese with an oversight of civil society organizations in the country and is said to be a colleague of Mr. Attafuah. It seems that he presented a different picture of situation so as to perpetuate his stay in the country. He is said to have even made some calls to some civil society organizations to campaign for their support in his efforts to have Cllr. Verdier removed. He did not get the needed support from the civil society organizations. Ms. Gierycz and Mr. Ambiem were interviewed by FOHRD at the UNMIL Headquarters on October 10, 2006. Since that interview, Ms. Gierycz has been contacting FOHRD's office to insist on confidentiality. They do not want to be named. This is not an indictment of the whole of UNMIL - I do not think that the head of the mission knows about this.
Some of these so-called Human Rights Defenders are using human rights as a farce. When the Isakaba boys hit the city of Monrovia, where were the rights defenders? When the street vendors took over Mechlin Street for over a year, where were they? Every night there are armed robberies in the country. Does it mean that to some of these rights defenders the victims have no rights?
It was no surprising that Mr. Toe was at LPRC asking question about a business deal conducted by the management of that institution! Since when have human right organizations been walking around and checking business contracts? They claim that Mr. Greaves tried to bribe them. Maybe they just wanted a bigger bribe, not from Greaves but from their real bosses at UNMIL and UNDP who find comfort in such negative acts.
Mr. Toe needs to orient his actions towards helping Liberia rather than serve as a tool in the hands of the international community. But again, as long as things seem "messy" in Liberia, the international community will be needed and people like Toe can continue to build houses and run their unpatriotic agenda.
---
© 2006 by T
he Perspective
E-mail: editor@theperspective.org
To Submit article for publication, go to the following URL: http://www.theperspective.org/submittingarticles.html