Is Brumskine the Right Presidential Material Liberia Needs?

By Mohamedu F. Jones

It appears from an October 10, 2001 Perspective story [Brumskine's Movement Launched in D.C. by Musue N. Haddad] that my friend and brother lawyer, Cllr. Ch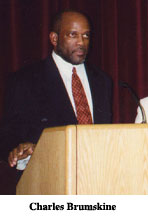 arles Walker Brumskine, is running for president of the Republic of Liberia. I like and respect Charles Brumskine, both personally and professionally. Mr. Brumskine is intelligent, well educated and is a very successful lawyer. It is clear that he has the intellectual and educational personal history to be president of Liberia. If elected, he may even be a great president.

However, under our current history, this is not enough: "As much as we disagree with the current leadership of our country, and we should, we must reach out to our people-they too have a story to be told and dream to live; together we will work to bring about the realization - LIBERIA- a place we can all be proud to call home." (Excerpted from Cllr. Brumskine's October 6, 2001 speech in Washington DC.) I mean, anyone can say this.

Given that most people running for political office will say the right things - even candidate Taylor did in 1997 - we must examine Cllr. Brumskine, and all candidates, as to whether they have the history, character, temperament and judgment to be the president that Liberia needs? And Cllr. Brumskine has some explaining to do.

Cllr. Brumskine and President Taylor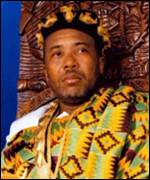 Cllr. Brumskine was an early associate of President Charles Taylor and his National Patriotic Front. He was with Mr. Taylor in the Buchanan and Gbarnga days when war was relentlessly waged on Liberians by Mr. Taylor's NPFL. Documented atrocities were committed in this period. He was associated with Mr. Taylor in April 1996 during the "Monrovia War." Cllr. Brumskine was an associate of Mr. Taylor when the NPFL refused to reach political settlement of the civil war or to abide by the numerous accords that Mr. Taylor signed in the years prior to1997. These actions by the NPFL led to the deaths of countless of thousands of Liberians, even when it was clear the war could have ended and ought to have ended.

What were Cllr. Brumskine roles in these events? How does Cllr. Brumskine account for his close personal and political alliance with President Taylor, even after many observers realized (as far back as 1990) precisely where Taylor would lead Liberia? Cllr. Brumskine was aligned with President Taylor when the activities (in Sierra Leone) occurred, which led to sanctions being imposed on Liberia. Mr. Brumskine needs to explain what his role was in these matters? Finally, Cllr. Brumskine needs to tell us precisely what led to his "break" with Mr. Taylor. And had this break not occurred, would he have retained his Senate and party jobs? These are some of the issues related to Mr. Brumskine's history in recent Liberia that he needs to explain. Mr. Brumskine needs to tell us how is he different from his former close associate, Mr. Taylor, and why should we believe Mr. Taylor does not present the role model that he Cllr. Brumskine would adopt for the presidency?

The President Pro Tempore of the Senate

Cllr. Brumskine was president pro tempore of the Liberian Senate during the first two years of the Taylor regime. What legislation was passed under Cllr. Brumskine? Cllr. Brumskine needs to tell us all of the laws the Legislature passed that he supported when he was leader of the Senate. How did these acts impact the people? How did they impact the political and economic affairs of Liberia? How did they address the needs of the Liberian people? How did these acts impact governance and democracy in Liberia? Did any of these acts give the president more power or undermine the constitution? Did Senate President Pro Tempore Brumskine believe that Bai Gbala and his compatriots committed constitutional treason, and if he did not, did he publicly speak up?

Under Liberia's constitution, the Legislature is required to pass certain Acts to protect and enhance democracy in Liberia; did Cllr. Brumskine bring any of this legislation to the floor when he was president pro tempore?


• Making it a criminal offense for police and security officials to torture or treat inhumanely any person in their custody. (Art. 21)

• To allow women and children of customary marriages to inherit. (Art. 23)

• Application of customary laws in courts (Art. 65)

• Punishment for treason consistent with the constitution. (Art. 76)

• The Code of Conduct for Public Officials (Art. 90)


In short, we need to know what Cllr. Brumskine did for or to the Liberian people when he was president pro tempore of the Senate. Cllr. Brumskine needs to tell us.

Cllr. Brumskine and Gus Kouvenhowen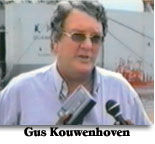 Cllr. Brumskine is (was) long time-retained counsel of Gus Kouvenhowen. "Gus" has had the reputation of being one of Liberia's most influential businessmen since the Doe years. Gus is said to be a very "good friend" of Liberia's heads of state from Doe to Taylor. He is also on the United Nations' sanctions list. How does Cllr. Brumskine see Gus in a Brumskine Administration?

After Mr. Brumskine became president pro tempore of the Liberian Senate, stories began circulating in Monrovia that he was using his power to the disadvantage of others in the practice of law and doing business. There is the rumor of Mr. David Vinton's forest and of taking clients from other lawyers by misusing the authority of his constitutional office. Cllr. Brumskine needs to explain these stories.

When he was president pro tempore, Cllr. Brumskine vigorously opposed imposing any restrictions on members of the legislature practicing law in courts before judges whom they could impeach. It is noted that, in the United States, to avoid undue influence, conflicts of interest and appearances of conflicts, members of Congress are not allowed to practice law during their terms. What is Cllr. Brumskine's position on this issue now? And why did he oppose it in the past?

Many years ago, when Cllr. Brumskine taught at the law school of the University of Liberia, many students questioned his temperament in dealing with them; most of the evening class students were professional adults studying law part-time and considered Cllr. Brumskine to be very intemperate. Does Cllr. Brumskine have the temperament to be the kind of president Liberia needs? Can he exercise power in a restrained manner?

All Liberians should give Cllr. Brumskine's quest for the presidency serious consideration. He should also forthrightly address the question of his long relationship and support for President Charles Taylor; explain his roles in the governance of the country that led us to where we were when he left, and especially show how he is different from Mr. Taylor. General denials and demurrers will not do. "President Taylor did not listen to me" is not enough. For many of us who only know for certainty the one person we will not support for election to the presidency in 2003, we are looking for that candidate that we can support. Mr. Brumskine may be that candidate. However, Mr. Brumskine, like all candidates, must demonstrate that he has the character, temperament and judgment to be a "good" president of Liberia. and not merely that he can say the right things.