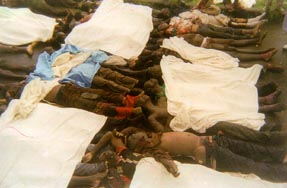 What really took place in Monrovia on September 18 and 19, 1998? Was there any attempt by Roosevelt Johnson to over throw the Taylor government as alleged? Or was there a conspiracy in which Roosevelt Johnson and his forces were used as scapegoats to end 'Krahn Presence' in BTC and the environs of Monrovia, because of fear. The events that unfolded before September 18, 1998, seemed to suggest that there was a conspiracy in which Taylor and his supporters planned to end their perceived "Krahn threat" in Monrovia.

Few days before the September 18 - 19, 1998 massacre, Taylor announced at a press conference that he would not allow a parallel government to exist on Camp Johnson Road, an apparent reference to the presence of a former factional leader, Roosevelt Johnson. The manner in which the massacres were conducted gave credence to the perception of those who believed that massacres were planned months before September, 1998.

As part of his Camp Johnson Road clean up campaign, a plan to end the Krahn presence in Monrovia, Taylor's security forces, with reckless disregard for life and property and at the instruction of Taylor himself, demonstrated their terrorism when they:

(1) Entered the United States Embassy compound under the command of the late Police Director, Joseph Tate, and launched an armed attack, killing four persons including Madison Wion and three others and wounded two United States Marines.


(2) Entered Eliza Turner Episcopal Church and Aladura Church on Camp Johnson Road, where a large number of women, children and the elderly had taken refuge during the September 18, 1998, carnage and open fire, killing hundreds.


(3) Entered the Ministry of Public Works, under the command of Taylor's son, (capitalized Chucky Taylor, with heavy machine guns and massacred several hundred displaced persons, mostly Krahn women, children and the elderly.


(4) Entered the Ministry of Internal affairs where mostly Krahn women, children and the elderly had sought refuge and massacred hundreds.


(5) Entered the Ministry of Postal Affairs, where displaced individuals had resided since the inception of the war, and opened fire on the occupants, killing hundreds, most of whom were Krahns, an act of genocide.


(6) Attacked the Matadi Housing estates and conducted a house to house search for Krahns, raping women and killing scores of innocent citizens, without provocation.


(7) Brutally murdered Colonel Omusu Saydee, former Spokesman for the retired and demobilized soldiers, Colonel Thomas Doway, Chief of Protocol of the AFL, and nine others who were arrested by Taylor's security forces at the Post Stockade, a military prison.


With the streets of Monrovia littered with corpses, Taylor ordered his men to conduct a "mop up" operation. In accordance with this directive, truckloads of corpses were carried and buried on the Monrovia-Roberts International Airport and Monrovia- Kakata highways in mass graves to conceal evidence. Taylor and his forces described this September 19, 1998 genocide, as a "professional operation." Newspapers were barred from publishing any photos of the scenes, thereby instituting a complete crackdown on the press in the country.

The overwhelming majority of Grand Gedeans who died during the Liberian civil war did not die from stray bullets, starvation, or any of the other ills normally associated with a war; they were carefully searched out by the NPFL, headed by Mr. Taylor, and slaughtered like dogs. The world knows that the common excuse often offered by Mr. Taylor's supporters that the atrocities were committed during a war situation and the leadership of the NPFL couldn't control every action of their men. As we say in Liberia, this excuse "cannot hold water."

Grand Gedeans represent the single largest group of Liberians still in exile. Few years ago, Grand Gedeans saw some of their leaders, Mr. Philip David and Mr. Kaydea died mysteriously in the Ivory Coast. Just last month, we learned that the Chief Education Officer of the county, and several other Grand Gedeans who returned home were forced to return to refugee life in Ghana after being chased out by government security.

Since the massacres of September 18 and 19, 1998, the Taylor administration has arrested scores of prominent citizens and charged them with treason. All those arrested and charged are prominent indigenous Liberians. The question that one needs to ask is "where all the women, children and elderly killed in Monrovia on September 18 and 19, coup plotters too, what crimes did they commit in order to be killed in such a manner?" The treason trial that followed was a mockery of justice. For example, Charles Breeze, Bai Gbala, Edward Slanger, James Chelley, Armah Youlo, Cllr. David Gbala and others were jailed because of their ethnicity. Their detention has nothing to do with treason. The continuing imprisonment of these people is an illegal act; they need to be set free. Unless, the Taylor government wants to tell Liberians that to be Krahn in Liberia is a crime. However, a month ago Bai Gbala, Cllr. David Gbala and James Chelley were released. But this is not enough, all those associated with the September 18 and 19, 1998, so-called treason imprisonment should be released without delay. It is a contradiction for a leadership to talk about the need for an effective 'national reconciliation process', while at the same time keeping others in prison falsely. Taylor has only one option, and that is to release all political prisoners if he intends to start the 'national reconciliation' process.