Editor's Note: Since he left Liberia about year ago, after the militiamen of President Taylor attempted to murder him and his colleague, Conmany B. Wesseh of the Center for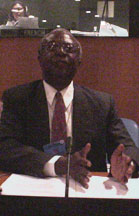 Democratic Empowerment, former Interim President, Dr. Amos Sawyer, has been silent. However, just about a month ago, he and another opposition leader, Mrs. Ellen Johnson Sirleaf, went to Burkina Faso to engage President Compoare regarding the Liberian situation. Now, in response to proposals for elections and reconciliation in Liberia put forward by the United States Government, Dr. Sawyer wrote to the Deputy Assistant Secretary for African Affairs, Amb. Robert Perry. Below is the full text of the letter:
Deputy Assistant Secretary Robert Perry
Department of State
Washington, D.C.


Dear Mr. Perry


I have read your remarks delivered on January 19, 2002 at the National Convention of the Movement for Democratic Change in Liberia (MDCL) in Silver Spring, Maryland, USA. They were posted on the Internet. Let me first express my appreciation that you were kind enough to engage Liberians by providing us with the views of the US government as to how we can utilize a process of democratic elections to transcend our current predicament. I am also very pleased that, as you revealed in your remarks, you and your colleagues at the US State Department have had discussions with Liberian political leaders on this issue. Please allow me to offer a view as a means of deepening the discussion.


Conception of elections as an exit from a violent crisis and an initial instrument to launch or energize a process of democratization is obviously not new. This was the principle upon which the Abuja Peace Agreement of 1996 was based. I have no doubt that this approach can be successful once its basic assumptions are carefully addressed. These assumptions have to do with such basic requirements as a level playing field, etc. My sense is that those assumptions were not fully addressed in 1997 nor were the conditions "on-the-ground" promotive of an immediate role for elections in the process of conflict resolution and peacebuilding. Let me hasten to say that the latter part of this comment, i.e. having to do with the role of elections in the settlement of the conflict, is a view I have arrived at through hindsight.


There are two points to be made: First, there has been nothing encouraging in the behavior and performance of Mr. Taylor to give hope that he will allow, contest or accept the results of free and fair elections in 2003. Instead, there is ample evidence that his every act is now calculated to set the context for negotiating domestic and international acceptance of the results of rigged elections. Muzzled media, stacked elections commission and judiciary, human rights activists on-the-run, state security forces often indistinguishable from irregular militiamen are among his "bargaining chips." The pattern is well known because it was played out several times during the search for peace, 1990 to 1997. A rancorous and protracted negotiating process will ensue and at the end of the day, opposition political parties and pro-democracy civil society organizations, under pressure from the international community, including mediating NGOs such as the Carter Center and NDI, will be called upon to accept conditions that are sub-optimal for elections. At the end of the voting, further bargaining will take place to determine how many seats the opposition "won" and how many seats are truly essential to ensure an effective opposition voice in the Legislature. Under international pressure, Mr. Taylor will be all too happy to make what are essentially minimalist concessions because as soon as such concessions are made, the international community will declare that the Liberian democratic process which began with the post-conflict elections of 1997 is now in its advanced stage of consolidation. As all the observers go home, Mr. Taylor will resume his reign of repression and gangsterism. The Carter Center and others will then resume their work trying to keep local human rights activists and others out of jail. If this seems to be a bit melodramatic it is because we have seen this scenario played out so frequently that we have had time to study its nuances.


The second point is fundamental; it has to do with the role of elections as an exit from conflict in Liberia. Liberia's wounds are deep. Layers of painful historical memories and at least two decades of violent conflicts and wars have left deep wounds that the Taylor government has not cared to soberly acknowledge, let alone seriously address. Elections are themselves inherently conflict-ridden; when conducted in an already charged environment, they can be combustible. And when you consider that the purpose for holding them is to decide the political leadership of a highly centralized political order that is already constitutionally skewed in favor of and culturally dominated by the president, the stakes become dangerously high and elections become elevated to a zero-sum game-perhaps a game of life and death. The elections of 1997 must have taught us that in Liberia, reconciliation and healing cannot begin with elections and presidential authority, under circumstances of conflict can become a weapon for retribution and repression. I admit, a "good president" can initiate appropriate reconciliation and peacebuilding processes; but even under a "good president" these processes can be easily compromised by circumstances imposed by elections if the principles and framework for reconciliation, healing and initial peacebuilding were not worked out and broadly agreed prior to elections.


What is the way forward, you may ask? I see three distinct but related requirements: first, the ending of war in the north and the creation of an environment conducive for dialogue among Liberians. Clearly such environment must contain democratic space. My sense is that such environment cannot be created under the leadership of Mr. Taylor. Having done some reading of international humanitarian law, including the Statute of the International Tribunal for the Prosecution of Persons Responsible for Serious Violations of International Humanitarian Law Committed in the Territory of the Former Yugoslavia Since 1991 and the International Criminal Tribunal for Rwanda in Arusha-and I suspect the criminal tribunal being set up in Sierra Leone will not be of any substantial difference-I cannot see why the provisions of these statutes cannot be applied to Mr. Taylor. I cannot imagine a circumstance under which he would not have been indicted were he in Bosnia or Rwanda. Moreover, in view of the findings of the UN Sanctions Committee, I cannot imagine a circumstance under which Foday Sankoh could be indicted without Mr.

Taylor also being indicted as an accomplice. The record is replete with atrocious acts that constitute Crimes Against Humanity, Violations of the Laws or Customs of War and Grave Breaches of the Geneva Conventions of 1949. The stark reality is that both Liberia and the larger Mano River basin area will remain in the throes of conflict as long as Mr. Taylor is president of Liberia and a formula for voting him out through elections over which he presides as president of Liberia is incapable of allowing the Liberian people a peaceful way to reclaim their future.


The indictment of Mr. Taylor for complicity in criminal breach of humanitarian law in Sierra Leone will provide an opportunity for Liberians with the assistance of the international community to create an appropriate environment in which Liberians of all persuasions can begin in earnest the dialogue to save their country and design a framework for reconstituting order for lasting democratic peace and sustainable development. I am convinced sufficient evidence can be adduced to get an indictment-that is, if principles applied to the tribunals for the Former Yugoslavia and Rwanda are to be applied in Sierra Leone. Please note that my point here regarding the indictment of Mr. Taylor is individual-specific. I perceive the National Patriotic Party and the Government of Liberia as entities distinct from Mr. Taylor. As a political party, the NPP should play a role in framing decisions having to do with the political future of Liberia. Obviously, indictments should be sought on an individual basis for all Liberians who are similarly complicit with respect to the atrocities perpetrated in Sierra Leone.


Creating and maintaining a post-Taylor security environment will require a level of security assistance from the subregion and the larger international community. This can be costly. Liberians must be prepared through streamlined priorities and proper management of their resources to pick up a substantial part of the costs. An unfortunate characteristic of contemporary international strategies for resolving violent conflicts in Africa-and I suspect elsewhere, is that the urgency of ending violence often increases the stakes of warlords and armed bands-groups whose value is derived in conflict and increases with sustained conditions of insecurity. The Liberian people, with the use of their resources and with the assistance of the international community, must send a clear message that the days of warlords and armed bands are over. A resolute approach to comprehensive disarmament and demobilization with subregional and international involvement will be an appropriate signal. Liberians must be prepared to pay a significant portion of the bill.


The second stage is for Liberians to constitute a temporary governance mechanism and construct a framework for the reconstitution of order to ensure lasting peace, reconciliation and democratic self-governance. Clearly, this will require considerable thought, dialogue and consultations at local, national, sub-regional and international levels, and the formulation, vetting and implementation of appropriate programs and plans of action. Thanks to history and to a decade of war, we should have a wealth of experience for guidance. How do we derive the temporary governance mechanism and how do we make the transition from Taylor? These and related issues can be the subject of broad consultations. A starting point can be the ECOWAS-sponsored reconciliation talks to which you referred in your remarks. My sense is that the Abuja Agreement under which the elections of 1997 were held constitutes an appropriate point of departure; especially since its other provisions having to do with restructuring of the military and security forces and the pursuit of reconciliation and development were violated by the Taylor government. My point here is that there is a legal, political and historical basis for a return to Abuja. Forces such as LURD must be brought to the table.


Third, in view of the enormous human tragedy that befell Liberia and the international circumstance that underpinned that tragedy, there is a need for the international community to make a long-term commitment to Liberia; especially to encouraging and assisting the process of reconstituting order through the crafting and nurturing of institutions of democratic governance and the process of developing Liberian entrepreneurship. By democratic governance, I have in mind processes that go beyond elections and the reconstitution of central authority, important as these are. I include processes that strengthen associational life, deepen a sense of common identity, citizenship, and shared participation in governance and processes that break the stranglehold of the presidency on Liberian society. And by entrepreneurship, I refer to the development of the capacity of ordinary individuals and communities to identify and create opportunities for their economic, social, cultural and political advancement building first, upon their own resources and then seeking supplementary assistance from elsewhere. Recalling the special relationship to which you refer in your remarks, I am of the view that the United States should lead the international community in this challenge.


Needless to say, these are evolving thoughts and they are controversial. I put them forward at this time as Liberians and others in the international community are grappling with dilemmas that face Liberia in the wake of possible elections in 2003. In this circumstance, reluctance to raise controversial issues must succumb to the challenges that face all of us who care about the human condition in Liberia.


Clearly, these comments do not exhaust the critical issues. I will be all too pleased to discuss any aspect of them with you and your colleagues.


Once again, let me thank you for sharing with us the views of the US government and for such substantial contribution to the discussion on the future of our country.


Sincerely,


Amos Sawyer