Liberians tend to follow their leader; if the leader is good, the followers will be good and if the leader is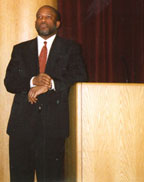 bad, the followers will be bad. This was the message Senator Charles W. Brumskine brought to Liberians in Northern California in December (2001). His appearance was part of a nation-wide town meetings he has been conducting in America. His presentation was followed by a question-and-answer period, and then $50 per plate dinner at a local hotel. He did not visit any private home for fear that it might be interpreted as holding secret meetings with the intention to overthrow Charles Taylor in Liberia.

He said that Liberia has a good form of government, a good structure of government in place but was diverted into a cult of the presidency - when the presidency became more powerful than the other branches of government. In the process, the legislature that is supposed to be representing the people as the first branch of government lost its voice. The judiciary, too, which is supposed to interpret the law, was also destroyed. He said that these branches of government had never really functioned.

To make the government function properly, he called for an ambitious program - make the legislature a part-time legislature like the one in California. He said Liberia has been copying the somehow expensive U.S. federal government system. But his dream of a part-time legislature is to attract working professionals to the Capitol Building to make laws on a part time basis and at the same time practice as teachers, lawyers, doctors, engineers or pastors.

In the Liberian Senate, he said he could have become a millionaire, still be there today and own his own plane if he had chosen to take that path but he chose to do the right thing. That is why I walked away, he said. Recently, the Legislature in Liberia was racked by financial misappropriations by various committee members to the extent that the Speaker of the House of Representatives was forced to resign on charges of corruption. Within 24 hours, he was reinstated to the same post when Charles Taylor intervened.

Brumskine said he owed other people's children something since he got his own children out of Liberia. He asked: "What is the difference between my kids and the children whom I left on the streets of Duala or West Point"? He said only the Grace of God caused them to be here in the U.S. while other people's children are still there. "So I do owe the other people's children something. Let me go home and help somebody else," a note that struck a wide applause from the audience.

What about attracting investors? Create the environment, he responded, because money runs away anytime there is gunfire or chaos. With a stable environment where the rule of law prevails, investors will come to Liberia, he added, "once they realize that our court systems work." He pinned his hope on the fact that Liberia is still the only country that enjoys the advantage of circulating the U.S. dollar alongside the Liberian currency. There is also the economic advantage of the fact that Liberians are few in population, which makes it feasible to draft an economic package.

Corruption is embedded in the Liberia society. This is a truism but he does not subscribe to the notion that Liberians are inherently corrupt. "Our people have been made corrupt," he averred. If the leader is bad, the people tend to be bad and conversely, if the leader is good, people will tend to be good, he added. He cited Tolbert as an example who made many changes in Liberia by deviating from what was the norm. Liberians started to catch up with Tolbert's speed such as going to work at 7 O'clock in Liberia, which was unheard of in Tubman days.

But he agreed with the questioner that no one person can make a difference in Liberia but one person can start it and set an example. He gave a scenario that: If as leader of the country, you do not steal to buy 50 vehicles, your minister will not steal to buy five vehicles.

Implementing the rule of law - he said the laws are there on the books; it will have to take the government the political will to enforce the laws. In the new Liberia, to be built on a constitutional premise, he predicted that the law will be applied to whoever breaks the law.

The next president of Liberia will have to dialogue with the people, have a relationship with the people, Brumskine said, in an effort to develop a constituency with the people.

Creating a class of Liberian entrepreneurs - When he was in the senate, he passed the Liberianization bill, signed by the president but never executed. That law sets aside certain businesses only for Liberians, something started by President Tolbert. He likened this to the Affirmative Action law, which protects minorities and minority businesses in America who have been disadvantaged for many years. He regretted that it is unfortunate that "in our own country, we need Affirmative Action for ourselves."

Foreigners control the Liberian economy. "The day after inauguration an executive order will be issued that no work permit will be issued to foreigners to work in Liberia unless he brings an investment of $250,000 into the country. He has skill that no Liberian has. When you work as an assistant in the store and your work permit expires after one year, it will not be renewed. You must go home." For storeowners, after five years, they will phase out as a gradual means of transfer of the retail sector to Liberians.

Accommodating old political cadres - He will not have problems in accommodating them; they are Liberians. They all must have a stake in there since the old Liberian political dogma has been cursed by the politics of exclusion, a bye-product of the present dilemma.

AIDS in Liberia - It is a two-fold problem - both medical and social. Currently, he disclosed that 2.8 percent of Liberians are infected with AIDS - too high for a small country like Liberia. This problem can only be confronted through sex education that can dismantle that male dominated culture. The average Liberian hates protective sex, he asserted, so the leadership of the country will have to get to the people, even if it means to go into the Zoe (Poro/Sande) bush. At the same time, the leadership will engage the international community to provide the necessary drugs to treat the AIDS patients.

He called on Liberians to accept people with AIDS as part of the society and not treated as outcasts. In his opinion, if people with AIDS go underground in avoidance of social stigma, and do not reveal that they are infected, they may infect a lot of other people. The question was raised by Lindsay Kennedy, daughter of Emmett E. Kennedy, one of the organizers of the town meeting from Stockton, CA. Lindsay had earlier introduced Brumskine as the guest speaker.

Export trade - He gives priority to investment in Liberians such as the creation of a home-based secondary industries like furniture factories that will give value added price index as a finished product rather than exporting round logs. The same thing holds true for the diamond and gold industries or the rubber industry. Liberia exports latex rubber but there is not a single plastic factory in Liberia since 1903 when the British first had a rubber farm in that country.

Senator Brumskine, a presidential hopeful for the Liberian presidency, explained that his motivation to join Charles Taylor's party during the 1997 election was to end the civil war. He said this was a well-considered thought as 75 percent of Liberians voted for the National Patriotic Party (NPP), including himself. He said his vote for Mr. Taylor was not for confidence in him but a vote for peace. He returned to Liberia in 1994 after the war had subsided and traveled throughout Bassa County, his constituency. During that mission, he learned from the people that the only way to end the war was to vote for Mr. Taylor as President. He hoped that Taylor would have graduated from the class of a warlord to that of a statesman, which wasn't possible, after all.

Liberians in America may not be able to vote in the 2003 elections in Liberia but can surely influence the outcome if they prevail upon their local officials to place Liberia back on the American agenda. He said that this could be done by making sacrifices in varying degrees - time, resources, our liberty, our limbs and even our lives. He urged Liberians to be prepared to make a sacrifice for Liberia.

"Liberia has given us all so much, what are we prepared to give back to Liberia?" He said the folks back home are fasting and praying fervently for their brothers and sisters in America to see the light and get involved in the cause of Liberia. Since there is so much to be done for the country, he urged Liberians to construct a new attitude toward their country.

He said the concept of Liberia has never been fully realized because during its course of history, one group of Liberians was disadvantaged as compared to another. He cautioned that it would not be expedient to dwell on the facts of history at this moment but to create a new Liberia deep-rooted in constitutional premise that "we are all equal under the law." regardless of ethnic, religious, gender, political affiliation." That is the Liberia that we seek to build.

He said, "we seek to do for our country and our people what should have been done many years ago - help our country, help our people, and help them find a place for themselves."

He further stated that his mission in the U.S. is not to create an order that will be imposed on the people back home, but to empower them and place in front of them a viable alternative to what they have there so that they can determine for themselves where we go.

Sounding very religious, the senator said that freedom is a God-given right, and not a generosity of any one person but one that comes from God Himself. He made reference to the freedoms Liberians are now enjoying in the U.S. as a result of the great sacrifices the men of this country made in the past with their blood, sweat and tears. Citing as an example, he said 50 years ago, it would have been a crime for black people to congregate in one room such as the town meeting he was addressing. This boils down to making sacrifices.

He urged Liberians to define their own goals and objectives, and not to let others define same for them or else they will always remain a displaced people and always in economic slavery. To make a difference is to meet with elected officials and ask them to put Liberia back on the agenda of this country so as to end the suffering of "our people."

Brumskine said he joined the Liberian Senate in 1997 as an opportunity to make a difference for Liberia. But why did he work in the Taylor government, others may ask.

"I did not work in the Taylor government; I worked in the Liberian government." I led the Liberian Senate. He said he was credited for explaining to the Liberian people the functions of the Liberian Capitol Building (seat of the Legislature) through open hearings.

Liberia is ripe for terrorism, he said, without explaining further, but urged Liberians not to ever sit by and let the politicians alone run the show. He is a lawyer and has always been a lawyer but he was bitten by a bug of patriotism that spurred him into the limelight of politics.

He decried the existence of two parallel laws that created two parallel societies in Liberia - Western educated citizens who live under one set of laws as opposed to tribal people in traditional society who live under customary laws. There must be a true integration if the man who lives under the customary law has to understand and appreciate the concept of democracy. He cited as an example a divorce case, which ends up on the desk of the president if it pertains to the man in the village whereas the one pertaining to his counterpart in the city ends up on the desk of the Chief Justice.

In addressing the thorny question of land ownership in Liberia, he opposed the sale of land to non-Liberians. Taylor had wanted to enact legislation that would grant land ownership to non-Liberians. During constitutional hearings around Liberia in 1982, covered by this writer for the DAILY OBSERVER, an overwhelming majority of Liberians opposed the sale of land to non-Liberians, an opinion that was respected by the framers of the 1986 Constitution. .

If Liberians wake up tomorrow and find Charles Walker Brumskine in the chair on the fourth floor of the Executive Mansion after the 2003 presidential elections, what will top his agenda in the first one hundred days? Security! he blurted. That will be the first thing he will have to deal with because there are about 20,000 young men and women who have been killing innocent people since 1989 but are now roaming around as a reservoir

of trouble. They must be immediately rehabilitated and reintegrated into a structured army where they will never see guns anymore but work for at least five years in the agriculture or engineering battalion.

The next step will be to resuscitate the debt-burdened economy by reaching out to the Brenton Woods Institution and the IMF to seek a debt cancellation of Liberia's three billion dollars. But structural adjustment will not form part of the program as he deemed it detrimental to the welfare of the people. And the exportation of round logs will be stopped immediately. Above that, his long term dream is to invest more in education and human resources.

Brumskine will be returning to Liberia early 2002 to announce his candidacy. At the same time, he will shop around for a political party that will buy and adopt his platform on which he intends to run for the presidency. There are more than ten registered political parties all of whom fielded presidential candidates in the 1997 elections. He did not give a hint about his preference.