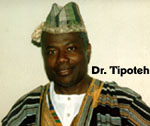 During the last few months, Dr. Tipoteh made remarks that could lead to a new era in Liberian politics, if taken seriously and put to execution. A few weeks after President Taylor called on exiled politicians and others to return home and freed three of 13 political prisoners, Dr. Tipoteh called for the restructuring of the Liberian army. Two weeks ago, while in Nigeria he is said to have asked the Nigerian army to "train" the Liberian military and finally few days ago, he advocated the holding of a peace conference under the auspices of the Nigerian leader. The fact that all these remarks took place around a trip to Nigeria is important, because that country has played a tremendous role in the peace process. Its stature in the sub-region also gives it the unique capability to intervene in Liberia at this time to impact positively the course of events. The Executive Mansion in Monrovia has reacted to these proposals in a lukewarm manner but did not totally reject them.

On the issue of the elections commission, President Taylor said it was not negotiable. He would have to, come 2003. If all political parties get together and ask for it, he would have to go along, unless he cancels the elections or run alone, with some makeshift political opposition. Regarding the structuring of the national army, there has not been any official reaction. That may be a good sign. With the Lofa fiasco and the many scandals in the military, it may be in the interest of everyone that a small professional military group be trained to form the nucleus of a peace- time army. The final point Dr. Tipoteh raised concerns the holding of a meeting of the minds between Mr. Taylor and the opposition leaders. It seems to have received the blessing of the Mansion, with the provision that others "accept Mr. Taylor as their president." This has never been a problem for anyone. After the 1997elections, every one had accepted Mr. Taylor as their president. It was up to Mr. Taylor to live to that respect and stop behaving as the head of a small clique.

Dr. Tipoteh must be given credit for finding a way to go public with proposals that have the potentials to move the peace process forward. These issues were imbedded in the Abuja Accord which led to the holding of elections in 1997: a) an independent elections commission; b) a re-structured national military; and c) national reconciliation with its many layers. One could say that if these issues were to be taken care of now, the country would make a giant leap. The past four years have shown to all the limits of sectarian politics.

However, one must be careful not to make the same mistakes that were committed in the past. Why should a meeting with political leaders and Mr. Taylor take place in Nigeria? Such a meeting would last only a day or two and result in a communiqué&Mac226; that every one would sign, certainly out of respect for the host but that nobody would really feel obligated to respect, as it happened many times in the peace process. Who would take part in such a meeting? Who would decide who are the political leaders to be included? Mr. Taylor? Dr. Tipoteh or Mr. Obasanjo? Would Conmany Wesseh attend? Would
former Senator Brumskine be invited? Would Lavela Supuwood be present? Would Dr. Sawyer be invited? What would be the main issues on the agenda? The economy? The judiciary? The security apparatus? National reconciliation? Can the political issues facing Liberia be solved in a one-two day meeting?

Such a meeting in Abuja would only be successful if it were meant to be a prelude to a national conference, held in Monrovia and involving every player in the political, social, and economic spectrum. That meeting should be open to all and last as long as it takes to formulate long lasting and far-reaching solutions to the many problems plaguing the country. If Mr. Obasanjo and Mr. Taylor need to meet and discuss issues at the levels of presidents, they must do so. If President Taylor needs to ask Nigeria for help to put some sanity in our military, he must do so as a president of Liberia. There are certain things that can only be done at certain levels. Putting a group of hand- picked "political leaders" with two presidents in a room for a discussion on complex issues such as ours would not solve our problems. It would be like treating cancer with a band-aid.

If Mr. Taylor really wants to talk to the opposition to reach an understanding, he must invite them personally, guarantee their security in Monrovia and around the country, and then he must organize a meeting of the minds involving one and all. He must feel secure enough to invite LURD as well as others. Such a meeting would help in dealing with fundamental issues that cannot be discussed and concluded in one-two-day meeting in Abuja. Of course, asking some of the politicians to go to Monrovia would take more than a guarantee from Mr. Taylor, and this is where Nigeria could help.

Far from advocating a conspiracy of any sort, political leaders must coordinate their efforts. In the past weeks, many small personal initiatives have popped up here and there. These are all well intended actions. However, to be successful, they must fall into a framework that takes into account the current situation in the country. If politicians are looking at the possibility of free and fair elections in 2003, if they expect to make a respectable showing, they must work together and reach a consensus. This consensus must include the NPP. It will mean that they have given up any thought of political change through violence and decide to work for a peaceful change, in concert.

There are not many choices. Either the NPP government is overthrown by force, or it is involved in a political change where losing the elections does not mean death or war crime tribunals. How to reach such a consensus, how to convince the operatives of Mr. Taylor to accept an open and peaceful political system is the issue. Each party has its own problem, but the real challenge is to create an atmosphere of mutual respect and understanding in a peaceful setting. The pressures that have been put on the regime so far have been extremely costly for the common people. The war in Lofa seems to go nowhere but create more misery. The UN sanctions did not change much in the political behavior at home except make things costly. The only people who could affect the needed change are Liberians. It takes courage to work for peace.

The actions of Mrs. Ellen Johnson-Sirleaf and Dr. Tipoteh are laudable. They need to be pursued and strengthened. Now that they have both taken the initial steps, they must find a way to coordinate their efforts, build a consensus around those issues that they both see as impediments to the electoral process and form a common front and work out the modalities for a national peace meeting, which would transcend party politics and
personalities.

A meeting of political leaders and President Taylor would only be meaningful if it incorporates every aspect of the current political life. The ongoing confrontation between the lawyers and the legislature, the disruption of the state of affairs at the University of Liberia, the war in Lofa, the emerging misunderstanding between Senator Grace Minor and the Police Director about bullets found in her office are all symptoms of profound structural problems, all stemming from an incomplete peace process. A national discussion on the causes and possible solutions to all these structural problems can only be effective if all are involved in the search. And this cannot be done in a one or two-day meeting between selected political leaders and Mr. Taylor in Abuja, nor can be achieved in an hour meeting between Mr. Taylor and Mrs. Johnson-Sirleaf or Mr. Taylor and Dr. Tipoteh.

Finally, for such a meeting to be successful, it must be convened in an atmosphere of relative peace and reduced paranoia. A prelude to such a meeting must be the Mano River Union Summit where a framework for regional peace would have put a lid on the cross-border fighting. The up-coming conference between the presidents of the Mano River Union states will certainly lead to a consensus. That understanding could pave the way for people like General Joe Wylie, Counselor Lavela Suppuwood and General Charles Julu to come to Monrovia and be part of a national peace meeting.

After the security framework is defined, another question would be that of the leadership of that meeting. From the first meeting of Liberians in Banjul to the last meeting of the warring factions, the one group that has stayed above the fray has been the Interfaith Committee. That group could combine its wisdom and experience with the women organizations that have come to prominence in the last weeks and serve as conveners.

Short of a new war or another bloody takeover, Liberians must work together to reach a peaceful agreement. Wars can go on for generations. Gun makers and killers will only be there and instable countries will always provide a fertile ground for them.

For all of this to take place, Mr. Taylor needs to feel secure and opposition leaders need to know the extend of their abilities to influence the course of events in the country.

The time for peace has never been better, if the opportunity is seized and used positively. To achieve this, politicians would have to forget their differences and work together so that Liberia may have a chance to become the haven of peace it ought to be after so many decades of political violence.

---
For subscription information, go to: www.theperspective.org or send e-mail to: editor@theperspective.org

• The Perspective • P.O. Box 450493 • Atlanta, GA 31145