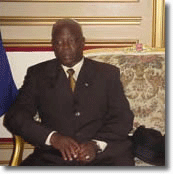 Moses Blah
President Moses Z. Blah says the Government of Liberia will not be run by remote control from outside Liberia. He said anyone trying to run the country from outside will be engaging in a fruitless exercise as the present administration will not allow that to happen.
President Blah made the statement in Accra, Ghana, recently when he addressed journalists, an Executive Mansion release said.
The Liberian president said "there is only one government and one president in Liberia", and warned all officials of his government that anyone taking instruction from elsewhere will be dismissed.
President Blah's warning comes in the wake of a situation wherein some officials of government unceremoniously depart the country only to return and attempt to implement instructions from outside.
He repeated that no official of government will be allowed to travel outside of the country without permission from him.
Meanwhile, the Liberian leader has directed Foreign Minister Lewis Brown and Justice Minister Koboi Johnson to communicate with all friendly government of countries where the Liberian government has properties to halt the sale of all said properties including embassies, residences, chanceries, and vehicles.
He warned that any individual or entity purchasing Liberian government property will be doing so at their own risks as no stone will be left unturned to retrieve said properties. The President's directive comes in the wake of reports that some properties of the Liberian government abroad are in danger of being illegally sold.
In a related development, the government says it has credible information of the illegal flow of huge quantities of money out of the country in contravention of currency regulation and the laws of Liberia.
President Moses Blah has therefore directed relevant government agencies including the Bureau of Immigration, airport authorities, security agencies and all banking institutions to immediately step up efforts to arrest the situation.
In another development, Ghanaian President John Kufour has reiterated ECOWAS and his government's commitment to ensuring that peace and stability return to Liberia. The Ghanaian leader made the assurance in Accra last Tuesday when he held talks with his Liberian counterpart President Moses Zeh Blah.
President Kufour said the situation in Liberia requires the continued support of regional leaders in order to see the successful implementation of the Accra Peace Agreement.
For his part, President Blah sounded an urgent appeal to the ECOWAS Chairman for immediate action to halt the ongoing fighting in rural Liberia despite the signing of the peace accord. President Blah expressed dismay that although all parties had signed the peace deal, fighting continues to rage in parts of Liberia including Nimba, Bong, Bassa, Margibi and the South-eastern region.
The two presidents also discussed bi-lateral matters in the interest of both Ghana and Liberia.
---
© 2003: This article is copyrighted by The Inquirer newspaper (Monrovia, Liberia) and distributed by The Perspective (Atlanta, Georgia). All rights reserved.