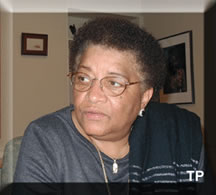 Ellen Johnson-Sirleaf
Unity Party's presidential hopeful, Madam Ellen Johnson-Sirleaf, last week stormed Monrovia with rousing welcome from hundreds of Liberians and foreign nationals, while the iron-lady of Liberian politics has pledged her commitment to work with the in-coming Gyude Bryant-led transitional government in a bid to achieve its mandate.
Speaking to newsmen at her temporary residence shortly after arrival in the country on September 20th, Madam Sirleaf said the Gyude Bryant administration is to usher in a new day and new order in Liberia, and as such a broad-base participation of all Liberians is required.
Madam Sirleaf said although her role in the transitional government is not yet known, whatever she will engage in to stop the untold sufferings of Liberians, will be geared toward helping the transitional government in meeting the wishes and aspirations of the people.
The Unity Party 'Iron Lady' indicated that the primary responsibility of all Liberians mainly politicians, is to work for the building of a new Liberia where the children can live in freedom and prosperity.
As a sign of commitment to her statement, the astute politician disclosed that by the end of this year she would have transferred her office from Abidjan to Monrovia, as preparations are already underway.
Liberia's foremost female politician pointed out that now is the time for all Liberians to get together and reconcile their differences and see how best they can formulate a new vision that will bring about unity, development and hope for the future, adding, "I'm very much excited to be part of the new order in Liberia".
Continuing further, she said amidst cheers from her teeming supporters and well-wishers, "I therefore want to, this time, call upon my Liberian brothers and sisters to roll up our sleeves and work hard for the common good of our country. Because whatever help that will come from the international community can only be effective and beneficial to us once we are prepared to make good of such assistance."
Mrs. Sirleaf concluded her remarks by calling upon all combatants to lay down their arms and take advantage of the classroom where they will learn how to become productive citizens, noting "the time for war in Liberia is completely over."
---
© 2003: This article is copyrighted by The Inquirer newspaper (Monrovia, Liberia) and distributed by The Perspective (Atlanta, Georgia). All rights reserved.