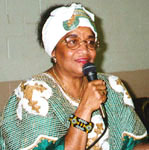 Ellen Johnson-Sirleaf
Unity Party's standard-bearer, Madam Ellen Johnson-Sirleaf says she remains undaunted in the search for peace, equal opportunity and social justice in Liberia. Speaking last Monday at the Monrovia City Hall, when the Collaborating Political Parties (CPP) honored her for working tirelessly in the search for durable peace and stability in Liberia and the sub region, Madam Sirleaf said the search for social justice and peace for everyone in Liberia remains one of her primary focus.
The UP's 'Iron Lady' said over the years, she has been criticized, victimized, marginalized and abused by enemies of peace and justice, but nevertheless, she added, "we're still moving up".
The astute politician disclosed that with the ushering in of a new day in Liberia, Unity Party in collaboration with other political parties will be formulating plans for a vision that will bring about economic prosperity, freedom and equal opportunity for all Liberians.
Mrs. Sirleaf said the 'New Liberia' that members of the collaborating political parties envisage requires new thinking, commitment, understanding and the broad-base participation of all Liberians.
In his introduction remarks, the controversial acting chairman of the National Democratic Party of Liberia (NDPL) J. Hodo Merriam, said the coming together of political parties in Liberia demonstrates unity and understanding amongst Liberians.
Also appearing yesterday on Radio Veritas live phone-in talk show, Mrs. Sirleaf stressed the need for reconciliation to be the road map in the New Liberia.
The 'Iron Lady' said if unity, oneness and other tenets of democracy are to take root in the Liberian society, it is incumbent upon all Liberians to recognize and accept their mistakes, reconcile their differences and allow national interests to supercede personal and party interest, adding "Liberia finds herself in a state of degradation and we all have to work together to redeem it".
Mrs. Sirleaf reiterated her plans to working with the Gyude Bryant incoming government and the international community to make Liberians engage in productive works to become self-reliant.
Meanwhile, Mrs. Sirleaf has warned Liberians to stop comparing her with former president Charles Taylor because according to her, they are not of the same class since she is a woman of her word, a hint to a wise is quite sufficient!
---
© 2003: This article is copyrighted by The Inquirer newspaper (Monrovia, Liberia) and distributed by The Perspective (Atlanta, Georgia). All rights reserved.