Top Liberian Politician Commends Liberian Women For Peace Initiative

The Inquirer
Monrovia, Liberia
Distributed by

The Perspective
Atlanta, Georgia
April 26, 2003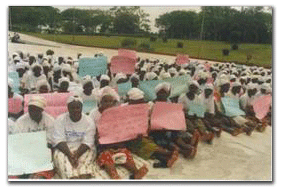 Women Group at the Executive Mansion
Presidential aspirant Dr. Togba-Nah Tipoteh has commended Liberian women for leading the way towards peace in Liberia. He praised them for their courage and determination in staging a well-organized and sustained peaceful demonstration for peace in Liberia. Dr. Tipoteh said that the women have clearly shown that peace can be attained in Liberia if Liberians can work and act together for peace, a release said.
Dr. Tipoteh, who himself is a leading peace activist and a Board Member of the Liberian Women Initiative (LWI) called upon political parties and other civil society organizations to support and help sustain the highly commendable peace initiative of the Liberian women.


He observed that although there are powerful forces who are pushing war because they benefit enormously from it, Liberian people acting together for peace will prevail over the forces of war.


Dr. Tipoteh is therefore calling on all peace loving Liberians to join forces in working together for an immediate cease-fire and the deployment of an international force to stabilize the terrible security situation in Liberia.


The LPP presidential aspirant said that the peaceful demonstration of the women has shown the way forward, and deserves the support of political parties and other civil society organizations in the country, the release concluded.

---
© 2003: This article is copyrighted by The Inquirer newspaper (Monrovia, Liberia) and distributed by The Perspective (Atlanta, Georgia). All rights reserved.
---