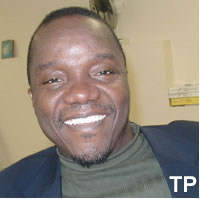 D. Conmany Wesseh
In keeping with the recent Accra peace agreement for parties to the Liberian conflict and other stakeholders including the civil society and political parties to nominate their respective representatives to the Transitional Legislative Assembly (TLA), the civil society and political parties have begun the process.
Over the weekend, the Civil Society Movement of Liberia(CSML-L), which divided itself into its constituent groupings for the exercise, began the process of electing their representatives to fill the seven slots allotted to them.
The various trade unions overwhelmly elected the president of the Tailors' Union, Mr. Yiafia Vakpa, while the pro-democracy and human rights organizations elected Mr. Conmany B. Wesseh of the Center for Democratic Empowerment (CEDE), as their choice for the TLA. The remaining five CSM-L slots are expected to be filled through the same process within the week.
On the political parties' front, where all each of the 18 parties have to be represented by a representative, the All Liberia Coalition Party (ALCOP) elected its Chairman, Mr. David Kortie to fill their slot.
In their respective acceptance remarks, the three winners promised to do all within their power to live up to the expectation of their various constituencies and the nation at large.
Meanwhile, the nomination and election process to fill the remainder slots in the incoming TLA continue this week within the 15 counties, political parties and the CSM-L.
---
© 2003: This article is copyrighted by The Inquirer newspaper (Monrovia, Liberia) and distributed by The Perspective (Atlanta, Georgia). All rights reserved.