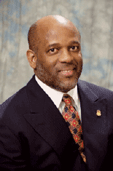 Charles W. Brumskine
Members of the Press, Fellow Partisans,
Good Afternoon.


We called you here today to draw your attention to a very serious matter and to issue our position on this grave development.


On yesterday afternoon one of our Partisans rushed from Buchanan to our Headquarters to report to us about the arrest and detention of our Grand Bassa County Chairman, Mr. Byron Browne, along with one George Gaybueh of the New Deal Movement, and another compatriot named Aaron Paylay.


According to reports, the arrest was carried out by uniformed and armed men believed to be of the Anti Terrorist Unit (ATU) and the Special Operations Division (SOD) of the Liberia National Police. These armed men also ransacked the home of Partisan Browne and destroyed our party documents that were in his possession. We are of the firm conviction that this act of provocation is politically motivated.


This in not the first time that we have heard of members of opposition political parties being molested, harassed or intimidated and it can be deduced that this behavior of government security men will be common place during the electoral process.


With all due respect to the NPP led government, we do not want to believe that it would resort to such infantile political tactics to intimidate opposition parties. And it can be loosely assumed that these officers were acting unilaterally, without the sanction of the NPP government. We consider the behavior of the arresting officers an act of brutality, which had criminal undertones.


In view of the foregoing, we call upon the government of the republic of Liberia, through the ministries of defense and justice to call their officers to book and release our county chairman, Byron Browne, along with this other colleagues immediately. Government must ensure that this act of savagery must not be repeated on any free citizen of this republic regardless of his/her political persuasion.


We call on the International Community and human rights groups to take keen note of this phenomenon. This gives all the more reason why we continue to cave

for a stabilization force. We who dwell within the confines of our borders are worried because it seems that some over zealous security personnel are beginning to intimate opposition political figures as we are fast approaching the 2003 Elections.


We call upon all peace loving Liberians irrespective of their political affiliations to condemn resoundingly, the grave act of the violation of the constitutional rights of harmless citizens.


I thank you.