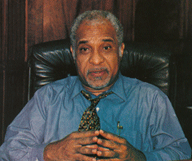 Elie E. Saleeby, Governor of CBL and Chairman of CBL Board
Liberia is considered one of the world's poorest countries - many say the world's outright poorest - where under the dictatorship of Charles Taylor, government employees such as police officers, soldiers, teachers and clerks have not been paid for well over a year.
It is difficult to comprehend, but we are told that the average salary is less than $25.00 (twenty five dollars) per month - not enough for a bag of rice, the nation's staple. Conditions have been so devastating that the average family cannot afford to fully feed itself. For many, sending their kids to school is a luxury they cannot afford.
Against this background, the Board of Governors of the CBL met and drew up elaborate contracts covering salaries, tenure, severance packages and miscellaneous expenses for themselves.
The Governor and Chairman of the Board was Elie Saleeby, Sandei A. Cooper, Sr., Deputy Governor, Willie Belleh, Jr., Member, Dr. Charles A. Clarke, Member, and Nathaniel Barnes, Member, replacing Hilary A. Dennis, Member.
In a contract signed by this dubious bunch, they agreed that the governor be paid a monthly salary of US$10,000.00 (Ten thousand dollars) plus monthly benefits of US$2,300.00.
The deputy governor was awarded a handsome compensation as well, in the monthly amount of US$7,500 plus an additional US$2,000.00 for monthly benefits.
Not to be outdone, the members of the board of governors were each awarded US$2,500.00 for meeting about four times a year. Simply put, these folks were entitled to collect a whopping $30,000.00 (thirty thousand dollars) for about four days of work!

Hilary Dennis, a departing board member, is said to be entitled to the sum of $45,000.00 after he voluntarily left his position after three years of service. This severance amount was calculated at $2,500 monthly for eighteen months, fifty per-cent of his tenure, to be collected in three equal installments.
And what, one may ask, is the basis for such generous pay packages given the prevailing economic conditions in the country? They covered themselves by quoting the economic theory of "opportunity cost" as a rationale. Well, opportunity cost is defined as the "cost of pursuing one alternative versus another". Is it not reasonable to ask, what other equal alternatives are there in this society to reap similar benefits? This is obviously a sham given the economic reality.
It is incomprehensible that given the dire economic conditions prevalent in the country, any group could justify such exorbitant compensation packages. It is simply unacceptable and I think the Liberian people need to raise these issues as we head into elections in 2005. Such deeds warrant careful judicial scrutiny, to say the least.

A questionable loan: where is the money?
Another document deserving scrutiny is the purported loan agreement drawn between the Government of Liberia and the Central Bank of Liberia. On June 27th, 2003, a loan was processed in the amount of $49,000,000.00 (forty nine million Liberian dollars).
It will be recalled that President Taylor had already been indicted by the United Nations Special Court in Sierra Leone. He had recently left Accra, Ghana, where peace talks were going on among representatives of his government, the rebel forces and other parties. He had said "I'm willing to step aside if I'm found to be the problem in Liberia", or words to that effect. Upon his return to Monrovia, the rebel forces engulfed Monrovia in an attempt to finally dislodge him from power. Monrovia was under siege.
Under such conditions, was it prudent for the Minister of Finance to carry out such a significant transaction in the name of the government? It is specified that $10,000,000.00 (ten million dollars) of the money borrowed was to go to the Ministry of Finance for Civil Servants Salaries, and the rest to the "Ministry of Defense and the Special Security Services (SSS) as subsistence for the Military, Militia and salaries for Security Personnel."
Well, just recently, we learned that soldiers were protesting the re-appointment of Daniel Chea as Minister of Defense because they hadn't been paid for so long. Which begs the question, did they get paid according to the stipulation of the loan agreement? These matters represent a serious miscarriage of justice, decency and fairness. All the responsible parties must be compelled to explain themselves. The Liberian people deserve no less.

Click the links below to view the Documents:
LOAN AGREEMENT
COMPENSATION
SEVERANCE PAY
BOARD EXPENSES
UNFAIR CONTRACTING POLICY