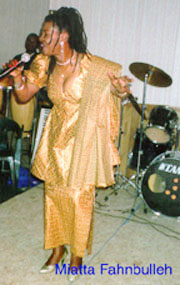 Who is this lady that has influenced two generations of African musicians and is strong and captivating as ever? She is Ms. Miatta Fahnbulleh, who is affectionately referred to as "DD" - Doyen Diva of Liberian music. She is a vocalist, songwriter and music producer.

Miatta Fahnbulleh was born in Monrovia, Liberia, West Africa, and educated in England, Sierra Leone, Kenya and the United States. She like those Liberians who think like her, are in exile from their homeland because of their activism. Miatta has lived in Nigeria, Ghana, Paris and London, and today the United States. She is the Mother of two - son and daughter and grandmother of two.

She is the daughter of the late Henry Boima Fahnbulleh, Sr., Liberian ambassador to East Africa, who in 1968, was arrested, tried and convicted on a trumped-up treason charge in which the government sponsored demonstrations and newspapers editorials that condemned him. However, President Tolbert later granted him executive clemency in 1971.

Her maternal grandfather was Nete Sie Brownell, a prominent figure in Liberian politics. He along with Representative Francis W. M. Morais were sent by the Krao (Kru) and Grebo leaders in August 1931 to the League of Nations in Geneva to present the African Liberians' position regarding the political reprisals in the aftermath of the forced labor scandal. Like his son-in-law, President Tubman jailed Mr. Brownell for his politics.

Miatta, like two of her siblings, HB, Jr. and George K. are active in the ongoing dialogue about Liberia's past, present and future.

Since her first international appearance at the Apollo Theater in Harlem, New York, where she took 2nd place in the competition, Miatta has enchanted audiences with a voice described by a Liberian woman writer as "sweet and haunting with the magic of the sea, eternal fire of the mother drum and the sensual perfume of high, mysterious mountains."

This writer is an old acquaintance of Ms. Fahnbulleh. Both she and I were students on the East Coast in the 70s. Recently, we met at a celebration sponsored by Liberians of the 70's and 80's of Philadelphia, which was held in honor of Mrs. Ellen Morris-Warah, in Philadelphia on Saturday, November 17, 2001, where she appeared as a guest performer.

Miatta has an opinion about lots of things. Her declaration of independence in these matters did not come as a surprise to me because her persona radiates confidence and excellence. Her commitment to music and the plight of children goes beyond the boundaries of Liberia. She is a distinguished performer and professional among her peers.

I had the opportunity to review some of her accomplishments. Miatta has performed throughout the US raising awareness not only about the tragic situation in Liberia and neighboring Sierra Leone, but also the suffering of all of Africa's war-scarred children. She has raised thousands of dollars for many African and Diaspora charity, religious and non-profit organizations worldwide, she has also participated in numerous prestigious festivals and award ceremonies, and appeared regularly on African, independent, public American radio and television programs. In Africa, Europe and America, she is embraced and respected as an artist of integrity and sought out as a speaker for the burning issues of our times touching children, human rights and women's equality.

In 1991, she represented her country at the 2nd Pan African Festival (FESTAC) in Lagos, Nigeria, and she was appointed as the official Goodwill Ambassador of Liberia. She's produced and recorded several classic albums prized by collectors, and her songs are featured on many compilation recordings. She's collaborated with such musical luminaries as Hugh Masekela, Manu D'Bango, Ed Townsend, Donald Byrd, Duke Pearson, Mbamina, Andre Manga, Ebo Taylor, George Lee and Kofi Ghanaba.

Miatta is actively involved in her continent's progress, using her music for the African Renaissance, she is cofounder of OBAA: Women of Color in the Arts, and a patron for the African Women's Development Fund, a global philanthropic and fundraising initiative.

Based on her achievements and longevity in her line of business, it can be said that "DD" is driven by the love of music and that she genuinely enjoys her work.

Recently, Barbara Bodine, a friend of Miatta had this to say, "…I was with Miatta Fahnbulleh in Philadelphia last weekend (November 17, 2001) - and when she sang 'IMAGINE' her people went wild with appreciation.

"It so reminded me of the UN Concert with The Palestinian Rock Band and the other (cannot recall the name-but I listened at my home-via Internet). At the end of the concert at the UN they also sang John Lennon's IMAGINE - Hearing Miatta sing it on Saturday night with her Liberian Families and also hearing it on UN Day Concert made me think that there must be one Global Concert For Peace- and the celebrity voices of Peace - such as Miatta and the others could record this CD for the Children of the World."

In her 1997 recordings entitled, "A Song For Liberia", which she "dedicated to the two hundred thousand Liberians never 'laid to rest'; the brothers and sisters and foreign nationals who lost their lives on our account; our grandparents and parents, now refugees dying in strange lands; the most unwilling participants and victims of this war our children, our future," one of the songs - "We Are One", goes like this:

Together, you and me can work it work
Together, we can find a way out
Together, tho we starting all over again
Together, we'll make up a special team
Together, we gotta put aside our pride
Together, you and me can ride this tide
Together, imagine you were me,
and I - you, then you'll know
Together, that I am exactly like you
We are one
We are one
We are one.