Liberian Journalist Decries Press Clampdown
The Perspective

July 19, 2001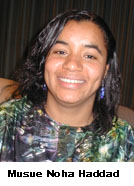 A Liberian journalist, Ms. Musue Noha Haddad, currently a Hubert Humphrey fellow, has spoken about the difficulties journalists encounter in Taylor's Liberia. Ms. Haddad is a journalist from The News newspaper in Liberia and a contributor to The Perspective. She made the remarks when she recently addressed the newly established "Kurt Schork Memorial Fund".
The Kurt Schork Memorial Fund was created early this year, to honor Kurt Schork, "an American journalist who was killed in a military ambush while on assignment for Reuters on May 24, 2000 in Sierra Leone. The Fund will annually award two $10,000 journalism prizes to recognize the work of local journalists in developing areas and freelance journalists covering foreign news."
Other journalists invited by the Kurt Schork Memorial Fund who spoke at the event held in New York include: Ervin Hladnik-Milharcic, a New York-based correspondent for Delo, a Slovenian newspaper; Chuck Sudetic, a freelance journalist for The New York Times from 1990 to 1995 and the author of Blood and Vengeance, One Family's Story of the War in Bosnia; and Rodney Pinder, editor of Reuters video news.
Ms. Haddad spoke of the glorious days of free press in Liberia during the Interim Government of Dr. Amos Sawyer. She informed her audience that the newly found freedom came to an end when Charles Taylor and other warlords entered Monrovia as members of the Interim Government.
Ms. Haddad noted that, "after the July 1997 elections in which Charles Taylor was declared winner, he vowed in his inaugural address to uphold press freedom and other democratic values. Although the Taylor administration has reluctantly allowed the operations of few media institutions, thanks to pressure from human rights organizations and the international community, Liberian journalists continue to suffer various forms of harassment. As a result of the chains of attacks/abuse and other acts of [terrors] and censorship by the National Patriotic Party (NPP) government of Charles Taylor, Liberian Journalists have adopted a subtle self-censorship method that is causing severe and unnecessary hemorrhage in media independence."
Despite self-censorship, Ms. Haddad continued, "the [Liberian] government has stepped up its campaign of threats, harassment, intimidation against media institutions and journalists they perceived as anti-government. More than half a dozen media institutions including Hirondelle funded Star Radio have been closed and over three dozens journalists in exile since the inception of the Taylor's administration. The Liberian government views press freedom and freedom of speech as a favor, which can be discretionally dished out."
She narrated the ordeals of four journalist from British Channel 4 who were arrested by the Taylor government and charged with espionage and her fellow four journalists from The News newspaper who were arrested this year for editorializing government's spending of $50,000.00 to repair helicopters and $23,000.00 for Christmas gifts on Taylor's family members and friends while basic necessities like running water, electricity, healthcare are neglected by the government.
Ms. Haddad's homepaper, The News, recently suspended operation for time indefinite due to what some considered "government pressure on the owner of the paper", Mr. Wilson Tarpeh who is now head of the LUBI bank in Monrovia.
---
For subscription information, go to: www.theperspective.org
or send e-mail to: editor@theperspective.org