Daniel G. Johnson (DJ), the Strong man from Sarbo impacts Liberia
A Press Release Issued By the Johnson Family on the Achievements and Home Going of Daniel G. Johnson, Former City Mayor of Monrovia
Daniel Gbor-ju Johnson
Community Organizing Expert, PRO, Mayor, Superintendent and Father RIP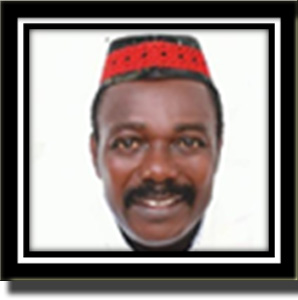 Hon. Daniel Johnson, former Mayor of Monrovia is dead
A "true trailblazer for peace and unity whose ability to stimulate, mobilize and cause the unleashing of creative energies of defenseless people into meaningful productive engagements, has won him remarkably historic distinctions in Liberia." Dr. Amos Sawyer

The biographical account below is an excerpt from the biography of Weah, DJ's beloved Grandfather, and pending publication.

"Daniel Gbor-ju Johnson, 3rd child among the 11 siblings of Liberia Assembly of God couple and school teachers Rev. John G. Johnson Sr. and Mary Johnson was a product from the College of Social Sciences and Humanities at the University of Liberia. He earned a BA degree with emphasis on West African History and Sociology. He was gifted community organizer and empowerment expert. DJ was a trainer with the Peace Corps and served as Public Relations Officer at the Ministry of Post and Telecommunication from 1987 through 1989. He was the organizer of the Liberian Volunteers Corp before the Liberian Civil war began. During the war he along with his wife Ruth Johnson and their children resided on Bushrod Island, the area over powered by the fierce Prince Yormie Johnson. Daniel operating his voluntary group, found favor with Prince Johnson who allowed him to continue to operate his voluntary organization while the war raged. DJ would advise Prince on the necessity of developing plans to ensure development, rehabilitation and reconciliation when the hostilities had ceased. Daniel, not a combatant would emerge as a model volunteer in the cause of change and the transformation of the city of Monrovia.

While the various warring factions : Charles Taylor's Rebels (NPFL), Prince Johnson's rebels (INPFL), President Samuel K. Doe's loyalists ( AFL Army) along with Dr. Amos Sawyer's backed Economic Community of West Africa Community forces battled and ravaged the capital Monrovia and the country, Daniel Gbor-ju Johnson had a different and worthy strategic option. Self-employed as a Community Volunteer, he directed and coordinated the work of Volunteers within the City of Monrovia during the war. While there was yet no government in the country, Daniel's volunteers were cleaning up the war-ravished Monrovia city streets, public buildings and local communities. His community Services Volunteers provided support to the West African Peace Keeping Force; and facilitated the inauguration of the post-war Interim and provided initial support staff. They assisted the United Nations' Relief Agencies and SELF distribute food and other relief items to local people. They established ad-hoc health posts to provide care for wounded folks, the sick and pregnant women. They lunched back to school programs for beginners, among other worthy services.

While his interim government was being formed in exile, Dr. Amos Sawyer kept hearing persistent news reports about DJ's good works on the grounds in Monrovia. It was reported that the Interim Government had tapped one Maxwell for the difficult job at the City Hall, but the gentleman could not meet the need of the city at this difficult time. Indeed, this job needed someone commissioned by God to meet the dire need.

The impressive display of care for people, city and country along with the action he took to help restore the city to normalcy, moved the leader of the Interim Government of National Unity, Dr. Amos Sawyer to appoint Daniel G. Johnson (DJ) as the Mayor of the City of Monrovia. From 1991-1997. Indeed, Daniel served as city mayor during the civil war very well.

As Mayor, he provided support for the West African (ECOWAS) Peace Keeping Force (ECOMONG) in the Liberian Conflict. He led several demonstrations to protest factional fighting and for adequate international support for disarmament and democratic settlement of the Liberian crises. He increased monthly wages of city cleaners by 100 %. He supported the formation of Community Watch Teams in all neighborhoods and the election of neighborhood leaders. For his work, various institutions and personalities accorded distinctions and recognitions to DJ.  For example, Reporters from the Associated Press who visited Monrovia during the crises and noted the work of Mayor Johnson later reported that the war-torn over crowded city of Monrovia was "lucky to have a blue jeans Mayor whose hands-on approach to his job was rapidly restoring sanity and hope to the city and its people." Professor Dr. Amos C. Sawyer described Mayor Johnson as a "true trailblazer for peace and unity whose ability to stimulate, mobilize and cause the unleashing of creative energies of defenseless people into meaningful productive engagements, has won him remarkably historic distinctions in Liberia." United States Ambassador to Liberia, William Twedall, in his letter of introduction, described Mayor Johnson as, "the energetic Mayor whose leadership is critical to improving living conditions in the safe haven of Monrovia."

In February 2009 President Ellen Johnson Sirleaf appointed Daniel Johnson to head and chair the Special Presidential Task Force on Greater Monrovia Cleaning and Urban Renewal.
Later, President Ellen Johnson Sirleaf appointed Daniel Johnson Superintendent of River Gee County.  He worked tirelessly and productively in every area he was called on to serve.

In 2014 Superintendent Johnson was petitioned to contest the 2014 Senatorial race. He obliged, resigned his position as County Superintendent and ran unsuccessfully for the Senate.
DJ fell ill soon after the Senate race. He was taken to Nigeria for treatment. Howbeit, he was called from labor to reward while undergoing treatment in Nigeria.

DJ, Community Organizing Expert, PRO, Mayor, Superintendent and Father RIP

By Uncle Rev. Thomas G. Johnson, BA, M.Div.
---
---