Ex-ECOMOG General On The Defensive
The Perspective

August 15, 2001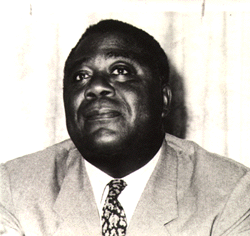 General Anold Quainoo, the Ghanaian national who became the first Commander of ECOMOG - the military outfit established by the Economic Community of West African States (ECOWAS) - to intervene in the Liberian civil war and help restore peace among the warring factions engaged in power struggle, has recently been on the defensive in explaining his tenure as ECOMOG Commander in Liberia and how he reportedly aided and abetted in arranging the assassination of the late Samuel Kanyon Doe.
Recently addressing a roundtable forum organized by the African Security Dialogue and Research Group of Ghana, Gen. Quainoo reflected on the security crisis in Africa.
"Road blocks and other aspects of conventional peacekeeping would not achieve much unless warring factions are made to see guns as not the answer to the problems... Unless the security system is based on a philosophy it can never produce any results."
But responding to questions about his tenureship, and how President Doe was taken away and killed, the General said:
"Doe had visited our headquarters in a Lincoln Continental and dressed in American fatigues. He looked like the American Ambassador in that country. I did not invite him and he sat me down and told me that the same forces that toppled Nkrumah were to do the same thing to him. Just then forces of Prince Johnson arrived and disarmed Doe's bodyguard and started firing. They took him away. I was not there to defend Doe."
A breakaway Independent National Patriotic Front of Liberia (INPFL), led by Prince Johnson, was responsible for the death of President Doe.
The setting up of President Doe for his eventual assassination is not the only controversy involving the ECOMOG General. During his brief tenure, the various factions fighting for power in Liberia obtained arms from ECOMOG. Ironically, ECOMOG soldiers became victims of the very arms they sold to Liberian factions. In 1998, Gen. Quainoo shocked the world when he admitted that "ECOMOG troops in Liberia used to sell arms to Liberia's faction leaders."
Meanwhile, the General has indicated that he plans to write a book about his experiences as the first ECOMOG Commander in Liberia.
---
For subscription information, go to: www.theperspective.org
or send e-mail to: editor@theperspective.org