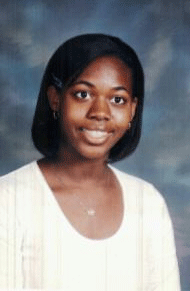 Sankan Worhwinn Nyanseor
18-year-old Sankan Worhwinn Nyanseor, a senior and super honor roll student at Tri-Cities High School in East Point, Georgia, was admitted to membership in the prestigious "invitation only" National Society of High School Scholars late last month for her scholastic achievements and academic excellence.
Sankan, the younger daughter of Mr. Siahyonkron Nyanseor, Chairman of the Liberian Democratic Future, publisher of The Perspective newsmagazine, and his wife, J. Damali Nyanseor, received a citation from The National Society of High School Scholars (NSHSS) August 20, 2003 confirming her membership. The citation read, "To Whom These Letters May Come, Greetings: This Certifies That Sankan Nyanseor, in Recognition of Academic Achievement and Excellence, has been granted Membership in The National Society of High School Scholars and is hereby awarded all Rights, Honors, and Privileges thereunto appertaining. This Membership is for Meritorious Scholastic Achievement and the Pursuit of Excellence at Tri-Cities High School."
Similarly, in a press release, Claes Nobel, Honorary Chair of NSHSS, and a senior member of the Nobel Prize Family has congratulated Sankan on her admission to the honor society, and hoped she and fellow members of the NSHSS would strive to contribute to world prosperity. "I congratulate Sankan on this outstanding achievement and applaud the commitment to academic excellence. The hard work and success of these exceptional young people will ensure a future generation dedicated to their communities and world betterment," Claes Nobel said.
The National Society of High School Scholars group recognizes top performing high school students across the United States for their outstanding academic scholarship and performance. Membership in the NSHSS is by invitation only, and includes valuable benefits for members such as scholarships, networking, events, publications, and other unique opportunities.
In the meantime, Sankan, whose academic abilities earned her a place as laboratory assistant to the Tri-Cities High School Biology Department last spring, has her eyes set on becoming a biochemist, with specialty track in virology. "I plan upon graduation in 2004 to attend either Emory University or Georgia Tech to major in Biochemistry, and to one-day work as a Scientist at the Center for Disease Control (CDC) in Atlanta," Sankan said, linking her interest in biochemistry to the death from uterus cancer of her paternal grandmother, Worhwinn Mardea Sarkpah after whom she is named. "I want to help find cure to the many diseases that plagued humanity, especially, in developing countries. My paternal grandmother, for whom I was named, died from Uterus Cancer in Liberia. In the near future, I hope to be of some assistance to the people of Liberia in this regard," Sankan said.
And Sankan's desire to pursue study in biochemistry after high school is not surprising to Tri-Cities High School Biology instructor Richard Rollins, who taught her biology and physical science. "I first met Sankan while she was a student in my Honors Physical Science class. Throughout the semester she impressed me by always asking that next question that would take our learning to the next level. As a teacher, I let my students determine the depth at which I teach, I always like to explain more than I have to or ought to (due to time), but thoroughly enjoy teaching that 'extra' stuff to classes if they are interested. Sankan always showed interest and always wanted to know more. Sankan's Science Fair Project was probably the best in the class and showed more thought, research, and inquiry than I have seen yet in my career," he said.
"Sankan has also served as a laboratory assistant for the Biology Department last spring. She began by organizing laboratory stock rooms and then helped in assisting my Honors class in laboratory exercises. She was always willing to do whatever was needed to assist me in class. She also continued to impress me by her love of learning. Several times during the semester, she asked for books that she could read on her own on particular subjects that interested her. Sankan has a love of learning that I do not often see in students and I feel sure that she is destined to move through life doing great things. Sankan is the type of student that makes me honored that I became a teacher, she exemplifies a student with a scientific mind," Rollins said.
Sankan's science fair project, a spontaneous mutation on navel oranges, won third place in the biochemistry category at the 2002-2003 Fulton County Science and Engineering Fair in Georgia. The project also won first place at the Tri-Cities High School Science and Engineering Fair for the same period, and was one of three student projects selected by the school for the Fulton County Fair.
Apart from biochemistry pursuits, Sankan's other interests are research, computer, and writing. Her favorable subjects are math and science, and her hobbies are reading, music, dance and current events. She is vice president of Mu Alpha Theta (a national fraternity at her school, member of the Tri-Cities High School Ambassadors and Beta Club, a former Crabapple Middle School Eagles Mentor, a 2003 Georgia Certificate of Merit Winner (award is given by the University of Georgia to students who are in the top five percent of their class), a Ventures Scholar (students in this category enhance their chances for scholarship and admission at a select network of colleges and universities), a TAG (Talented and Gifted) student, and a member of the National Society for Black Engineers (NSBE) Junior.
Sankan is also a former president of Junior Beta Club, a Winner of the 1996-1997 Oak Knoll Elementary School Spelling Bee Contest, a finalist in the 2003 Quest Scholars Program at Harvard University, and a participant in the 19th Talent Search for Mathematically and Verbally Gifted Seventh Graders conducted by the Talent Identification Program at Duke University between December, 1998 and February, 1999. She was a Governor's Honors Nominee for Language Arts and Social Studies in 2002-2003, but participated only in the Social Studies category. (The Governor's Honors Program of Georgia provides an opportunity for a group of students selected by their instructors to spend six weeks of their summer in a select location to learn more about subject in the categories of dance, music, social studies, language arts, science, and so on, upon successful competition with students in each category from high schools across Fulton County. And other Georgia counties)
I wish to congratulate my "baby" sister for her academic achievements, and to assure her of my continued support. Our parents are also very proud of her, and we all want to wish her well in all her future endeavors. Congratulations, Happy birthday (she turned 18 today) and good luck Sankan.
---
About the Author: Didwho-Twe Jlopleh Nyanseor is the elder brother of Sankan Worhwinn Nyanseor. Mr. Nyanseor is co-owner of First Candle, a candle manufacturing company in Tucker, Georgia. He holds a BBA degree in Finance and MBA degree in Business Administration.