"Liberia is Engaged in Child Soldiering and Soldiers of Fortune"

By Musue N. Haddad

The Perspective
Atlanta, Georgia
March 11, 2003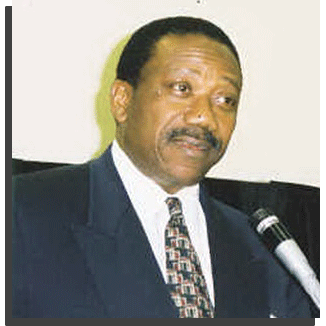 Dr. Ritchard M'Bayo - photo by Musue Haddad

One of the Liberian government's most enterprising commodities is 'Soldiers of Fortune,' says a pro- democracy activist, Dr. Ritchard M'Bayo. He says Liberia's Soldiers of Fortune are not just veterans of wars in West Africa but are presently actively engaged in other countries on the African continent.



"Liberia's Soldiers of Fortune are now in the Democratic Republic of Congo. These Soldiers of Fortune, Liberia's Soldiers of Fortune are the veterans of the various wars in Liberia, Sierra Leone, Guinea, Democratic Republic of Congo and other places," Dr. M'Bayo said.



Dr. M'Bayo, a Professor from Sierra Leone who is currently based at Bowie State University, Maryland was speaking at a forum organized recently by a pro democracy group, the Movement for Democratic Change in Liberia (MDCL) with on the theme: "Liberia Political Future." He spoke on the topic: The Spill Over Effects of the Liberian Problem on Neighboring Countries.


Pam Bridgewater -photo by Musue Haddad

Other speakers at the program included, U.S. Ambassador Pamela Bridgewater, Deputy Assistant Secretary of States for Africa, James Viray, of the International Republican Institute, Archbishop Michael Francis who served as keynote speaker, Human Right lawyer, Cllr. Tiawan Gongloe, Cllr. Mohammed F. Jones, Journalist Hassan Bility among others.



Dr. M'Bayo said whether some of these Soldiers of Fortune are Freelance Mercenaries or Freelance Guerillas fighting as un-uniformed individuals supposedly on their own, the citizens of Liberia should be concerned about the exportation of people from their country to cause conflicts in others countries.



He said in addition to the loss of human resources and destruction of properties, other consequence of the conflicts caused by the Soldiers of Fortune is the new phenomena the crisis has taken: Statelessness of increasing number of refugees who are easy targets for recruitments.



"Statelessness has now become the situation of many of these refugees [after long periods in refugee camps]. The impact of Statelessness is felt by mostly women and children, a result of large number of illiteracy make them easy targets for recruitment because they feel better and safer by joining factional groups," he told the audience.



Dr. M'Bayo said the war in Sierra Leone would not have occurred without the war in Liberia, adding, "The problems of West Africa has now become difficult and could become stringent unless each country in the region becomes genuinely interested in improving the situations of the region."



"Once a people get in power through the barrel of the gun, it is difficult for them to adapt the democratic principles especially the transfer of power. Many of the key players in Liberia are the ones who have resorted to the use of arms, " he said.



Making an observation of presentations by other speakers at the program, the issue of Article 39 (on the holding of Census), Article 52 (Presidential Residency Clause prior to election) of the Liberian Constitution and President Charles Taylor approach to the two constitutional provisions, Dr. M'Bayo said, "Parts of the problem of any country is when the President begins to interpret the Constitution; takes on the work of the Supreme Court."



Exiled Journalist Mr. Hassan Bility supported Dr. Ritchard M'Mayo's statement on Soldiers of Fortune and recruitment of Children to shoot and kill.



Mr. Bility, who is presently residing in Boston, Massachusetts after being released and asked to leave his homeland, Liberia, said while he was held by the government of Liberia and taken through various detention centers around the country, he witnessed incidents of child soldiering and Soldiers of Fortune.



"Child soldiering has become an enterprising business in Liberia today. Children as young as 10-years are recruited and trained to shoot for Taylor. If you are tempted to deny this, take a visit to Taylor's frontlines and see," Mr. Bility challenged the audience including U. S. government officials and Liberians from home and other parts of America.



The exiled journalist said those exported from Liberia to Cote d'Ivoire and other areas to fight are not just freelance mercenaries, "they are part of that arm band that Mr. Taylor continues to maintain even as he sits as President of Liberia."



Speaking on, Liberia's Human Situation, Bility said what is persistent in Liberia is a system of terror that takes on dual appearance, adding "Members of security institutions become un-uniformed fighters and are transported to the frontlines and at other times they are Uniformed State Security officers."



He said while in detention, he heard uniformed members of military and paramilitary officers including ten years old children discussed with enthusiasm, shooting, killing and looting they had engaged in while partaking in the fighting in Cote d'Ivoire.



"Taylor's security continues to rape a large number of women and girls, popularized child-soldiering, loot the homes of civilians, interfere with the function of the judiciary branch of government, deny peaceful assembly, intimidate the media by arresting, beating and sometimes incarcerating journalists without charge and trial. Not even human rights advocates are immune to these violations." Mr. Bility said.



He said except for those organized by the government, marches, assemblies and large meeting are not permitted and sometimes brutally dispersed by state security officers.



Archbishop Michael Francis buttressed Mr. Hassan Bility's statement on government's denial of marches, and assembly by groups aside those supported by government.



The laureate human right advocate, Archbishop Francis said in December 2002, the Catholic Church had planned a pilgrimage as part of the church's program but the government denied the church permit to carry out the pilgrimage march.



Archbishop Francis said the government of Liberia again denied some schools permit to march and create awareness on HIV/Aids day last year, a day recognized internationally and observed with marches and programs around the world.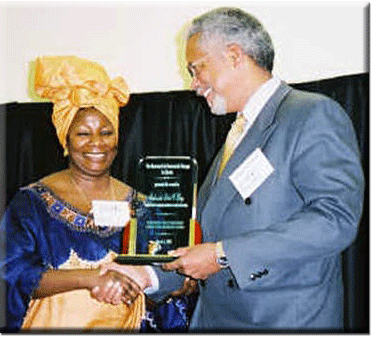 Amb. Robert Perry (R) receiving award - photo by Musue Haddad

"But when the government decided that it wanted to demonstrate against the United States, the demonstration was held but when peaceful marches are organized to raise awareness on HIV/Aids, health issues, education or just to bring people together, government will not allow it" , Archbishop Francis told the audience amidst laughers.



Last year women of the Unity Party were also denied permit to Walk, an event planned to bring together women and raise funds to develop projects around the country.



Human rights defender Aloysius Toe was arrested last November, charged with Treason and is still in detention for planning a peaceful march seeking the release of Journalist Hassan Bility and several other persons, many of whom are still in detention without trial.



The first day of the symposium was without charge. The events of the day included panel discussion on the Liberian ten-year Residency clause, Census, Stabilization Force, Alliance or Merge of Political parties and Composition of the Elections Commission (ECOM) of Liberia. Another event that was held on the first day was the statements from ten political parties represented at the program.


Archbishop Francis receiving award - photo by Musue Haddad

For the second day event, persons interested in attending the event were charged: single $50.00, couple, $75.00 and patrons $100.00. The two-day symposium organized by the MDCL in collaboration with the Ralph Bunche International Affairs Center of Howard University, Association of Liberian Journalists in the Americas (ALJA) was held at the Nyumburu Cultural Center of the University of Maryland.

Several persons were presented MDCL awards including Archbishop Michael Francis received the Outstanding Human Rights Award; U.S. Ambassador Robert C. Perrythe Outstanding Service Award, Cllr. Tiawan Gongloe was given the Outstanding Human Rights Defense Award. The Freedom of Speech and Press Protection Award was given to the Press Union of Liberia, while in absentia, Congressman Patrick Kennedy and Senator Jack Reed of Rhode Island were presented the Humanitarian Awards.



The organizers said the program was held to draw attention and discuss the prevailing situation in Liberia and West Africa as well as the way forward for peace, reconciliation and stability.

---