Cllr. Gongloe Violated the Taylor Codes

By Mohamedu F. Jones, Esq.

The Perspective
Atlanta, Georgia
May 1, 2002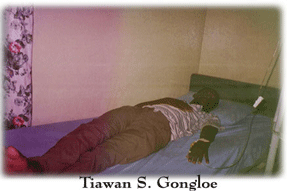 Today, I read the following on "allAfrica.com, April 30, 2002," as reported by Musue N. Haddad, datelined Washington, DC: "Reacting to the public outcry over the case, President Taylor said Tiawan Gongloe could not simply be seen as a human rights lawyer. 'Gongloe is not only a lawyer but also a politician who worked as a special assistant during the interim administration of Dr. Amos Sawyer,' Taylor said."


President Taylor's remarks are revealing and show precisely why the president had Cllr. Gongloe arrested; he was arrested because the president has concluded that he is a politician. Even if we assume for argument sake that Gongloe is a politician, where is the crime? Is it an offense against the laws of Liberia to be a politician? Or does the offense lie in working for Dr. Sawyer's interim administration? I have studied the Constitution and penal laws of Liberia with great care, and can say with confidence that it is not any crime under either the constitution or the statutes to be a politician or to have worked under Dr. Sawyer. Indeed, if being a politician is a violation of the law, then President Taylor himself violates that law. But what Gongloe has violated are the "Taylor Codes," the supreme and indisputable law of the land.


Codes are a systematic statement of a body of law, and the Taylor Codes are the laws that govern President Taylor and his government. Under the Taylor Codes, the Constitution of Liberia has neither force nor meaning; violations of human rights are the norm. The Taylor Codes have led to the current conditions in the country, and under that Code, the assault against former Chief Justice Johnson is a valid and legitimate act. The Taylor Codes explain the pariah state that Liberia has become. The Taylor Codes create the rationale and reasoning on which the steady and steep decline in the country is based. The Taylor Codes have only one objective: to preserve and protect just the interest of President Taylor, even to the detriment of the larger Liberian nation.


I think it is to safe to say that the Taylor Codes govern political activity in the country, including the scheduled elections of 2003. The president has indicated in no uncertain terms that under the Taylor Codes, it is a criminal offense to be a politician, which means that it must be a major felony to contest elections against President Taylor. With this realization, I think it makes sense to congratulate President Taylor now on his re-election as president of Liberia in 2003. The Taylor Codes allow only that result. Indeed, under the Taylor Codes, Charles Taylor will be president as long as "God" wants him to be, which is another way of saying the Taylor Codes trump the Constitution.

---
© The Perspective

P.O. Box 450493
Atlanta, GA 31145
Website: www.theperspective.org
E-mail: editor@theperspective.org