Taylor's Acquired Wealth & the Moment of Truth
(Analysis)

By Our Staff
The Perspective
February 15, 2001
With intense world anger leading to sanctions against Liberia for its president's refugee breeding machinations in West Africa, Charles Taylor, who describes himself as the "most successful rebel leader", is gradually hinting at his "sources" of his estimated $4.8b wealth-his "friends." He said his "friends" have spent millions of dollars to make him look presidential. "Some of our friends (who want to) assist us to make sure we do not appear less than the President."
Furthermore, Taylor told radio listeners in Liberia that contrary to widely held views, he was not siphoning money from the state, and that whatever he has was "personal."
"I had more money before I came here than now. But I should know that we have friends that help us personally to make sure that we appear as President. And so when we talk about accumulation of wealth, we have an open system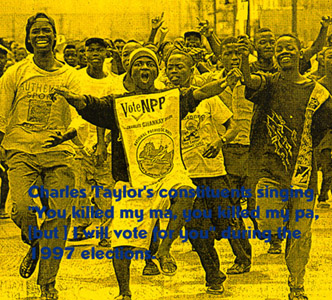 in this country We have friends that help us as friends and that's how we get money. We do not get money from the Liberian people's money -- because it is not there. There is no record of any Finance Ministry budget showing the withdrawal of funds for the President... And so, in short, when we get out, we ask for assistance for the country. And so in so many ways we help ourselves. For example, the convoy that you see me ride... Go and check it up at the Ministry of Finance. I think that the public and you journalists, in fact the accountants have every right to go to the Ministry of Finance"
"When we talk about accumulation of wealth, we have an open system in this country And so in so many ways we help ourselves..."
With such clarifications pregnant with many implications, we are indeed arriving at the moment of truth, of how Liberia, for about a decade, has been subjected to one of the worst periods of plunder in the name of politics. Does "an open system of wealth accumulation entail" recruiting international con artists as business partners to plunder resources, deplete the forest with greater environmental, socio-economic dilemmas? Does it mean privatising national wealth in league with cronies? Does it mean extending the fingers of death and destruction to other states such as Sierra Leone and now Guinea? Does "helping ourselves" mean waging brutal wars through the use of child soldiers for personal wealth. Taylor's revelations are loaded with unanswered questions and terrible indicators?
How much money did Taylor have before launching his war? How did he get this alleged wealth? Who are these "friends" that spend millions on him to look presidential and how much have they spent on this presidential look and why? Since he is now telling us that he in fact is wealthier than the country, why does he expect others, such as the United States, to pump in money for his so-called development programs? When he took office, he presented a "reconstruction" bill of $3b to the international community, but according to The Times of London, he is worth $4.8b, that is $1.8b more than the $3b he asked for. Why can't he use this enormous wealth on development since charity begins at home?
And then there are the usual ambiguities. Following the release of the UN Panel of Experts report, Taylor said he had no money anywhere. He challenged the UN to unearth the millions tied to him, and that he would resign if the money was discovered and linked to him. He said, " This revolution is my life," and that whatever he had, he pumped into making his "revolution" succeed. Now, he is saying he has money, more money than the state, thanks to his "friends".
But until he became a part of Samuel Doe's Inner Circle, no one knew this fast billionaire as a wealthy man. He was a gas station attendant in the US before returning home in 1980. What is known is that he fled the country to escape retribution in a case of thieves falling apart. What is known is that Taylor was later arrested in the US for allegedly stealing about a million dollars from the junta when he served as the Government's chief purchasing agent. What is known is that until he launched the war and seized major economic canters, looted public and private properties, he was a penniless wanderer within West Africa following his escape from prison. What is known is that he uprooted key industrial equipment, shipped them to Burkina Faso and Cote D'Ivoire. What is known is that since he became President, he and his relatives and cronies have launched an all-out attack on the forest. And what is abundantly known is that he is the undisputed Prince of Sierra Leone's US$700m a year diamond trade.
Upon taking office, Taylor demanded $26m to pay debts, which he said his rebel movement incurred in its war of loot and plunder. Amidst mass protests, he insisted that his rebel government was a legitimate one and that all debts tied to it in the execution of the war must be paid by those whose properties were stolen or looted----the Liberian people. Western intelligence sources have since identified a secret bank account through which Taylor is making regular payment to Libya's Col. Gaddafi. Now, he has tied his wealth to faceless "friends." Can we expect him to name these "friends"?
Now we are not informed that his unnamed "friends" have bestowed upon him billions of dollars. But perhaps Taylor's "friends" responsible for his "presidential appearance" are the child soldiers of the Sierra Leone's rebel Revolutionary United Front (RUF). One of the trusted "friends" is the RUF/NPFL paymaster the Lebanese businessman Talal El-Ndine. Among those "friends" include the jailed butcher of Sierra Leone Foday Sankoh, in whose looted house documents were found linking Taylor to diamond deals that have caused the death of the Sierra Leone nation. The "friends" are the Russian Leo Minin, the Dutchman Gus Kouwenhoven, individuals the UN Panel of Experts referred to in its report as member of "Taylor's Inner Circle" responsible for depleting the forests, diamond smuggling and gunrunning tearing West Africa apart. Those "friends" are his cronies, many of whom have a criminal past like him now determining the fate of the nation and neighbours.
One must however welcome this moment of truth. The fact that this thief can be persuaded to reveal his sources of income means a new day is emerging in Liberia when thieves will not be rewarded. Taylor has no known record of business enterprise or gainful employment apart from his service in the Doe regime. Thus the sources of his wealth remain clothed in misery, but misery only to those who doubt his formidable links to Sierra Leone's diamonds and the withering of Liberia's forests, along with transforming Liberia into a bastion for money laundering among many shady underground transactions. Sooner, rather than later, the moment of truth will come to make butchering of innocent people, looting their properties far dangerous for the acquisition of wealth. When this happens, Taylor's friends will truly help look like what he is ---a mindless thief. This will be his moment of truth.
---
For subscription information, go to: www.theperspective.org
or send e-mail to: editor@theperspective.org