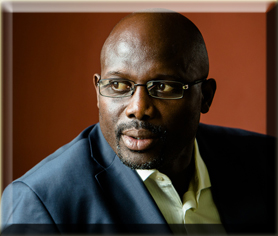 President-Elect George Manneh Weah
We have heard the results of the presidential run-off and it is now over.  Congratulation Mr. President Elect! One of the fundamental admirations for democracy is sustaining our democratic institution so that it will enhance the well-being of its people.

Liberia is far bigger than all our tribal, individual and political differences. Putting Liberia's interests first must not be a challenge to us as one nation, and we must be able to tolerate both negative and positive arguments in negotiating those differences that have caused us to be divided.

As we have arrived at a new political dimension in the history of our country, it is incumbent upon the elected leader to build a new political dispensation where everyone coexists. The President-Elect must accept the fact he has become our leader in a land of 43 thousand square miles with 4.5 million inhabitants, despite the divisive rhetoric that came from every corner.
Against this backdrop, the President-Elect must be very cautious in listening to elements within his rank and file who are inflamed with malice and vengeance against those who did not support his presidential bid. The beauty of democracy is when we can fearlessly advance an acrimonious debate against our opponents. However, when all is settled, we must begin the healing process to strengthen our democracy.
In the spirit of national unity, when the elected leader extends an olive branch, calling for a government of inclusion, those who have been in opposition must be willing to have gentlemanly dialogue to expend the vision for transformation into building a better Liberia.  In addition, the opposition leaders must organize themselves with a constructive blueprint defining a way forward and make a presentation to the incoming government before the inauguration. 

If Liberia should progress, the vision for transformation depends on the collective decisions we make across ethnicity, likeness for an individual, and being a frontline fighter or do or die party affiliation. It is indisputable that many right-thinking Liberians would love to see their home country develop and grow as a flourishing nation.  Because of that, in the last 12 years, some of us have persistently spoken up against corruption and injustice perpetrated by the past government.  We too are Liberians and love our country. 
From all indications, the ordinary people who have been hard hit by misrule and abject poverty, overwhelmingly voted in Mr. George Weah to represent their interests.  As I see it, the voters were frustrated over high unemployment, poor healthcare, inadequate learning centers, and accumulation of massive wealth by government officials and the widespread of issues of looting public funds with impunity.   

Notwithstanding, the new government must not allow itself to be used as a comforter for those with tainted and questionable character who helped destroy Liberia's economic fabric.  Mr. President Elect, be careful and take heed and listen to the African proverb, "A monkey cannot change its black hand."  Speaking and portraying as an agent for positive change to effect transparency and accountability for good governance, your fight against corruption must be resolute.

Senator Weah, you have fought a long fight and now a tremendous cleaning up is at hand.  Tough decisions must take precedence over sympathy to reinvest in the lives of young adults to help them become productive citizens under your leadership.  Investing in their academic and vocational education must be paramount to enable our young adults to be competitive as they search for jobs in the labor force. It has become prevalent in our schools and in government institutions that sex for grade, money or jobs continues to produce inexperienced and unqualified graduates with a poor job performance when they are hired in a workplace. This has also contributed to the poor productivity in the government ministries and agencies.

It is sad that on the clock of Madam President, government officials became sexual predators with impunity, leaving young girls pregnant without adequate support and forcing them to drop out of school, which in most cases destroyed their future. Moreover, unskilled young men and women are prostituting to make ends meet, and there is no zoning for the many polluted so-called entertainment centers around the city.
Dangerous drugs and alcohol usage are on the rise among young adults with no available drug rehab centers. We see too many homeless young men and women sleeping in the marketplaces. Yes! Senator Weah, those are some of your voters whose hearts and minds you have won and they are largely looking forward to making themselves useful in a country that has neglected them for many years. 
Finally, the press and people of Liberia enjoyed the freedom of speech guaranteed under the constitution for 12 years under President Ellen Johnson Sirleaf.  I hope that Liberians will continue to enjoy the same under President George Weah's administration.


Philadelphia
---
What is your take? Please post your comments below: