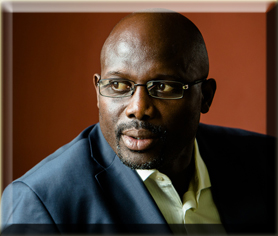 President-Elect George Manneh Weah
Monrovia, Liberia: January 16, 2018 - The attention of the Coalition for Democratic Change (CDC) has been drawn to widespread reports on social and other media referencing a So-called "Black List" or "Rest List" from the CDC.
The incoming ruling party wishes to categorically deny, refute and disassociates itself from the existence of any List targeting any group of Liberians for discrimination in any form or manner.
President Elect, His Excellency, George Manneh Weah and VP Elect Her Excellency Jewel Howard Taylor are committed to a peaceful and prosperous Liberia with equal opportunities for all Liberians as provided for, under the 1986 Liberian constitution.
The CDC thanks supporters of all political parties who participated in the recent Liberian electoral process. Indeed the 2017 elections have consolidated and strengthened Liberia's democratic credentials thereby placing Liberia on the irreversible trajectory of democratic governance.
The CDC cautions all its partisans, collaborating political parties and Liberians in general to refrain from any acts insinuating political targeting after a highly competitive election.
We wish to assure the Liberian people and all political actors and activists that the CDC led government will not engage in any act to undermine the democratic gains of Liberia.
Signed:_
Janga A. Kowo
Head of CDC  Transition Secretariat
Coalition Dep. National Secretary General
Motto: One Nation, One People, One Destiny
---
What is your take? Please post your comments below: