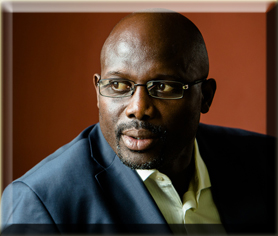 President-Elect George Manneh Weah
Mr. President,

I would like to take this opportunity to congratulate you on your ascension to the presidency, and I must also inform you that the affairs of state seem shaky and troubling. Your pronouncement to fight corruption is commendable, yet it will be impossible if you allow corrupt officials of the previous administration to walk free with impunity.

You have inherited a government that has been rendered bankrupt by the Sirleaf kleptomaniacs who now swarm around you. You've strangely committed yourself to protecting them, haven't you?  It will be impossible to clean up the mess in post – Sirleaf Liberia unless you're ready to do the right thing for the Liberian people. I know that you mean well and want to please everybody, but this is not possible.

If you mean business, a special counsel must be established to investigate, arrest, and prosecute all those who stole the Liberian people's money. No former government officials should be allowed to leave Liberia until a full investigation is conducted. For example, Robert Sirleaf; son of former President Ellen Johnson-Sirleaf looted our oil company (NOCAL). And Harry Greaves was murdered for threatening to expose the crooks in the previous administration. The former President herself oversaw the plundering of our natural resources in collusion with foreigners masquerading as "investors". And she also masterminded the mysterious flight of $200m within a week after the run-off presidential election held on December 26, 2017.

Stand up for the Liberian people and stand up NOW. We are cognizant of Ellen's attempt to control Liberia indirectly through your hands. This must stop immediately! You can't be serious about Liberia if you claim that you are waging a war on corruption but allow Ellen and those thieves to get away, or continue the business-as-usual government of the past.

You need to abolish your association with former President Sirleaf in the interest of rendering economic justice and transparency to the Liberian people. I also condemn the rushed confirmation of Mr. Gbezohngar Findley as Foreign Minister of the Republic of Liberia and the retention of other unscrupulous cronies of Madam Sirleaf. If you believe in changing Liberia and responding to the needs of the downtrodden, then stand up and do what you've promised, the match is now over! ASSERT YOURSELF. DO YOUR JOB.

We have enough official criminals in Liberia… ARREST THEM, Mr. President. The downtrodden will be disappointed if you don't prosecute these kleptomaniacs; and they will not hesitate to protest against you--leading to chaos and turning you into a dictator. Don't let these crooks get away. ARREST THEM. Don't fail the Liberian people.
Lest I forget, guide against creeping tribalism.
---
What is your take? Please post your comments below: