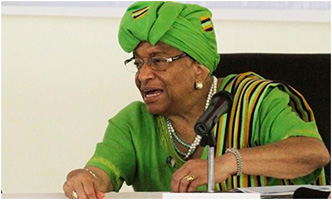 Hijacker Ellen Johnson Sirleaf
Boston, Massachusetts- The Universal Human Rights International (UHRI) congratulates President Weah and the Liberian people for the peaceful conduct of the 2017 General Elections and peaceful transfer of power. The purpose of this statement is to announce that criminal and civil lawsuits will be filed against former President Ellen Johnson Sirleaf and all the warlords who participated in the Liberian Civil War and in the past 12 years have used the resources and revenue of Liberia to become millionaires and rich people to the detriments of the people. We would like to also express our outrage at early Hijacking of Liberian Democracy and the Weah Presidency by outgoing President Ellen Johnson Sirleaf.
The appointment and rushed confirmation of former Senator Findley as Liberia's Foreign Minister is a clear indication that Ellen Johnson Sirleaf has Hijacked Weah's Presidency. We call on all Liberians and members of the CDC to unite, oppose and defeat the Hijackers or risk a failed presidency in six years. President Weah needs help from the CDC and all patriotic Liberians to rescue him from the Hijackers of the Sirleaf Clan.
We are not surprised at the action of the Senate in rushing the confirmation of Findley, AKA Sirleaf 3.0. There have never been consequences for the perpetuation of corruption in Liberia because those people who kill innocent human beings to get in power not only became millionaires in the past 12 years, they are determined to remain in power forever. Unless all Liberians unite, the corrupt Sirleaf government will return crush, the "Hope for Change".
In 12 years of the Sirleaf presidency, acquired through the barrel of the gun, there have been no apologies. to the wounded, exiled and dead Liberians. Liberian Refugees remain abandoned on their own in foreign lands and have not been welcomed home. 25% of Money sent to their family members has been hijacked through unholy regulations. The Freeport of
Monrovia is in captivity, making the shipment of goods costly for Liberians. The Truth & Reconciliation recommendations have been trashed by Sirleaf. After waiting in vain for reconciliation for 12 years, we are obliged to seek legal redress and send a message to warlords in Africa that there are consequences to violating international laws.

Sirleaf and Taylor destroyed our lives and forced us into exile during the civil war in order to become Presidents of Liberia. Thank God Taylor earned his ride to jail and Chuckie Taylor was convicted in America. However, in 12 years as president, Sirleaf exercised a dictatorship, usurping the power of the people by appointing mayors in all cities, judges, heads of public corporations, sheriffs, and regional governors. Her children and relatives got government positions. Sirleaf used the broken and corrupt system of governance in Liberia to keep the people in poverty and misery and turn politicians into millionaires, in the likes of Mr. Findley.

By forcing Findley into the Weah Government, the Old Lady succeeded in Hijacking our future through her surrogates. Here is how Findley is bad for Liberia. The budget for Findley's office at the Senate was US$1.2 million dollars. His salary was US$482,203.00 (US$40,184.00 per month), which is higher than the salary of the President of the United States, US$400,000.00 (US$33,333.33 per month), the salary of Speaker of the House in the United States Congress, US$223,500.00 (US$18,625.00), President Pro Tempore United States Congress, US$193,400.00 (US$16,116.66 per month) and the highest paid state legislator in America with a salary of (US$8750.00 per month). Here is how Findley's office budget, benefits, and salary robbed Liberian children for over a decade. With all the money pouring into his pocket, there was left inadequate funding left for education and other vital services; 6000 classrooms in Liberian schools have no teachers. 6900 volunteers cannot be hired because there are inadequate funds for education.

Doubtless,  there are many Liberians in CDC and elsewhere who can better serve Liberia as Foreign Minister than Mr. Findley. While it's the president's job to appoint ministers, he is working in the interest of Liberia. Extending the Old Lady's corrupt government for a 3rd term by recycling politicians who robbed children of education isn't in Liberia's interest.

Both President Weah and the Senators are all servants of the Liberian people. They are not volunteers, but paid employees obliged to do what the will of the people, not their own will. While most Liberian don't want to continue the corrupt regime of Sirleaf, it's in Sirleaf's interest to do everything to remain in control to the detriments of the people. That is why the Liberian people have been given the power by the constitution to decide what is right or wrong! Because Sirleaf has Hijacked the Weah Presidency, the people must rise up now and bring down the Hijackers. After all, it's a government of the people, by the people and for the people, not Hijackers! ###
---
Contact: Torli H. Krua, President Tel: 857-249-9983 / Email: tkrua@egc.org
---
What is your take? Please post your comments below: