The Leadership of the Liberian Leadership Conference (LLC), a collectivity of Liberian political and civil opinion leaders, including representatives of civil organizations, which met recently in Bethesda, Maryland, USA, deplores and condemns the current crackdown on civil liberties by the Government of Liberia.
Zimbabwe's New Agriculture Policy Expected To Maximise Food Production
The ongoing land resettlement programme in Zimbabwe expected to maximise agricultural production in the country was the launching pad of an ambitious new agricultural policy geared towards turning the Southern Africa country into the breadbasket of Africa in the coming decades an official has said.

---
New Perspectives on the Causes and Consequences of Institutional Decline in Liberia

I decided to write this article in light of recent and past publications of a couple of books, academic and non-academic articles trying to explain the causes and consequences of institutional failures in Liberia. I believe that the question of how best to refashion existing institutional processes in Liberia is the most topical issue of our times--- at least in the context of the generational challenge to design a new institutional and political order that would be based on our reflective, integrated and superior meaning perspectives.
Men and Women of the Liberian Press: War Heroes

The Friday, June 29, 1999 edition of The News newspaper quoted Charles Taylor as saying: "I will take the press to court if they offend [me] as an individual." To many, this was somehow a signal that Taylor would not touch the press, no matter what. That, as in other civilized countries, he would take people to court if he feels offended. It also meant that journalists spreading lies about him would be sued for slander but not jailed, tortured or killed.
Kagame Appeals in French Court Against Verdict Favouring Journalist

Rwandan President Major General Paul Kagame and the Rwandan State have filed an appeal against a French court ruling delivered on June 3 in favour of Paris-based Cameroonian investigative Journalist and Author Charles Onana.
---
Sharing The Blame For "Our" Present Mess (Part 2)

From my own vantage point, I sincerely think that the present corps of opposition figures seriously lack what it would take to immediately arrest the horrible situation back home and finally bring some sanity to our now despised nation. Not that I have anything personally against any of them, but I strongly feel that it would be a very good start for the now pariah country if they were made to answer to the Liberian people for whatever they did or positions they took in their immediate past.
From OAU to AU: Same Old Lady, New Dress

Drinking Club Beer and talking politics as we usually did during the mid-seventies in Liberia, a couple of friends and I coined the phrase "Old And Ugly" to refer to the Organization of African Unity (OAU). We were of the opinion that the OAU did not represent the interests of the common people - certainly, it did not stand for peace, unity and people-centered development.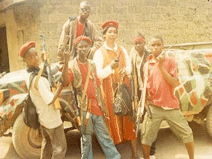 LURD Denies Government's Claims

After a very serious examination of our present military engagement, and overhauling of certain operational procedures, our forces have changed their combat strategy in the ongoing battle aimed at restoring a people-based democracy to the country.
Top rebel held in new fighting (News24)
Monrovia - Liberian troops captured a top rebel commander known as "Turtle Wear Glasses" in the most serious fighting for weeks in the anarchic West African country, military sources said on Saturday.
---
Accra Declaration On The Human Rights Situation In Liberia

At the invitation of the Media Foundation for West Africa (Ghana) and the Center for Democratic Empowerment (Liberia), an international meeting on the human rights situation in Liberia was held in Accra on July 22 and 23, 2002. The meeting was attended by 52 representatives of national human rights commissions and civil society organisations of human rights activists, lawyers, journalists, media institutions, and other pro-democracy advocates.
Judicial Process International Condemns the Lawless Search of Dr. Tipoteh's Home

Judicial Process International Inc., a non- profit organization incorporated under the laws of the State of Maryland, USA, formed to promote human rights and the rule of law in the world and Africa in Particular, has received with great disappointment the repugnant and reprehensive act of the Liberian government by the lawless and unconstitutional search of the home of Dr. Togbah Nah Tipoteh of the Liberian People's Party.
Facility to Benefit 25,000 Liberian refugees at Budumbura Camp Dedicated

On Monday, 25 June, Measuagoon in collaboration with the Stephen Cashin family and the Bethel Outreach Church, Ghana, dedicated a twelve-hole sanitation facility at the Liberian Refugee Budumbura Camp on the outside of Accra. The facility will bring much needed relief to the 25,000 Liberian refugees at the camp whose limited waste facility can no longer accommodate the camp's residents.
---
"Clear and Present Danger"

The Liberian tragedy continues, turning more deadly and tragically comical as days go by. For almost a year, we have been saying that LURD was more an invention of Monrovia than anything else. The drama is going on, with its looting spree, its killing and devastation for hundreds of thousands of uprooted people who have lost their home and dignity, becoming beggars.
Like Biblical Prophet Kiswahili not Popular at Home
ONE of the most spoken languages in Africa, Kiswahili recently made headway into international circles when African Union (AU)'s Council of Ministers endorsed it as one of the official languages of the new Union.
Statement On The Unwarranted Search Of Partisan Tipoteh's Home
The Liberian People's Party (LPP) in the Americas denounces and gripes the unwarranted and illegal entry into the home of its 1997 Standard Bearer, Dr. Togba Nah Tipoteh by the thugs of the criminal government of Charles Taylor. We are concerned that this is another attempt by the Taylor regime to set the stage for the humiliation of the only decent, respectable and potent opposition leader living in Liberia.
Banned, Censored, Harassed and Jailed: 37 Writers from 19 Countries Receive Hellman/Hammett Grants

A diverse group of writers from nineteen countries have received Hellman/Hammett grants in recognition of the courage with which they faced political persecution, Human Rights Watch said today.
---
Statement On The Illegal Search Of Dr. Tipoteh's Home

While it comes as no surprise that the Liberian government continues its assault on political and civic leaders, we must not allow the continuous flagrant violation of the Liberian Constitution and civil liberties of the people to go un-addressed. Contrary to its persistent and egregious abuse of the rights of Liberians at home, the government is noted for inviting opposition political figures to return home, assuring them of their protection under the law, and freedom from persecution.
An Open Communication to a Detained Journalist

Hassan Bility, it is over a month (June 24th) since you were taken away from your desk at the Analyst Newspaper and held in incommunicado detention along with Mohammed Kamara and Ansumana Kamara on suspicion of operating a rebel terrorist cell in Monrovia.
Liberian Civil Society Organizations Jittery As U.S. Ambassador Ends Tour Of Duty

U.S. Ambassadors accredited to Liberia are widely known for exerting behind the scenes pressure on sitting governments in Liberia to effect changes leading to political pluralism, good governance, sound public policy and efficient fiscal management, but only few have succeeded in recent times in swaying public opinion in Liberia on a grand scale as outgoing U.S. Ambassador Bismarck Myrick, and Ambassador William Swing in the 1980's.
Conversations About Poverty in Africa

In Africa the poor are not only those with a lack of money, but also people in a condition, which involves the experience of shame, powerlessness, social, religious and political exclusion. The poor are people of overdue rights. They are people who are landless, homeless, starving and exploited.
---
Sharing The Blame For Our Present Mess (Part 1)

When one listens very carefully to the so-called major players or stakeholders of the opposition and civil society groups, among others, in the ongoing sad Liberian drama, one could be led falsely to think that President Charles Taylor is the ONLY person that's responsible for the country's current quagmire.
Liberian National Conference (LNC)

An assembly of Liberian citizens and representatives of Liberian organizations and institutions in the United States of America and in Liberia, joined by American friends of Liberia, converged at the Liberian National Conference (LNC) held June 21- 22, 2002 at the University of the District of Columbia.
Rebels ousted from key Liberia town (BBC)

Heavily-armed Liberian troops have stepped up patrols of this provincial town - 60 kilometres (38 miles) north-west of Monrovia - after driving away rebel forces who had controlled Tubmanburg for nearly three months.
---
Group: Liberia Committing War Crimes (Associated Press)

MONROVIA, Liberia - Government forces have committed scores of war crimes in northwestern Liberia in recent months, an international human rights organization charged Friday.
Deteriorating Human Rights Situation in Liberia (Human Rights Watch)

"Security Council sanctions to end the arms-for-diamonds trade in West Africa contributed to the emerging peace in Sierra Leone," said Peter Takirambudde, executive director of Human Rights Watch's Africa division. "Now the Security Council needs to condemn human rights abuses by the Liberian government and the rebels, take steps to end Guinea's support for the Liberian rebels, and ensure that the Liberian conflict does not destabilize the fragile peace in Sierra Leone."
Public Prayer and "The Jesus Crusade"

A US federal judge made unpopular headlines when he questioned the constitutionality of the phrase "one nation under God" - igniting the old debate about the separation of Church and State. I do recall the outpour of opinions touching on this age-old controversy.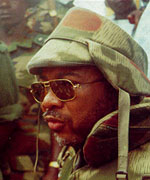 In Taylor's Liberia, Double Standard Prevails

Not long ago, the press secretary to President Charles Taylor and editor of the regime's propaganda website, Molley V. Paasewe, wrote a piece alleging that someone at the Analyst newspaper committed plagiarism. In his article, the chief propagandist called on the Press Union of Liberia (PUL) to investigate the paper and discipline the wrongdoer(s).
Exploiting LURD's Military Gains

Once again, Liberia has imploded in another round of senseless civil war and thousands of Liberians are marching again into neighboring Ivory Coast, Ghana, Guinea, and Sierra Leone, where they will live in squalors and abject poverty until "Kingdom come". In a May 2002 BBC interview, William Hanson, spokesman of the Liberians United for Reconciliation and Democracy [LURD] rebels pronounced a series of military success against the NPP Government of "Stone Age" Liberian dictator Charles Taylor.
Returned Mail Distribution Causes Anxiety, Frustration Among Monrovia Residents

KLM Dutch Airlines and Ghana Airways have made good on their recent threats to return unforwarded mails and parcels kept in Ghana for the last two months to their Liberian senders in Monrovia if the Liberian government of President Charles Taylor did not pay-off carrier fee arrears to the two airlines totaling some $306,000.
Having contributed to the discussions at the Bethesda Meeting in Washington D.C., my comments might come as a surprise. I make these further comments in fairness to my conscience. Furthermore, the Ouagadougou Conference has taken some decisions which are not quite the same as the Bethesda's, thus engendering a need for harmonizing and consolidating the decisions into a common agenda, if Liberians are to be taken seriously at all.
In Search of Wisdom
One thing I remember from Gordon Somers, the UN man everyone blames for our failed peace process is that he always said that nobody in this world would tell Liberians to stop killing each other. President Soglo of Benin also used to say that if we were stupid enough to want to destroy our own country, there would always be smart people to take our diamonds, iron ore, gold dust and timber in exchange for guns and bombs.

The Unlawful Arrest and Detention of Hassan Bility and Others
The NATIONAL CIVIL RIGHT MOVEMENT is watching the unfolding developments in Liberia with total shock and disbelieves, especially the recent unlawful arrest and continuous detention of journalist Hassan Bility, Ansumana Kamara and Mohammed Kamara. Bringing false charges against these men to justify their unlawful detention is further evidence that the Liberian government,
---
One Man's Revolutionary is Another Man's Killer

Scholars and academics often argued that to understand why people migrate, adequate consideration needs to be given to 'push' and 'pull' factors. The underlying logic is by critically questioning circumstances that cause people to abandon their homeland and embark upon risky adventures for safety or 'human security' abroad, one can better appreciate why some migrants easily compromise everything, including their values
Can Mwanawasa's magic traverse across Africa?

ZAMBIAN President Levy Mwanawasa summoned a special session of parliament last week where he revealed the loss of colossal sums of public money during the past ten years of his predecessor's administration.Armed with documentary and intelligence evidence, the no nonsense Zambian President asked parliament to see if it is necessary to scrap former President Frederick Chiluba's immunity so that he could be prosecuted.
"War is not the answer"

Liberia is caught in a grip of "warring madness." This "warring madness" has led us to a low point not only in our national history, but also in the world history of the 21st century. Unfortunately, some Liberians still believe that continued war is the right course to lift the country to a higher point. Marvin Gaye, said in his classic song, "What's Going On?" -- "War is not the answer."
---
Ouagadougou Conference Calls for an end to the War in Liberia

Leaders from 10 Liberian political parties and 14 civic organizations, joined by leaders of the rebel movement, Liberians United for Reconciliation and Democracy (LURD), concluded a 4-day conference of the Liberian Leadership Forum with a commitment to rally the Liberian people around a plan to bring an end to the violent conflict in their country.
The Ouagadougou Declaration

We, leaders of a broad spectrum of Liberian political parties, civil society organizations and opinion in and out of Liberia, united in the quest for peace and national harmony in our country, have gathered here in Ouagadougou from July 8 to 11, 2002...
Liberia: "What Is Wrong With Us Is Us" Not Peter Pan Syndrome

Back in the 1970s, Liberian speech writers and politicians popularized the phrase "What is Wrong With Us is Us" in an apparent effort to remind the Liberian government and people about the pandemic nature of institutionalized grift, social injustices, political repression, rampant corruption, inept national leadership, misdirected socio-economic development programs and policies, and the somewhat complacent and passive attitude of ordinary
Open Letter From the Chairman of the Liberian Leadership Conference

I am pleased to send you the Ouagadougou Declaration and the press release issued at the end of the Conference. Thank you for the interest expressed through outright support for our initiative, outright condemnation or through waiting to see.
---
Liberia's Road to Oblivion

"Every person shall have the right to freedom of expression, being fully responsible for the abuse thereof this right shall not be curtailed, restricted or enjoined by government save during an emergency declared in accordance with the Constitution.
A Position Statement by the Movement for Democratic Change in Liberia (MDCL)

The Movement for Democratic Change in Liberia (MDCL) views with abhorrence the continued misuse of the state of emergency in Liberia as a means of cracking down on those whom the government views as its enemies, whether real or perceived. The abuses perpetrated under this condition include arbitrary arrests, detentions, torture and summary executions.

U.S. To Implement "Aggressive, Practical and Pragmatic Policy" in Liberia

Newly-appointed U. S. Ambassador-Designate to Liberia, John Blaney has told members of the U.S. Senate Foreign Relations Committee that he looks forward to working closely with the Committee in "implementing an aggressive, practical, and pragmatic policy" in Liberia if confirmed.
A Case of the Peter Pan Syndrome

In November of last year, I wrote an article entitled: "Liberians in the Diaspora: We Must Unite". In that piece, I took the ULAA leadership, the presidential aspirants for the up-coming 2003 elections as well as the general leadership of the various community associations to task for our state of complacency. I intend to reexamine and reiterate the issues I raised in that article. My main focus now, however, is the Liberian general public in these United States.
---
"The Biggest Show" in Africa: the Launching of the African Union

A South African newspaper headlined the just ended Durban Summit that gave birth to the African Union (AU) and buried the Organisation of African Unity (OAU) "The Biggest Show in Town." Based on its agenda, outcome of the Summit and the encomiums, there is no doubt that the launching of the African Union on 8 July 2002 was the "Biggest Show" in Africa.
Fighting Terrorism the Liberian Way

For a long time, the tiny West African state of Liberia was widely regarded throughout Africa as "Little America" not for copying U.S. democratic values, but for copying American popular culture (music, dress, hairdo, television and radio news formats) and such national symbols as the flag, the constitution, congressional and cabinet structures, the pledge of allegiance, language and educational structure, and the like.
A Statement by John W. Blaney, U.S. Ambassador-designate to Liberia, Before the Senate Committee on Foreign Relations


Mr. Chairman and members of the Committee, I am honored to appear before you today. I thank the President and the Secretary of State for the trust and confidence placed in me as their nominee for Ambassador to Liberia. I am also grateful for the constant support of my wife, Robin, and of my daughters, Marla and Vanessa.
---
LURD's Position Statement at the Ouagadougou Conference

We bring you revolutionary greetings from the leadership and the fighting men and women of LURD. The National Chairman, Hon. Sekou D. Conneh regrets his absence from this very important meeting. This is due to serious engagement. He hopes that every participant at this very important conference will demonstrate a high degree of sincerity and honesty.
Heavy Fighting Continues in Bomi County

The Liberians United for Reconciliation and Democracy (LURD), the Liberian dissident group fighting to oust Charles Taylor from power, claims that its forces have killed a senior government commander and wounded another. In a press statement issued today, LURD said its forces "killed many of [Taylor's] ATU rebel soldiers including Gen. Mark Gweh, one of his strong commanders." LURD also claimed that Col Benjamin Yeaten, Taylor's personal body guard who ordered the arrest of Sam Dokie and family, has been hit.
Making Democracy Work in Postwar Liberia

Once there was a town built just beyond the bend in a large river. Playing on the shore one day, children noticed three bodies floating in the water; they ran for help. The townsfolk were quick to arrive on the scene and to pull the bodies out of the river. The first person was dead; they buried the body.
---
The July Monrovia "Peace" Conference: True Reconciliation or Another Fiasco?

For nearly one year, the Liberian government of President Charles Taylor has been toying with the idea of hosting a national peace and reconciliation conference in Monrovia later this month. The meeting is supposedly aimed at bringing together Liberian opposition politicians, civil, religious, opinion leaders and government functionaries to harmonize their differences and reach some level of agreement in mapping out appropriate strategies for...
Leadership in Liberia Beyond Election 2003

Amid abject poverty, inhumane standard of living, gross security violations, a lingering state of emergency, and escalating gun battles between government and dissident forces for territorial control, Liberians are planning to go to the polls in July 2003 to elect a new president and new members of the national legislature or parliament.
State Department Condemns the Arrest and Detention of Journalist Hassan Bility & two others in Liberia

The United States shares the concerns recently issued by Amnesty International, Reporters without Borders, and others over the physical safety of journalist Hassan Bility and two others.
---
Ouaga: The Beginning of the End?

It was almost two decades ago, when some disgruntled Liberians, running away from the dictatorship of Dr. Samuel K. Doe found themselves in the capital of the revolutionary Burkina Faso. There was a popular revolution going in Burkina Faso under Thomas Sankara. Thomas Sankara and his childhood friend Blaise Compaore had changed the name from colonial Upper Volta to Burkina Faso, meaning "the land of the people of integrity".
Grand Gedeh Association Condemns the Unlawful Detention Hassan Bility and others

The Grand Gedeh Association in the Americas, Inc. condemns the continued unlawful detention of Mr. Hassan Bility, Editor of the independent Analyst Newspaper, and two others by the Liberian Government. On June 24, 2002, Liberian government security agents arrested Messrs. Bility, Ansumana Kamara and Mohammed Kamara for allegedly operating a "LURD terrorist cell" in Monrovia and plotting to assassinate President Charles Taylor.
No International Mail Delivery to Liberia?

If you are a Liberian residing in the U.S. or elsewhere outside Liberia and you rely on postal mail service to communicate with your friends and relatives in Liberia, then the possibility exists that you may no longer be able to do so, at least through direct mail exchange with the Liberian Postal Service.
Africa's Dangerous Profession (Christian Science Monitor)
A missing Liberian editor highlights Africa's treatment of opposition journalists.
On June 24, the Liberian government arrested an outspoken young journalist named Hassan Bility and charged him with plotting to kill President Charles Taylor. Human rights and press watchdogs say the arrest is a sham, and a worrying sign of the increasingly repressive nature of the Liberian government
---
Liberian Civic and Political Leaders Meet in Ouagadougou

Liberian civic and political leaders will be meeting in Ouagadougou, Burkina Faso at a conference of the Liberian Leadership Forum from July 8-11, 2002 to concretize the evolving consensus on the ways and means of halting and reversing the deteriorating security, social, economic and political situation in Liberia. The thematic thrust of the conference is to "Save Liberia and Restore its Honor and Dignity."
---
Liberia's Search for Peace is Again Starting on the Wrong Note

It is the 1990s all over again. Only this time, the chief Liberian warlord, Charles G. Taylor is occupying the presidency in Monrovia. Liberian warlords including Charles McArthur Taylor, Alhaji V.G Kromah, George Boley, Roosevelt Johnson and Prince Johnson, and the Liberia's political class are repositioning themselves to out maneuver each other. Again, like the 1990s, the victims would be the Liberian people.
ALJA Demands Evidence For Arresting Journalist Bility and Others

The Association of Liberian Journalists in the Americas (ALJA) expresses grave concern over the arrest and continued detention of the Editor-In-Chief of the Analyst Newspaper, Mr. Hassan Bility and two others for their alleged involvement in a plot to overthrow President Charles Taylor and cause havoc in Monrovia.
We Seek The Truth - The Case Of The 60 Missing Blind

A couple of days ago, I did an article in my honest attempt to solicit more 'clarified' information, or, at best, further verify the whereabouts of the 60 blind Liberians who were said to have gone missing with the abducted Catholic priest, Father Garry Jenkins, in the Tubmanburg area near Monrovia. This rather unfortunate incident occurred immediately following supposed clashes between forces 'blindly' loyal to the brutal Taylor regime and rebels of the "shadowy" group, Liberians United for Reconciliation and Democracy (LURD).
---
Liberia: Journalist Hassan Bility and two others feared dead as government fails to produce them in court (Amnesty International)

Amnesty International expressed fears that Hassan Bility, the editor of the Analyst Newspaper and two others may have died as a result of torture in detention. The three were arrested on 24 June 2002 and have been held incommunicado since.
Hassan Bility is not a Terrorist

When situation becomes desperate for tyrants and their lackeys, they use any means to hang on to power. They will lie, deceive, cheat, intimidate, or threaten and sometimes kill as a way of beating the population into total submission. Those that show any sign of resistance are chased into exile or falsely charged and thrown into jail and if they are not lucky they are killed. It is our prayer and hope that this will not be the fate of Hassan Bility and the others arrested with him.
Washington, The Beginning of a National Dialogue

The Washington conference of Liberian political and social organization leaders just ended with recommendations for actions to move the peace process from where it currently stands stranded in midstream, manipulated by the tandem NPFL/LURD.
Blind refugees 'in Liberian town' (BBC)

Many of the 60 blind refugees who were reportedly abducted earlier this year are alive and well, according to a journalist who has visited the rebel-held town of Tubmanburg.