Liberia is in very serious trouble because it is under the rule of a man with multiple personalities. Criminal history is replete with killers and psychopaths whose multiple personalities take them to the extreme of each of their persona.
Africa In The Western Media
The persistent phenomenon of how the Western Media have continued to treat Africa negatively is as topical today as it was nearly two decades ago when many Africans and other aggrieved proponents campaigned for the adoption of a new world information order as the best corrective approach. I suggest, not in any new way or fresh revelations, that the problem about Western media reporting on Africa goes beyond professional inadequacies and structural bias.
Political Assassination in Ghana Points Directly to Taylor
More details emerged on April 29, 2002 regarding the two men detained by Ghanaian authorities for assassinating on April 25, 2002 the Liberian exiled political dissident, General Alfred T. Glay. One of the men, Charles Wrotee, fought with Charles Taylor in the 1980's in his campaign to overthrow the Samuel K. Doe government.

---
A Chronicle of the Demise of Democracy

On February 8, 2002, the Taylor regime instituted a state of emergency in Liberia. At the time he seized emergency power and nullified the already toothless and nominal legislature, President Taylor used the ongoing dissident incursion into the country as a pretext to arrogate onto himself extra power to effectively deal with the nagging economic, political and security problems.
My Friend Tiawan

For the past two days, I have been walking like a zombie, with tears in my throat and a stone in my belly, my eyes filled with tears and my heart in a knot. My mind wondered, trying to escape reality. I found myself not being able to do anything, to find joy in anything. No water and no food.
stateofemergency1.html
Wotorson Urges Liberians to Organize and Hold a Meeting of National Leaders

Since the advent of our recent National Crisis nearly twenty-two (22) years ago… with the violent overthrow of the Tolbert Administration on April 12, 1980, and the subsequent advent of the NPFL initiated 7 year conflict from late December 1989 to 1997… resulting in the overthrow of the Doe administration, Liberians have generally intensified their dependence upon the sympathy, goodwill, initiatives and leadership of mostly non-Liberian personalities and institutions to think of, organize and manage the several meetings and conferences for the search for "lasting Peace in Liberia".
Friends of Liberia Calls For Release of Human Rights Activist and Reopening of Independent Newspaper

WASHINGTON, D.C. - Friends of Liberia (FOL), a non-profit non-partisan advocacy group, has urged the government of Liberia to immediately release human rights lawyer Tiawan Gongloe and allow the independent Analyst newspaper to reopen. FOL is also urging the government to stop its harassment of the Movement for the Defense of Human Rights (MODHAR), whose office in Monrovia was surrounded by police after the group put out a press release condemning Gongloe's arrest.
Former Aide-de-Camp to Samuel Doe Murdered in Ghana by Alleged Taylor's Terrorists
An former fighter of President Charles Taylor's erstwhile NPFL rebel group and an accomplice have been arrested and detained in Ghana for the murder on April 25, 2002, of Major General Alfred T. Glay, former Senior Aide-de-Camp to slain Liberian president Samuel K. Doe near the Budumburam Refugee Camp in Ghana.

Journalists Association Calls For Release Of Human Rights Lawyer In Liberia
We, the Officers and Members of the Association of Liberian Journalists in the Americas (ALJA) strongly condemn the arrest of respected Liberian human rights lawyer Tiawon Gongloe, who reportedly was stripped nude and brutalized following his detention on April 24, 2002, and is hospitalized as a result.

United Nimba Citizens' Council (UNICCO) Issued Statement
We, the members of the United Nimba citizens' Council (UNICCO) in the United States of America , have learned with utter dismay that at 4:00 p.m., Wednesday, April 24, 2002, the prominent Liberian human rights lawyer and son of Nimba, Counselor Tiawan Gongloe, was arbitrarily arrested by Special Security Forces of the Government of Liberia.
---
CEDE Condemns the Arrest, Detention and Torture of Counselor Tiawan S. Gongloe

The Regional Office of the Center for Democratic Empowerment (CEDE) wishes to add its voice to CEDE's Liberian Program Office in expressing shock and unreserved condemnation of the criminal arrest, detention and torture of Counselor Tiawan S. Gongloe, Member of the Board of Directors and Legal Counsel of CEDE, and of the unrelated closure of the Analyst newspaper by the Liberian Government.
"Go in Peace and Sin no More": The High Price of Criticizing Liberian Presidents
The recent arrest in Liberia of counselor-at-law Tiawon Gongloe, who has become well known for insisting that the Government of President Charles Taylor either bring charges against detainees or release them from prison, is yet another reminder of how intolerant Liberian presidents are to criticisms.
It Is Just A Question Of Character
One of the most important and difficult questions any nation faces, as it assesses national leadership, is reaching judgment of the relationship between its leader's character and the kind of national leadership that he or she offers. For Liberia, we are in that unenviable and undesirable place in world history of being able to reach judgment about the connection between our national leaders and his character with a great deal of ease; Charles Taylor is president of the Republic of Liberia. This statement tells it all.

The Arrest and Tortured of Human Rights Lawyer in Liberia
Again, the Liberia Human Rights Community has been visited upon by the forces of evil leading to the arrest and subsequent torture of a Human Rights Lawyer Cllr. Tiawan Gongloe. The reason and cause of the arrest of Mr. Gongloe is believed to stem from a speech he delivered in Conakry, Guinea during a recent Civil Society conference when he condemned violence as a means to state power. The Analyst newspaper that printed the speech of Cllr. Gongloe.
Government of Liberia'sArbitrary Detention of Mabutu Kromah, Tiawon Gongloe, et al
Having returned from a lecture I delivered yesterday at Indiana University on the shortcomings of the Western media in the portrayal of Africa, it was embarrassingly painful to have learned today that the Liberian government has carried on another act to demonstrate its continued commitment to the blatant violation of human rights.

---
Leading Liberian Rights Lawyer Tortured by Police
(A Statement issued by Human Rights Watch)One of Liberia's most prominent human rights lawyers, Tiawan Gongloe, has been brutalized in police custody and is hospitalized as a result, Human Rights Watch said today. Police guards remain near his hospital bed, and the police director has announced that Mr. Gongloe remains in police custody without charge pending an investigation.

Fear Nothing, But Fear Itself (Statement on the Arrest of Tiawon Gongloe, Esq. - issued by Friends of Charles Brumskine)
The news of the arrest and detention of Counselor Taiwon Gongloe, an outstanding Liberian human rights advocate and a fair and objective observer of the Liberian situation has been met with widespread repugnance throughout the United States and in Liberia. This action serves another blow to the quest for freedom and justice by the struggling people of Liberia and those living abroad who long for a return to their native land.

Family Members Call for the Release of Counselor Tiawan Gongloe
We the Gongloe family view with disdain the barbaric and arbitrary arrest, detention and torture of our brother human rights lawyer Tiawan Gongloe.

Free Counselor Tiawan Gongloe Now
The reported detention of Cllr. Tiawan Gongloe by the despotic regime of Charles Taylor is unjustified. Mr. Taylor and his 'thugmaster' Paul Mulbah must release Cllr. Tiawon Gongloe without delay. The arrest of Cllr. Gongloe only buttresses the case of those Liberians that have stated in various publications that Mr. Taylor only understands the language of violence. Cllr. Gongloe is one of the most democratic minded Liberians. He has never used force nor does he believe in the use of force to effect political change.

Human Rights Lawyer Tiawan Gongloe Tortured in Police Custody
"Tiawan Gongloe was severely beaten, with bruises [and lacerations] all over his face with the right eye appearing bloody. Gongloe could hardly stand by himself this morning when he was brought out of police cell. Gongloe complains of pains in his back and on his sides. He is currently undergoing treatment at the SDA Cooper Hospital in Sinkor, Monrovia. Two of a group of lawyers who have gone to the police station to see Mr. Gongloe this morning later accompanied him to the hospital. The two lawyers said that Gongloe cannot hear with his left ear. He continues to complain of severe internal pains in a situation which looks like internal bleeding."

MODHAR Calls for the Release of Human Rights Lawyer
The Movement for the Defence of Human Rights MODHAR has strongly condemned the arrest and subsequent detention (without explanation or charge) of Liberia's Human Rights Lawyer, Cllr. Tiawon Gongloe.
Liberia: The Key to Ending Regional Instability (International Crisis Group)
While the international community has made great strides in improving the security situation in Sierra Leone, Liberia remains a wellspring for continued conflict stretching across Liberia, Sierra Leone and Guinea. Given the regional ambitions of its president, Charles Taylor, and his continued willingness to use proxy militia fighters in neighbouring states, the hard won peace in Sierra Leone remains in jeopardy.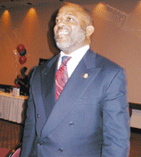 "Taylor is destroying the aspiration, happiness, and hope of our people," Says Charles Brumskine
The evil grip of President Taylor and his government on our country threatens our existence as a people and as a nation-state. Liberia has degenerated from a beacon of hope in Africa to a pariah state.
Cashing in on the UN Sanctions Regime
Contrary to the repeated claims and accusations that the UN imposed sanctions against Liberia, including the travel ban and arms embargo, were hurting the people, the truth is the sanctions regime is helping the government to save money.

Africa And NEPAD: What About HIV/AIDS?
The African conceived and led New Partnership for Africa's Development (NEPAD) is an ambitious attempt by African leaders to jumpstart development in the continent. However, NEPAD as currently articulated, lacks a serious focus on the HIV/AIDS epidemic in Africa. As a vehicle for Africa's renaissance, based on indigenous initiatives and focused external support, NEPAD must be seen as a vehicle for tackling major impediments to the economic growth and political stability in Africa.
---
What Do Liberians Really Want?

In the Diaspora, Liberians are certainly talking about a lot of things, including, the forth-coming 2003 presidential and general elections in their country [IF they should ever occur]. But whether or not they'll be given the opportunity to participate in them, as they should, is completely a different matter.
Perceived rise in Anti-Semitic feelings, Middle East crisis could impact on French poll
A Jewish football team was attacked by Arab youth in one of the French suburbs last week, two Jewish school buses burnt, synagogues desecrated as attacks on their establishments from Paris to southern French cities of Marseille and Lyon, etc continued to run side by side with French Presidential campaigns which wound up Friday ahead of the Presidential first round of polling slated for Sunday (April 21, 2002).

---
Elections, Politics and the Liberian Society

When I was a student at Tubman High School in Monrovia in the late '70s, there was an inscription on a bulletin board by the main students entrance that read: "Tubman High is the place where brave men fight and die, and only the strong shall survive." At that time, we would read the inscription out aloud and laugh hysterically while thinking to ourselves, what kind of idiot or loser would write such foolishness on a high school bulletin board!
Good African Leaders: Who are they and how do we get them?

For forty years or so, African leaders have played a pivotal role in derailing the economic and political stability of the countries under their stewardships. In half the period of colonial rule, they have indulged in a reckless game of financial profligacy and violated human rights with impunity. It has now been universally acknowledged that bad leadership has a direct correlation to development of a nation. The root cause of Africa's endemic problems has partly been traced to the continent's coterie of bad leaders.
Beware of Taylor's Sanctions Ruse, MDCL Advises UN
As Liberians residing outside of our beloved country, advocating peaceful change in Liberia, we have taken keen interest in the efforts of the Sanctions Review Committee of the Security Council to verify compliance of the Government of Liberia with the requirements for lifting sanctions imposed on Mr. Charles Taylor and members of his government by the United Nations. It is with these efforts in view that we write to register our opinion on this all-important matter, and to dissuade the committee from possibly recommending their removal.

Africa And NEPAD: Are All Bases Covered?
African leaders in 2001 developed the New Partnership for Africa's Development (NEPAD) with the major objective of jumpstarting the continent's development in the 21st Century. NEPAD, African initiated and led, will orchestrate the continent's determined push to achieve a growth rate of 7 percent by 2015 through verifiable commitments to democracy, good governance and economic development.
Opposite Opinion

I do enjoy reading most of the pieces that Abdoulaye W. Dukule has written in
The Perspective
for the past couple of years. As a matter of fact, I have felt that almost everything he has written in the past has been very good; except for the one piece he wrote on March 27, 2002, titled "The Missing Link."
---
Building Democracy in Liberia

As the deadline for elections draws nearer, Liberians are all focusing their attention on the main players and party politics is rising to its highest peak. Political leaders and their aides are sharpening their tools and putting in place strategies that would ensure victory at the various stages of the electoral process. Inside many parties, the games of "standard bearer" are played in dark corners, with the manipulative hands of those who consider themselves to be "entitled" to the presidency.
Journey from Liberia leads Duncan to KCK, Oklahoma -- and now the NFL (The Kansas City Star)
If you want to find Howard Duncan this weekend, don't bother trying to catch him in front of a television at his father's Kansas City, Kan., home watching the NFL draft.

World can't decide what to do with chaotic Liberia (Reuters)
ABIDJAN, April 15 - The approaching expiry of U.N. sanctions against Liberia for fomenting war in West Africa forces the world to confront the future of the pariah state, but analysts say nobody really knows what they want to do.

Educational Leadership and Other Determinants of Academic Achievement in Liberia
The demands of educational leadership in contemporary society have never been acute and difficult. Sound educational leadership requires a national effort and mobilization of all concerned through active, full and meaningful participation in dialogue. It is only through purposive dialogue that a civic society can create a democratic space to negotiate the most difficult paths toward creating solid foundations for the learning society.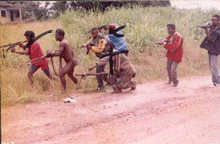 An Open Letter to LURD's Collective Leadership
I am writing to the collective leadership of LURD because I don't know anybody in LURD. Additionally, I want to assure you that it is not the intent of this letter to criticize LURD or the activities of LURD. I, like members of LURD, and many other concerned Liberians, am opposed to Charles Taylor's leadership in Liberia and would like to see him go one way or the other. However, to see that happen, one has to have an agenda and strategies to accomplish it.

In Response to Tim Siklo
I read with great interest Mr. Tim Siklo's piece posted on The Liberian Connection website where he mentioned a story I wrote about Liberian political leaders. I was surprised that Mr. Siklo, in his attempt to portray himself as a supporter and partisan of Dr. Tipoteh, decided to use my article to discuss the viability of our political options. I would not engage in a debate about the tangibility or intangibility of his conclusions regarding the Abuja meeting or the elections and the next 22 rounds of tricks by Mr. Charles Taylor.
Political Activities For The Attainment Of Peace And Development In The Mano River Union Basin
Before I proceed any further, please permit me to extend my thanks and appreciation to the organizers of this conference for inviting me to make a presentation on the topic: "POLITICAL ACTIVITIES FOR THE ATTAINMENT OF PEACE AND DEVELOPMENT IN THE MANO RIVER UNION BASIN."
---
The Need for a Common Agenda and Approach

Let me begin by stating that this contribution is in neither way intended to portray my political colleagues as being less nationalistic and blindly selfish, nor doubt their proven individual commitments and true love for our common patrimony. Rather, my objective is to challenge us all with the reality that, at this point in time, our success in safeguarding the values of our people greatly depends on how united we are in purpose and agreeable in approach.
Open Letter To Dr. Mohammed Ibn Chambas Executve Secretary, ECOWAS
As a Liberian concerned about the welfare of my country, like all other Liberians should hopefully be, I am surprised to have learned that with all the effort you have made as a Ghanaian diplomat under His Excellency former President Jerry Rawlings, you are still naive to think that ECOWAS and not Liberians should decide the future of my country - whether in peace or at war. It is with this naïve pre-occupation that you selected who should attend the recent Abuja meeting or even allowed the recalcitrant party (Taylor and his henchmen) to dictate who should or should not attend.

Capitol Formation, Asset Relocation And Challenge of Nation Building
If conventional wisdom was etched in stone, the place of an individual in effecting change in society would be insignificant compared to the prevailing view, that economic and political change must occur through an institutional process, through governments and its established institutions.
---
The Travail
s and Antics of Africa's "Big Men" - How Power Has Corrupted African Leaders

Lord John Emerich Edward Dalberg Acton is famous for cautioning that power has a tendency to corrupt the wielder, particularly one who aspires to be a great man. This precept propounded in the 19th Century has been obsequiously proven to be more than true in the late 20th and early 21st Centuries Africa. Some of the contemporary testimonies to Lord Acton's exposé are Robert Mugabe of Zimbabwe, Yoweri Museveni of Uganda, Charles Taylor of Liberia, Daniel arap Moi of Kenya, Frederick Chiluba of Zambia, and Robert Gueï of Cote d'Ivoire. These "Big Men" have shown that power is both sweet and addictive.
Liberian National Reconciliation: Time to Get Beyond Mere Verbiage
If you ever visited a Liberian internet chat room and seen the exchanges amongst so-called educated Liberians, you may logically conclude that national reconciliation in Liberia is a far-fetched dream! But talk to a few Liberians, young and old, who survived the civil war and escaped to a foreign land only to find out that the pasture is not always greener outside one's homeland, and you will soon detect their nostalgia to return home. So, after all, there is some glimmer of hope for peace and national reconciliation in Liberia if this group of Liberian civil war survivals can grant us any solace.
"Praxis - Actions Not Words"
Twenty-two (22) years have quickly passed by when the letters "PRC" became household language in Liberia. It stood for: "PEOPLE'S REDEMPTION COUNCIL". What is the legacy of the PRC? - Redemption, Replacement, Corruption, Suppression, abuse of human rights, and/or disappointment? Upon coming to power, the PRC charged the leadership of the former government of Liberia with: rampant corruption, misused of public office, and abuse of human rights.
Liberia Deploys Troops at Airport (News24)
Monrovia - Liberia has deployed heavily armed troops in the south of the country after it was warned that rebels were planning to attack the country's only international airport, defence sources said.
The Challenges of Peace and Reconciliation in Liberia
Few weeks ago a group of leading Liberians, including politicians, business executives and civil society representatives, along with Taylor regime's delegation, met in the Nigerian capital of Abuja. The purpose of the gathering was for Liberian opinion leaders to dialogue among themselves aimed at finding a peaceful resolution to their country's intractable political and security problems.

Amnesty International Calls for International Involvement in Protecting Human Rights in Liberia
As the regime in Monrovia makes efforts to persuade the international community that it has complied with the sanctions regime imposed by the United Nations on the Liberian government for its role in destabililzing Sierra Leone, Mr. Taylor has stepped up his clampdown on journalists and human rights defenders in recent months. He is aware that the UN sanctions regime imposed on Liberia was not propelled by the human rights abuses in Liberia. Using the war in northwestern Liberia or the "Battle of Klay" as a pretext, he imposed a state of emergency which gives him absolute powers in that West African nation.

The Kakata Attack: Is It Real Or Another Taylor's Gimmick?
There have been reports of another outbreak of fighting in Liberia. This time the 'fighting' took place in Kakata, about 35 miles from the Liberian capital, Monrovia. The alleged attack on Wednesday, April 3, 2002, left citizens in the capital, Monrovia, panicking. Taxi drivers refused to reach the outskirts of the city fearing that the close proximity of Kakata to Monrovia, meant that the ruthless government security forces would be merciless to the people as they normally are.

"In the Wake of Rebels Attack on Liberia...
By bringing together Liberians from diverse political persuasions and different schools of thought, men who obviously stand fundamentally on different political divides regarding their understanding of the general state of affairs in Liberia, vi-sa-vi what they consider in terms of what constitutes the national interest of Liberia, is the right step in the right direction.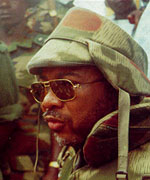 Kromah And Taylor's Twisted Logic
The past thirteen years has been agonizing for the people of Africa's oldest republic, Liberia. Countless lives, particularly those of innocent women and children have been destroyed and Liberia itself has been denigrated and consigned to the laughable status of an international pariah. Wars and rumors of wars are now synonymous with Liberian politics, and the country's traumatized population now lives well below the poverty line.
ECOWAS: The End Of The Line
The ECOWAS Committee on Conflict and Mediation decisions on Liberia at its recent Dakar meeting should bring some kind of closure to certain aspects of our political debate. These decisions were difficult to swallow. In many of our villages or traditional settings, the goodness of a medicine is measured by its bitterness. Country medicine comes with no sugar coating.
Transforming The OAU - My Take! (Part 2)
With the abrupt collapse of the Soviet empire and the rapid decline in the spread of communist or socialist ideology, which were once readily embraced by so-called 'progressive' leaders, it would be in the best interests of all Africans if their continent were to unite under one roof as the founding fathers of the OAU had envisioned. And frankly, it's not that Africans don't want to unite, it's just that they really haven't found the correct basis upon which to proceed.
Journalists Condemn Renewed Clampdown on Free Expression In Liberia
The Association of Liberian Journalists in the Americas (ALJA) strongly condemns renewed clampdown on dissent by the Liberian government and the escalation in fighting between government forces and rebels of the Liberian United for Reconciliation and Democracy (LURD).

Human Rights Defender Decries Prison Conditions
Wednesday, April 03, 2002: The National Human Rights Center of Liberia has expressed shock and dismay over the de-humanizing and deplorable conditions being experienced by inmates at the Liberia National Police Central station. A center press release quoting recently detained colleagues of the Center at the police station says, the treatment and conditions at the holding cell are a "tragic expression of man's inhumanity to man".

"Disappointment in what appears to be a Political Misjudgment"
On March 28, 2002, Mr. Cletus Segbe Wotorson sent a letter to the Executive Secretary of ECOWAS, Dr. Mohammed Ibn Chambas, regarding the recent Liberian Reconciliation meeting held in Abuja, Nigeria. Mr. Wotorson was presidential candidate of the Liberian Action Party (LAP) and the Alliance of Political Parties in the 1997 elections.
New Deal Appeals for International Solidarity
Since the arrest of Mr. Nigba Wiaplah, Acting National Chairman of the New DEAL Movement on Wednesday, March 27, 2002, a new wave of arrests has followed in Liberia, this time involving the leading human rights activists, Aloysius Toe and the staff of the Movement for the Defense of Human Rights (MODHAR), which is based at the Center for Human Rights in Liberia.
Transforming the OAU - My Take! (Part 1)
The ongoing transformation of the Organization of African Unity (OAU) into the so-called African Union (AU) seems to be one of the biggest jokes of the 21st century, if we were to take into serious consideration the one person that's mainly sponsoring it.

International "Development" Assistance to Rwanda and Good Governance
Since the 1994 genocide in Rwanda the country has benefited from a colossal amount of Overseas Development Assistance (ODA) from both multilateral and bilateral donors.

New Deal Calls for the Unconditional Release of its Chairman and Rights Defenders
The Movement views this arrest not only as illegal, but also as an abrogation of the constitutional right to freedom of expression as enshrined in the Liberian Constitution. It is therefore the conviction of the USA Chapter that Chairman Nigba Wiaplah was acting within the realm of his constitutional rights as national leader of a political movement when he expressed critical opinions about political developments in Liberia.

ECOWAS Endorses Taylor, Condemns LURD
The ECOWAS Mediation and Security held a one-day meeting yesterday in the aftermath of the Abuja conference and slapped LURD in the face and discarded any recommendation from the opposition. This was to be expected. The messenger from Abuja was none other than the Executive Secretary Ibn Chambas.

Release the New Deal Officials Immediately
The arrests and detentions of the Acting Chairman of the New Democratic Alternative for Liberia Nigbah Wiablah and other members of the movement by Mr. Charles Taylor 's blood thirsty security forces is illegal and cowardly. We are therefore calling on Mr. Taylor and his failed government to immediately release Acting Chairman Wiaplah and others without any precondition.