LCA-DC Leadership Crisis and the Destructive Liberian Politics

I have often told friends and acquaintances that politics is a dirty game that doesn't necessarily have to be criminal. And you know as much as I do that politics is a dirty game because it thrives on manipulations and exaggerations to succeed. Any politician with great skills at manipulating facts and circumstances to suit his whims and caprices is likely to succeed...
"Steal from Steal, Makes God Laughs"

As I was surfing the Internet the other day, I came across an article published by The News newspaper in Monrovia in which it was reported that the offices of the "Liberia for Jesus Crusade" had been burglarized, and that the Crusade's National Coordinator, Rev. Kortu Kaye Browne had complained that the burglary created a major setback to the information and data system of the Crusade because "all information and data about the ...crusade, from last year to last weekend, were taken away during the commission of the crime."
---
The Pete
r Principle Revisited

The Peter Principle (Why Things Go Wrong) is a best selling book by Lawrence J. Peter, a professor of education, in collaboration with Raymond Hall, an author and journalist. It's a fascinating and humorous yet pessimistic book that expounds on the theories of "Hierarchiology" -defined as "a social science, the study of hierarchies, their structure and functioning, the foundation for all social science."
Tribute to Harry A. Greaves Sr.

As his lifeless body descended beneath the earth on May 4, 2002, at Ewing cemetery in New Jersey, I could not believe what was happening. Several questions raised through my head like waves of ocean. Was this the same man who has had so much impact on my life? What impact will I have on the lives of others during my lifetime like Mr. Greaves, Sr.? Will I define success by how much wealth I amass personally or how I help to mode other Liberians into successful citizens?
---
The Liberian Crisis - When Did It Begin?

I remember watching the CBS evening news shortly after the coup d' etat that toppled the Tolbert government and ushered in the PRC, headed by Sergeant Samuel K. Doe, when I learned the horrible news of the execution of thirteen former cabinet members and officials of the deposed government. According to the news story, they had been charged, tried, found guilty and executed in such a rapid fashion that many were convinced that justice was not served.
Corporate Activists Promoting Condoms as Panacea to HIV/AIDS

ZAMBIA's founding father and first President Dr Kenneth David Kaunda recently sparked off a storm of criticism from church leaders in his country when he urged promiscuous Zambians to use condoms in order to stay clean from HIV/AIDS infection... "We are still impure. The church has not succeeded in making us pure yet. I would advise our church leaders to reconsider the stand on the use of condoms," Dr Kaunda was quoted by the local media as having said.
Is LURD Ready for Peace?

The Liberian dissidents group fighting to oust Charles Taylor from power says it is ready for peace, but it wants Mr. Taylor out.
Pat Robertson's Quest for Eternal Life (Fortune Magazine)

He's making bets to ensure that his evangelical empire outlasts him. His portfolio so far: a gold mine in Liberia, a mothballed oil refinery, and $78 million in losses.
---
US to Provide $1.45 Million for Upcoming Elections

In preparation for the holding of "credible free and fair" elections in Liberia in 2003, the United States (US) government will provide a total of some $1.45 million to support a number of specific independent media projects in the country.
Independent Media: Liberia's Key to Peace and Reconciliation

In my January 19 remarks to the annual convention of the Movement for Democratic Change in Liberia (MDCL), I noted that "Liberia deserves a fresh start," and today I would like to build on that theme. Given the current state of events in the Mano River region, we certainly have our work cut out for us!
The US and EU Challenged to Provide Leadership in Geneva
FEUDING world economic powerhouses, the United States and the fifteen member European Union (EU), have been challenged to stop customary legal proceedings at World Trade Organisation (WTO)'s trade disputes arbitrary council in Geneva and instead lead the crusade against removal of free trade barriers to allow poor countries access to their markets.

Putting into Effect Election Laws and the Constitutional Provisions for the Conduct of Democratic Elections in Liberia in 2003
Legal instruments and framework of the electoral process comprise the constitution, election laws, administrative regulations and codes of conduct. Constitution of Liberia, came into force in January 1986; entered an interregnum period 1990-1997, re-proclaimed by the Legislature in 1997.

Open Letter To President Taylor
Counselor Charles Walker Brumskine recently sent an Open Letter to President Taylor regarding the state of affairs in Liberia. Counselor Brumskine is former President Pro Tempore of the Liberian Senate. He fled Liberia after he fell out with President Charles Taylor and the National Patriotic Party. Find below the full text of his letter:

---
Sixty Blind and a White priest

It has been almost 10 days since LURD "captured" and lost the NPFL capital and "launched" attacks on the President's hometown and other places. During that time, the spokesman of the dissidents William Hanson spoke to BBC, claiming that his people had taken a white man, who he thought, could be Garry Jenkins, the priest who disappeared with the 60 blind people he cared for.
African Leaders Should Stop Brouhaha and Move on to AU

WHEN Ghana's first President and perhaps Africa's greatest statesman Kwame Nkrumah proposed prior to 1963 for the world's second largest continent to have a union with single currency, bank, judiciary and parliament, many, including Tanzania's founder President Julius Kambarage Nyerere were opposed to the idea and instead favoured forming regional sub-groupings as a way towards gradual integration.
---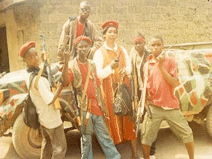 LURD's Phantom War

For a long time, I have known that there was one distinct and glaring characteristics of deceit in the Liberian people, called "intellectual dishonesty". What I did not realize, however, is that there were so many Liberians then as well as today, who are in denial.
Ghanaian Police Chief Inspector's VOA Interview Left Many Unanswered Questions

In an interview with VOA's James Butty earlier this month, Mr. Emmanuel Amaning, Chief Inspector with the AWWTU of the Ghanaian Police in the Central Region, concluded that General Alfred Glay died in a car accident. The car involved in the "accident" was being operated by two other Liberians. Mr. Amaning's statement conflicts with everything that we have heard from family and independent sources concerning the circumstances surrounding the death of General Glay.
Blazing the Trail

When I was awarded a full scholarship by the German Government in 1969 to study architecture, an eye opening experience occurred when I began my studies as the only person of African descend in the Architectural department at the University of Kassel.
---
"I Am Not Seeking A Public Exchange With Mrs. Johnson- Sirleaf," Says Ambassador Streeb
Former U.S. Ambassador to Zambia and an executive of the Atlanta-based Carter Center's African Governance Program, Gordon Streeb has reacted sharply to recent characterization of his remarks in a CNNI interview by Liberian opposition politician Mrs. Ellen Johnson-Sirleaf as comparing both the electoral processes of Liberia and Sierra Leone and leaders of the two countries, Charles Taylor and Tejan Kabbah.

---
An Appeal for Father Jenkins' Safety

Unless one is absolutely dedicated to a particular cause, it is highly unthinkable that he or she would remain in an area where a rather strange and brutal civil war is said to be raging once again. And so, when the now missing Catholic priest, Father Garry Jenkins, resolved some twenty years ago to stay in Liberia no matter what and care for the war-ruined nation's most needy, especially, the blind, it must have been his natural calling in this life.
"Kicking Over The Pail ... The liberian Scenario"
A young cow had difficulties in milking for the first time. After the application of several treatments to induce milking, to the amazement of the husbandman, the cow milked a pail (bucket) of milk. In excitement the husbandman ran to the farmer (the owner of the ranch) and broke this long expected news.
---
ECOMOG will Maintain President Taylor in Power

It is not surprising that Liberia's Foreign Minister Monie Captan stated during a PANA interview last Friday that the Economic Community of West African States (ECOWAS) may intervene in Liberia if the rebels fighting to unseat Liberia's kleptocratic ruler, Charles Taylor do not agree to a negotiated political settlement.
EU Required to Stop One Million Euros in Fishing Subs
EUROPEAN Union (EU) members have been urged to scrap off over one million Euros (over Tshs 800m) in subsidies paid to its fishing industry under the controversial Common Fisheries Policy (CFP) which is accused of violating international law by engaging in deep water fishing in Africa's ocean territory.

---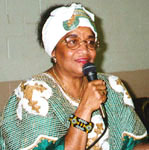 Taylor and Kabbah no comparison: Johnson-Sirleaf Tells Ambassador Streeb

Liberian Opposition politician Ellen Johnson-Sirleaf has taken former U.S. Ambassador Gordon Streeb (Ambassador Streeb works with the African Governance Program at the Carter Center/Emory) to task for attempting to compare the 1997 Special Elections in Liberia that brought Charles Taylor to power with last weekend's General Elections in Sierra Leone in which incumbent president Tejah Kabba was re-elected.
Wag the Dog, Liberian Style
I remember one thing from the long speech Taylor gave last week: he called on people who sat outside saying that there was no war to come and see for themselves. Then he went on to say that his troops had killed some hundred rebels during the battle in Gbarnga. After that tirade, we heard from Mr. Hanson of LURD who confirmed that they had indeed attacked Gbarnga, that contrary to what Taylor said, they had not been evicted from the NPFL capital.

Ellen Johnson-Sirleaf Responds to Liberia's "Ministry of Disinformation" and the New Liberia Newspaper
A back page article contained in the Friday 17 May issue of the New Liberia carries report from one (fictitious) Cecelia Wonkee in Abidjan about a party I am supposed to have hosted at my residence in Abidjan on 4 May to celebrate the capture of Gbarnga by the LURD dissident. I am responding to this rather stupid story only because those who continue to place our country in a state for laughter and ridicule must be countered.

---
Elections In Sierra Leone: A Step Towards Regional Stability?(
ULAA's Statement)
West Africa is among the world's most unstable sub-regions. In the last decade, Liberia and Sierra Leone have been embroiled in protracted Civil Wars. Liberia and Guinea continue to accuse each other of launching border raids.
Liberian Leadership Forum: A Network to Promote Peace and Democracy in Liberia
Liberian civic and political leaders from inside and outside the country met from March 14-15, 2002 in Abuja, Nigeria and discussed ways and means of collectively addressing what they considered critical to saving Liberia and restoring "honor and dignity to our country". Prior to this meeting, an idea to create a forum of Liberian leaders to help find solutions to the myriad problems of the country was gaining wide support.

LDI's Statement Submitted to the US House of Representatives Subcommittee on Africa
On the eve of the historic elections in Sierra Leone, it is truly fitting for the Liberian Democracy Initiative (LDI) to join this honorable body in examining the "Elections in Sierra Leone: A Step Towards Regional Stability." Reports indicate that the polls were by far the most orderly and peaceful in Sierra Leone since the country gained independence from Britain in 1961.

---
Gripped by Fear and Opportunism

The Liberian economic crisis is being compounded by a synergy of fear and opportunism. The general climate of fear in the country, nurtured by constant acts of political repression and rebel warlordism, has provided a platform and pretext for economic opportunism.
Confronting The African Gimmicks

Some how, the dictators of Africa and their partners in the continued destruction of African lives and properties have craftily figured out that the best way out of the African predicament is to blame Europeans and some well intentioned Africans who now believe that the vast majority of Africa's problems are self inflicted.
Chasing Enemies Back into their "Mothers' Wombs"
As a child growing up in Africa, the only fight I remembered fighting, which did not warrant the pretence of taking my adversary's hair, placing it on my head and in my rear end and blowing it into the air, or drawing a territorial line and daring my adversary to cross it before engaging him into a FIGHT, was when he "cursed my mother."
---
Liberians Brace for More Rights Violations
As GOL Extends State of Emergency to Private Home Searches

The government of Liberia (GOL) has extended the country's state of emergency to include private home searches by the notorious Anti-Terrorist Unit (ATU) and other state security apparatus in the wake of reported military gains last week by the rebel Liberians United for Reconciliation and Democracy (LURD), over-running Gbarnga, the political capital of president Charles Taylor's erstwhile NPFL rebel group
TI Rules out Possibility of Publishing TNCs Bribe Payers List

BACKING down criticism of targeting governments mainly from developing countries with its annual corruption perception index (CPI) reports, global anti-graft watchdog Transparency International (TI) has ruled out the possibility of publishing a 'name and shame' transnational corporations (TNCs) bribe payers list for fear of possible libel suits in case of mistakes.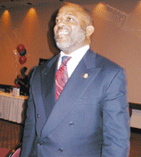 Brumskine Praying? Why Now?

Due to the fighting in Liberia and in response to Abraham Massaley's request addressed to Liberian journalists in the Diaspora to pray for their homeland, Counselor Charles W. Brumskine recently wrote: "I like to join Abraham in beeching all of us to pray for our country and our people back home. That is exactly what my household and I are doing." In reaction to Counselor Brumskine's call, asking the Liberian people to pray for peace, J. Nagbe Sloh sent the following comments to The Perspective.
---
An Interview with William Hanson, Senior Spokesman of LURD

The war between the Taylor regime and the Liberian dissident group known as Liberians United for Reconciliation and Democracy (LURD) intensified during recent days. There were attacks in Palala, Gbarnga, Klay, Tubmanberg and Arttington. On Tuesday, May 14, 2002,
The Perspective
(TP) conducted an interview with Mr. William Hanson, senior spokesman of (LURD), the dissident group that is waging war against Mr. Taylor to oust him from power.
http://wwvicioussystem.htmlrgLiberia in a Vicious Political Industrial System

Liberians are being sacrificed in a kind of political industrial system in which their lives are viewed by political-ego chasers as mere raw materials consumable in the process of manufacturing and safeguarding state power. Just as in a typical economic industrial manufacturing process, where certain goods are used up as intermediate inputs to produce others, in the Liberian political manufacturing system the lives and wellbeing of human beings are treated as intermediate, disposable raw materials.
Liberia: A New Paradigm in Youth Education
Back in 1981, I jubilated at news of the scientific feat of a Liberian student studying in the U.S. at the time who won accolade for his high school science project by fusing old newspapers and termites into gasohol to yield gasoline. I must admit that I did not, and still do not, know Daniel Harris. But I jubilated at the prospect that Liberian youths have the same potentials to accomplish any feats as youths in any developed country if only given the right opportunity.
---
The Free Trade Hypocrisy

In pursuance of global economic liberalization governments of the developed capitalist countries and the major international economic institutions, such as the World Bank, the International Monetary Fund (IMF) and the World Trade Organization (WTO), have been pressuring developing countries to desist from economic intervention and allow global markets to determine their national policies.
No Excuses - Let Tiawan Saye Gongloe Go!

With rebels of his arch enemy, the Liberians United for Reconciliation and Democracy (LURD), once again on the move in their declared attempt to oust ONLY Mr. Taylor from power by force, one would think that the government in Monrovia already has its hands full. But probably not!
Rise Above Thyself

The excessive desire for Liberia's wealth is taking tolls. You don't need to go to neighboring refugee camps to see the suffering of Liberians. Just stand in the main districts in any part of Liberia and look around. You will see troubled adults, barefoot boys begging for a few coins, young girls selling their bodies, and the like. Why is there such darkness over our land?
---
LURD: Moving at the Speed of Lightning

The first part of the year was rocky for the Liberian dissidents group fighting the Mr. Taylor to oust him from power. They got themselves entangled in the Taylor's game - took claims for every gimmick Mr. Taylor designed just to make the group seem credible. It was a PR disaster of LURD.
Happy Mother's Day, Liberia

To paraphrase someone, 'a people deserve the government they get'. However, the conventional thought pattern is to blame bad governments on 'bad leaders'. In recent times, we have done our share of Taylor bashing and still do for the unfortunate and sad ride the country is taking under his brutal and uncivilized stewardship.
Are we still mischievous?
It was not too long ago when the President of Liberia, in his usual macho manner, responding to opposition and dissent, said that he was the "most mischievous" person in the country. The president seems to have never understood that there are certain basic rules that one must go by once one gets in the chair of the presidency of a nation of human beings who have their dignity and humanity to maintain at all times and above all else

Artillery, mortar sound in Liberia's capital in closest attack by rebels (Associated Press )
MONROVIA, Liberia - Mortar and artillery boomed across Liberia's capital on Monday as government troops reported themselves battling the closest assault yet by the West African nation's rebels, attacking just 25 kilometers (15 miles) away.

Liberia Leadership Crisis Committee organized
The Constitution and Laws of Liberia prohibit armed insurrection against the state. In an attempt to uphold the lawof the land, the Liberian people in cooperation with the international community, compelled Mr. Charles Taylor to submit to an electoral process.

"What African Politicians should Learn from the West"
"This poll has taken place in conditions not clear, not transparent. For the first half after the poll, it was clear that I was in the lead. I was the first, no doubt about it. Up to this moment, as you can see, I am absolutely calm, peaceful and I have appealed to my people to remain peaceful and calm," former Malian Prime Minister Ibrahim Boubacar Keita...

Leading Liberian Lawyer Barred From Leaving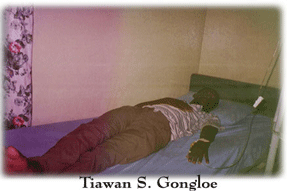 Tiawan Gongloe, one of Liberia's most prominent human rights lawyers, was barred from leaving the country and briefly rearrested on May 12, 2002. Human Rights Watch condemned the Liberian government for its continuing persecution of human rights defenders, and expressed concern about the re-arrest of Mr. Gongloe and denial of his right to travel

Gongloe Re-arrested by the Taylor Regime
According to reports reaching The Perspective, Liberian civil rights lawyer Tiawan Gongloe has been re-arrested by the Taylor regime at the Roberts International Airport while he was trying to travel to the Sierra Leone to observe the national elections in that country. Mr. Gongloe has recovered from the torture he received recently while he was in police custody.

LURD Says it "Controls Gbarnga, Takes Klay And Advances On Monrovia"
There are reports of fighting in Klay and Tubmanberg. Jonathan Paye-Layleh (AP) quoted Liberia's Defense Minister Daniel Chea as saying that both Klay and Tubmanberg were "on fire." Journalists trying to travel to the area where the fighting is taking place were not allowed by government forces to go beyond the Po River Bridge.
---
LURD Forces in Control of Taylor's Wartime Stronghold?

According to reports from Liberia, forces of Liberians United for Reconciliation and Democracy (LURD) are in control of Gbarnga, President Taylor's wartime stronghold. Students from Cuttington University College near Gbarnga have already been trucked to the Liberian capital - about 140 miles from Gbarnga, while displaced people who fled the fighting in Lofa last year are said to be on the run again. Casualty figures are not available.
"Putting Liberia First" - A Call to go Back to the Drawing Board

In the early 70s, I was privileged to have served as General Farm Manager of the WILORIA Estate of President William R. Tolbert, Jr. After little over two years of service, President Tolbert was approached by the Ministry of Agriculture requesting that I be relieved of that assignment, be returned to the Central Agricultural Research Institute in preparation for graduate studies. The President asked for my decision.
Key Liberian town under attack (BBC)

Rebel forces in Liberia are now in control of many areas of the strategically important town of Gbarnga, including the police station.
Africa does not need Foreign aid but Committed Leadership

RECENTLY a family of one of Africa's most notorious military dictators, the late General Sani Abacha reached an out of court deal with Nigerian government by accepting to pay back $1bn in hard cash out of an estimated $4bn which the deceased ruler and his cronies embezzled from state coffers during five years in power between 1993 and 98.
---
Civilians Flee Fighting in Liberia (AP)
MONROVIA, Liberia (AP) - Panicked, wounded civilians struggled Thursday to flee one of the bloodiest outbreaks of fighting of a 3-year-old insurrection in Liberia, as government forces battled what they said was a rebel attack on Gbarnga, President Charles Taylor's central stronghold.
Unity Party Refutes and Condemns Allegations

The Unity Party refutes and condemns in the strongest terms possible the erroneous Statements, Press Releases and Reports regarding events at Roberts International Airport on the arrival of Unity Party Standard Bearer, Ellen Johnson Sirleaf on Monday 6 May.
Gen. Glay's Family Members Call for President Kufuor's Intervention

The Glay family of Liberia has requested an official investigation into the assassination of their brother, Major General Alfred T. Glay, on April 25, 2002 in Ghana.
Reasoning Together to Move Beyond Our Physical And Psychological Injuries
As human beings we are often susceptible to personal physical and psychological injuries than we ever care to admit. And certainly as Liberians, we have witnessed in the last two decades alone unimaginable human sufferings, death and destruction resulting from self-inflicted physical and psychological inquires rooted in our greed for power, wealth and influence.

---
The Ongoing Pursuit of Liberty and Freedom in Liberia

I am filled with feelings of passion and frustration when it comes to the ongoing pursuit of liberty and freedom in Liberia. Once again, I am reaching out to the Liberian people through this article calling for action. It is unbelievable that after more than 150 years of independence, our own political leaders have stolen our freedom, and God only knows whether we will ever win it back as long as Charles Taylor is head of the republic.
The Need For Change In Liberia - My Observations

About three weeks ago, I was compelled to write an open letter to ECOWAS through its Secretary General, Dr M. I. Chambas, only to let that honorable body know that Liberians are unhappy about the way and manner ECOWAS handles the Liberian crisis.
East Africa's Privatisation Geniuses should turn to State Houses
TWO major developments involving Tanzania President Benjamin William Mkapa and his Ugandan counterpart Yoweri Kaguta Museveni defending privatisation of parastatals on grounds of improving management were highlighted by the media in the two countries capitals last week.

Fighting intensifies in central Liberia (Reuters)
Clashes between Liberian soldiers and rebels fighting to oust President Charles Taylor have intensified in the center of the turbulent country, military sources and rebels said Tuesday.

Gbarnga Under Siege?
Liberian dissidents fighting to remove Charles Taylor from power issued a statement yesterday in which they said that Gbarnga, Chalres Taylor's wartime stronghold, was "under sieged". The statement, which was circulated on the Internet, advised residents of Gbarnga to remain in door. It is unclear how LURD intends to transmit the message to the residents of Gbarnga since they do not have Internet access.
---
UN Slaps Taylor with Renewed Sanctions Regime

The sanctions regime imposed on Liberia on May 7, 2001 by the UN Security Council has been extended for another year. Last year, Taylor and company launched a misinformation and propaganda campaign against the UN sanctions, implying that the sanctions regime was hurting "ordinary Liberians" more than its intended target.
An Advice to Taylor's Supporters

"Absolute power corrupts absolutely." This time honored quote is being made manifest in Liberia every day. The more recent one is the arrest and brutal victimization of human rights lawyer Tiawan Gongloe and Mabutu Kromah, the brother of opposition leader Alhaji Kromah.
Barrick and Tanzania Government Muzzling Evidence On Bulyanhulu Murders

FINALLY Tanzania Government has formally charged opposition leader Augustine Lyatonga Mrema and two leading environmental lawyers, Tundu Lissu and Rugemereza Nshala of Lawyers Environmental Action Team (LEAT) on four different counts related to allegations of extrajudicial killings of artisanal miners in 1996.
LURD Welcomes Mediation Efforts

The Liberians United for Reconciliation and Democracy (LURD), which has engaged the Liberian government forces in an intermittent war in order to unseat the Taylor regime, has welcomed the mediation efforts of the Inter-Religious Council of Liberia. In a letter addressed to the President of the Inter-Religious Council, Archbishop Michael Francis, LURD wrote;
---
A Proposal for the Opposition in 2003

I would like to join the debate again, this time from another point of view. Different because it is a progression from positions held earlier, the specifics of which are now needed. Several commentators, including myself, have written about the need for the Liberian opposition to confront politics in Liberia with a unified stance.
Silencing Liberia's Voices (Washington Post)
CHARLES TAYLOR wears the title of president, but he still can't shake his warlord ways. Repression is what the Liberian ex-rebel leader knows best, especially when confronted with calls for change in the country he controls and bleeds.
The Liberian Constitution: The Biggest Joke of them All

It is mind bungling that in the late 20th century, a group of so called Liberian intellectuals could have written a document, called the Constitution of Liberia, which is binding on all Liberians today as well as future generations, so devoid of thoughtfulness, reasonableness, legal implications, and foresightedness.
Thrusting Leadership On Tiawan Saye Gongloe, Et Al
"The only guide to getting involved in political activities is that the objectives of those activities should be LAWFUL and the manner of achieving them must be LAWFUL. In this way the civil society can play a key role in the building of a just, human, and stable social order within the Mano River Basin. This is a necessary pre-condition for the attainment of peace and development within the Mano River Basin.
The Taylor Regime and ECOWAS: An Unholy Alliance
In a VOA interview on April 4, you announced the imposition of travel restrictions on the group fighting to dispose Liberia and Africa of Taylor, the worst dictator of the 21st century. You also announced ECOWAS' unequivocal support for Taylor's regime whom you described as a democratically-elected government.

Politicians, Please Listen to Me!
It was on Monday the 25th of March at about 6:00am, I was lying down flat on my back feeling uncomfortable and playing lazy, when my door was flung open and my eyes wide opened and looking towards the ceiling, when my daughter walked in my room, stood at the door for few minutes and yelled my name "papa, what are you thinking about"?

Stop the Persistent Barbaric Treatment of Peaceful Law-abiding Citizens (MDCL's Statement)
We, the officers and members of the Movement for Democratic Change in Liberia (MDCL), wish to express our utter consternation at the arrest, detention and torturing of human rights lawyer Counselor Tiawon S. Gongloe by the Liberian Government security personnel.


Liberians Deserve Peace, not Turmoil (ULAA's Statement)
When the Liberian people went to the polls five years ago following a devastating civil war in which more than 200,000 of their compatriots perished, they were ultimately opting for sustainable peace as a climax to the unprecedented devastation.


Wotorson's Belated Call for Opposition Unity
No doubt former Liberian presidential contender Cletus S. Wotorson is as frustrated, saddened, and heartbroken by the lack of unity, peace, security, stability, democracy, and meaningful economic development in his homeland as any ordinary Liberians and friends of Liberia.


Grand Gedeh Association Condemns the Assassination of General Glay
The Accra Mail, a Ghanaian newspaper, reported in its April 29, 2002 edition that Gen. Glay was assassinated by men believed to be loyal and in the pay of the Liberian Government. According to the paper, the assassins, now in police custody in Ghana, are Liberians who arrived in Ghana only a few days before the incident. They allegedly drove a vehicle with a Liberian license plate in which they lured Gen. Glay to his death.

Grand Gedeh Association condemns the Arrest and Torture of Counselor Tiawon Gongloe
The Grand Gedeh Association in the Americas, Inc. condemns, in the strongest possible term, the arrest and torture of counselor Tiawon Gongloe. We are disturbed that counselor Gonglor was tortured while in the custody of the Liberian police. We call on the Government of Liberia to immediately release Cllr. Gongloe and bring to justice those who are responsible for this barbaric act.

Detained Lawyer Released in Monrovia (allAfrica.com)
Detained Liberian lawyer Tiawan Gongloe, who was last week beaten in detention and had to be hospitalised, has been released into the custody of one of Liberia's prominent advocates for human rights, Archbishop Michael Francis.
Cllr. Gongloe Violated the Taylor Codes
Today, I read the following on "allAfrica.com, April 30, 2002," as reported by Musue N. Haddad, datelined Washington, DC: "Reacting to the public outcry over the case, President Taylor said Tiawan Gongloe could not simply be seen as a human rights lawyer. "Gongloe is not only a lawyer but also a politician who worked as a special assistant during the interim administration of Dr. Amos Sawyer,' Taylor said."

LDI Calls for the Release of Tiawan S. Gongloe and the Resignation of President Taylor
The Liberian Democracy Initiative (LDI) demands the immediate release from further detention of Liberian human rights lawyer Tiawan S. Gongloe. Mr. Gongloe must immediately be released without conditions. Liberia is a country that ought to be guarded by the constitution - not authoritative, military and police tugs. LDI strongly condemns the Taylor administration act of lawlessness, total disregard for human dignity and freedom.

Ethnic Cleansing: Taylor's Unending Quest
The assassination in Ghana of General Alfred T. Glay, former Aide-de-Camp to President Samuel K. Doe, allegedly by Taylor's thugs and the previous mysterious deaths of other Grand Gedeans in the Ivory Coast, give credence to those Liberians who strongly advocate that ethnic cleansing is at work in Liberia. The Taylor Government only progress since the 1997 general elections, it seems thus far, is the killings and murdering of Krahn tribesmen. Never before has collective guilt been implemented and put into practice in Liberian body politics.

PUL "Taken Aback by the Closure of the Analyst Newspaper"
The Press Union of Liberia (PUL) says it's taken aback by the closure of the Analyst Newspaper by the Government of Liberia outside the due process of law.

ACFLi Issues Statement on the Arrest and Detention of Tiawon Gongloe
The unlawful detention and beating of Cllr. Gongloe by the current Liberian government is again another depiction of the ugly picture of the administration of President Charles Taylor.