The Democratic Wind Of Change In Kenya: Any Lesson For Failed African Leaders And PoliticalAspirants?

History was made on Friday December 27, 2002 when Kenyans went to the polls in their millions to elect a core of leadership that according to the electorates, would deliver them from corruption, stagnant economy, mass unemployment, and appalling standard of education. That the vote of each citizen in a democracy is useful cannot be overemphasized. The politicians know that only too well. That is the reason why when the people of a particular society in Africa are given the chance to determine their leaders free of intimidation and coercion, they can most often make the right decision.
Former Warlord Alhaji Kromah
Let's Set the Record Straight: A Rejoinder to Armed Resistance as Last Resort:Mandingo Factor in the Liberian Civil War

For more than three years since I left our country Liberia, I have for good reasons refrained from picking on controversial political issues, especially when they involved those at the helm of power so as not to endanger the lives of family members and friends.
But at times, some statements become so provocative and misleading to the point that one is forced to respond in an attempt to set the records straight for the benefit of generations to come. It is for such reason that I respond to Mr. Varfley Dolleh's recent two-part series published on September 20 and on November 4, 2002 by Liberiaorbit.org, entitled: "Armed Resistance as Last Resort: Mandingo Factor in the Liberian Civil War."
---
West Africa and Terrorism

We knew all along. In the December 8, 2002 edition of Jeune Afrique/l'Intelligent, Francois Soudan wrote that French President Jacques Chirac was dismayed at the fact that the man the French government has been propping up to become the successor to Old man Houphouet Boigny as their man in the West African sub region had been lying to him all along. The entourage of President Chirac had just found out that indeed Blaise Compaore was part and parcel of the destabilization of Cote d'Ivoire. They discovered that notwithstanding his public declarations, the soldier from Burkina Faso valued the petro-dollars and cash from Blood Diamonds more than France's blessings as "a good person to do business with."
Liberian Dictator Sets the Stage for His Downfall

The human rights abusing kleptocratic Liberian ruler, Charles G. Taylor, is setting the stage for a political showdown with exile Liberian politicians in 2003. The outcome of this showdown may determine the fate of the Liberian ruler and the direction Liberia takes in 2003 and thereafter.
Report Says Africans Harbored Al Qaeda -
Terror Assets Hidden In Gem-Buying Spree
(Washington Post)

ANTWERP, Belgium -- An aggressive year-long European investigation into al Qaeda financing has found evidence that two West African governments hosted the senior terrorist operatives who oversaw a $20 million diamond-buying spree that effectively cornered the market on the region's precious stones.
Privatization And Deregulation, Or No Aid: Poor Countries Dilemma

Liberian economists, politicians and interested parties for and against privatizations (shifting the ownership of government entities to private hands) and deregulation (removing government supervision, oversight, or control) might gain from the emerging discussions on how managing agents (i.e., either agents for nonprofits or for-profits) could efficiently deliver basic services to residents in both rural areas and large cities at reasonable costs. Local leaders from developing countries recently attended a conference on Privatization in Paris, France [Ruth Nabakwe, The Perspective website] to advance the idea of de-privatization and de-regulation.
---
Factual Errors And Faulty Generalizations In Charles Sunwabe's Speech To Liberian Youths

The speech delivered by Mr. Charles Kwanulo Sunwabe on November 2, 2002 to Liberian youths in Philadelphia, which was subsequently published by
The Perspective
on December 25, represents a gross distortion of African history. I wrote this rebuttal because I was astonished by the level of factual errors and faulty generalizations in the speech. Moreover, Sunwabe's speech was directed at the most impressionable segment of the Liberian population, i.e., the youth.
---
Democratic Institutions, Traditional African Institutions, And the Role of Liberian Youth In Conflict Resolution

In 1994, Anthony Lake, former Assistant National Security Affairs Advisor to former US President William Jefferson Clinton, observed that the leading candidate to succeed US containment policy was "a strategy of enlargement of the world's community of market democracies". President Clinton re-echoed this sentiment when he stated that the strategy of democratic enlargement serves US interests because, "democracy rarely go to war with one another, and democracy promotes international peace" (Debating the Democratic Peace Theory 2001, p.75). This Clintonian foreign policy initiative was predicated on the Democratic Peace Theory.
Liberian President Frees Murderers for Christmas (Reuters)

Liberian President Charles Taylor announced on Tuesday he would free convicted murderers and all detainees awaiting trial in a Christmas gesture of goodwill. Among those to be allowed out is Taylor's brother-in-law Henry Cassell, who is serving a sentence for killing a taxi driver three years ago.
There Will Be Peace - If We Turn

During the Advent-Christmas Season of 2000, we were back home on one of our missionary journeys. We frequently visited a restaurant owned by a relative. On one occasion speaking about the deplorable condition of the economy and its impact on the season, she remarked: "Coz, business is so bad and you can't even feel the Christmas spirit. Everything is so still. The breeze is not even blowing; plastic bags and papers are not also blowing around". She continued, "Business is so bad; I have not even sold a plate of rice today. Have you seen Waterside? It isn't even crowded like it used to be. People haven't taken pay in months, and Christmas is coming. Is this how it used to be?" Our reply was a Big No!
---
The Tragic Death of "Small-Boy" Raises a Big Question for Liberia's Charles Taylor

The growing controversy swirling around the recent tragic death of Liberia's Deputy Chief of Traffic Police, Fitzgerald Vampelt popularly known as "Small-Boy" by many of his boyhood friends, has again evoked a number of questions about the Human Rights Record of President Charles Taylor of Liberia. The obvious question must be whether the President would give his son, Chuckie who is accused of wilfully slaying the Deputy Chief of Traffic, the opportunity to clear his name? Put differently, would the President allow the world to see that Liberia is still a member of the civilized community, a place where the right of the innocent is affirmed?
U.N. And U.S. Must Join French Intervention to Stabilize Strive-Torn Ivory Coast and the West African Region

The deployment of more French troops in strive-torn Ivory Coast, with orders to shoot anyone seriously violating a cease-fire in the West African country, is timely. The increased French military presence in its former colony is aimed at preventing the country from degenerating further into a war theater. France has called on the United Nations to also intervene, noting that the fighting threatened the entire region, and, therefore, justifying collective mobilization.
Civil Rights Group Calls for the Immediate Release Aloysius Toe and Other Prisoners

After more than five months of paying deaf ears to the unceasing calls of Liberians and friends of Liberia to release Journalist Hassan Bility and others, the Liberian government finally saw reason to let him go with the condition that he goes into exile. We believe that releasing Hassan was the right step in the right direction but forcing him into exile is wrong. While we may applaud the government for finally listening to the calls, especially that of the American government through its Ambassador in Monrovia, we will like to remind the government that the other prisoners, including Aloysius Toe deserve their freedom as well and as such we demand that they be released with no further delay.
Never Lose Hope

Christmas in most places is celebrated by giving gifts to friends and loved ones, as well as the less fortunate. During this festive season, giving becomes a key element in social interaction. As we give, we also receive. And the more we give the more we receive. For Christians, Christmas is an exceptionally joyous occasion. It is a time to show our appreciation for God's unmerited gift we receive daily. Also, it is a reminder that God is Love. In Him our salvation is assured. And by His grace we are saved and empowered to accomplish any and all things.
Report on the Helsinki Process Meeting - Searching for Global Partnerships

The Helsinki meeting also known as the Helsinki Process launched during 2-4th December 2002 in Helsinki by the Ministry of Foreign Affairs of Finland is aimed at beginning a process, which can identify common values as well as concrete initiatives for improving the current global governance structures. It is long term in nature, open ended in terms of participation and addresses key global governance issues. The Meetings overarching theme was Global Governance with sub-titles on...
---
Thanks Ambassador Blaney, Please Remember The Others

For those of us that have been relentless in calling on the repressive Taylor regime to either free the then jailed Liberian journalist, Hassan Bility, editor of the local Analyst newspaper, or simply take him to court, the sight of him smiling apparently after being released recently as posted on the British Broadcasting Corporation (BBC)'s website, truly brought a big sigh of relief.
Liberia Alert: Journalist flogged

Trouble Suah, reporter of the independent Inquire newspaper, was on Saturday December 14 flogged by five officers of the Presidential elite guard, the Anti-Terrorist Unit (ATU). Suah urinated blood as a result of the torture and is on admission at the St. Joseph Catholic Hospital in Monrovia.
Statement to the Contact Group on Peace in the West African Sub-region
(MDCL)

We, the members of the Movement for Democratic Change in Liberia (MDCL), have resolved that the government of Liberia is unable and unwilling to protect Liberians and others residing within our borders. The arrest, detention, torture, or brutal flogging of human rights lawyer Counselor Tiawan S. Gongloe, Journalist Hassan Bility, Dr. Amos Sawyer, former interim president of Liberia, Conmany B. Wesseh, Director, Center for Democratic Empowerment (CEDE), etc. not only show Mr. Charles Taylor's habitual violations of basic rights guaranteed the Liberian people such as freedom of expression, the right to live in peace, to congregate, to earn a livable wage, etc., but also his total lack of commitment to uphold the Constitution of the Republic of Liberia.
---
Charles Taylor's Son on the Rampage Again

Charles Taylor's notorious son is on the rampage again. According to the news reports, after he allegedly ordered the beating and subsequent killing of his driver, Isaac Gono, less than three months ago, he is now said to be involved in another killing. On Monday, December 16, 2002, one Fitzgerald Vimplet (Assistant Traffic Director) became the latest victim of Chuckie. Mr. Vimplet was a member of the Liberia national Police and part of the "advance team" which made sure that the Monrovia-Robertsfield Highway was safe for President Taylor's trip to Togo on Monday.
William Mark Bellamy
America Has a Moral Duty to Help Liberia

Does the United States bear any moral responsibility towards Liberia? Put another way, does the U.S. have a moral duty to help Liberia against her enemies, external or internal? Does the United States have a moral role to play in bringing peace and stability to Liberia? It is my firm belief that the answer to all of the questions posed above is "yes" - a frantic and unequivocal "yes". Yet there are those, both inside and outside of the government as well as other circles of influence here in the U.S. who make bold statements to the contrary. It is the intent of this article to make this case: The United States of America does have a compelling moral duty toward Liberia.
African Community Center in Works is History-making
(Detroit News)
History soon will be made at a former Detroit supermarket.
The corner of Puritan and Littlefield is the new home of the African Heritage Center, the first U.S. building of its size owned by an African community group, said the owners, the Liberian Association of Michigan.
Sierra Leone's Truth and Reconciliation Commission

Freetown/Brussels, 20 December 2002: Freetown/Brussels, 20 December 2002: Sierra Leone's Truth and Reconciliation Commission (TRC) is a vital part of the strategy for making the country's still fragile peace permanent. It must start serious work, however, if it is to avoid losing the confidence of civil society and international donors.
---
Liberia: The World's Worst Country in 2003

The annual world survey by the London based Economist Magazine, The World in 2003 has predicted that Liberia would be "the world's worst place to live in 2003". According to the Economist's Intelligence Unit survey, even "by African standards", Liberia is "set to get worse".
Secretive Deloitte Audit in Liberia Raises Allegations of Irresponsible Corporate Behaviour and Conflict of Interest (Global Witness)

A secretive agreement signed between the government of Liberia and the auditing firm Deloitte & Touche (i) is drawing criticism from Global Witness and other international organisations. Global Witness, the International Transport Workers' Federation (ITF), and the UN Panel of Experts on Liberia are critical of the murky nature of the new agreement, whose draft terms of reference state that all information, including notes and final assessments, are the sole property of the government of Liberia and cannot be shared without direct approval (ii). Such behaviour raises concerns that this is an attempt by the government of Liberia to use the reputation of Deloitte and Touche as a cover for continued illicit activities
---
There is a Limit to God's patience

On Sunday, December 15, 2002, His Excellency, Dr. Dahkpannah Charles Ghankay Taylor had a prayer session at the Executive Mansion. As mandated by the president, all cabinet ministers who wish to keep their portfolios had to be in attendance. His cousin, Mr. Jonathan Taylor, who is also Presidential Affairs Minister was the officiating clergy.
Friends of Brumskine Condemn the Arrest of some of Byron Brown, George Gayebueh in Bassa

The Friends of Brumskine are again constrained to deplore, deprecate and condemn the unprecedented arrest of some of its members in Grand Bassa County-Messrs. Byron Brown, local chairman, and George Gayebueh.Reports from Friends of Brumskine in Buchanan indicate that the men were arrested by a truck load of ATU men, on claims of Cllr. Brumskine's alleged support for the LURD rebels.
Model Responds to ECOM's Allegation Of Usurpation

We also acknowledge assertions made in said letter about what you called our "pre-elections activities regarding the 2003 elections without the knowledge, consent and approval of your Commission" and branding our operations as "unlawful, illegitimate and a usurpation of the Commission's function" which you also stated "require clarification to the Commission as the clandestine nature of such activities with no notice to the Commission could undermine the Commission's efforts in holding free, fair, open and transparent and credible elections."
Liberian Studies Association Calls for Articles

The relationship between Liberian culture and the development of the Liberian state was an often-repeated issue in many discussions at the 34th Annual Meeting of the Liberian Studies Association last spring in Philadelphia. There was the feeling among many speakers, and perhaps rightly so, that this relationship should be revisited because earlier studies were deemed inadequate in comprehending the antecedent and proximate causes of the Liberian civil war and the new imperatives in preparing for peace and building a Liberian nation-state, which might have been an "imagined community."
LUP - Bassa Decries the "Intimidating Posture Adopted" by the Taylor Regime

On Wednesday December 11, 2002 a convoy of heavily armed ATU personnel, acting in concert with the police SOD, stormed and ransacked the home of Mr. J. Byron Brown, Jr. acting chairman of the Grand Bassa County branch of the Liberia Unification Party (LUP), also arrested were Messrs. George Gayebueh and Aaron Pailey, husband of Mrs. Estella Kilby Pailey all of whom are accused of being supporters of Cllr. Charles Brumskine.
---
Local Chair of a Liberian Opposition Party Detained

On yesterday afternoon one of our Partisans rushed from Buchanan to our Headquarters to report to us about the arrest and detention of our Grand Bassa County Chairman, Mr. Byron Browne, along with one George Gaybueh of the New Deal Movement, and another compatriot named Aaron Paylay.
Liberia threatens region's stability ( News24)

New York - The Security Council expressed concern Friday about the civil conflict in the west African nation of Liberia, saying it was causing great humanitarian suffering and threatening stability in the region.
---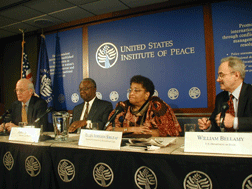 (L-R): Chester Crocker, Amos Sawyer, Ellen Johnson Sirleaf and Mark Bellamy
Liberia: Eye of the Hurricane

Like the 1997 elections, the 2003 elections in Liberia in which Charles Taylor will serve as either a "candidate or the presiding authority" will be another false start, says Dr. Sawyer. He noted that Mr. Taylor would not help in creating the enabling environment needed for free and fair elections in 2003. The Former Interim President of Liberia (1990 - 1994) was speaking at the Forum entitled "Liberia - Eye of the Hurricane" hosted by the United States Institute of Peace.
French NGOs Launch Urgent Appeal to Prevent the Worst in Cote d'Ivoire

Worried by what they described as an escalation of xenophobic propaganda in Cote d'Ivoire several leading French NGOs rallied together Thursday to launch an urgent appeal to the international community to dissuade the protagonists against acts that could lead to full scale war.
---
Liberia 2003, Elections Makers and Taylor's Indictment

Last week, a friend who has worked for the US government, Congress and now is in "private practice" called me out of the blue and asked if I had time for lunch. We met at a downtown restaurant and exchanged ideas about the current political events on the continent, from Cote d'Ivoire to Kenya, we agreed on most things. Then when coffee was served, my interlocutor came to the real issue that had prompted the invitation. My friend is now a consultant for one of the lobbying firms in Washington, DC, and specializes in Africa.
IRAQ: No to America's War

The FIDH has long denounced the crimes against humanity committed by Saddam Hussein and his regime, who have inflicted appalling suffering on the populations of Iraq. The FIDH supports their aspiration to break free of such a repressive regime. But under no circumstances would the upcoming American war effectively fulfil these aspirations
---
Integration of Immigrants Expected to Take Centre Stage in French Policy

A member of the French High Counsel on Integration Khalid Hamdani has hinted that the issue of integration of immigrants in French society was expected to be determinant for the future of France judging by serious reflections on the matter currently underway in the French political class.
Sensationalization of headlines is not the Way to go

And as we seek ways to restore peace to our country, many thoughtful Liberians are now saying, "Never again!" Never again must we as a nation allow the evil of "collective guilt." But sensational headlines such as the one in question, and many articles that appear daily on some Liberian-owned web sites, give one reason to think again. We cannot say "Never again" with any real hope of success when we continue to think, write and speak in such a way as to fuel the fire of "collective guilt." We continue to affirm that in Liberia a John Doe is never just a John Doe, but John Doe, a Krahn, Gio, or Americo-Liberian.
---
Liberia and Biblical Oracles:The Devastation of the Locusts (Part Two)

After twenty-seven years of the Tubman presidency during which time Tolbert himself was vice president for nineteen years, his day finally arrived - William Richard Tolbert became the new sheriff in town. He left no stones unturned in signaling that a new day had arrived and he made a new set of promises to the Liberian people and nation. By his speech, mannerisms and leadership style, indeed he was a new man!
Remove President Taylor from Office to Achieve Peace in West Africa

President Charles Taylor on numerous occasions told the Liberian people and the international community that he was not involved in the destabilization of Sierra Leone either through his proxy, the RUF (Revolutionary United Front) thugs or through his NPFL (National Patriotic Forces of Liberia) rebel army. However, in the November 12, 2002, edition of the Washington Post, the Liberian government reportedly paid $310,968 for an advertisement in which President Taylor admitted his involvement in the destabilization of Sierra Leone out of [Mr. Taylor] "national security concerns".
---
Human Rights Defenders Call for the Unconditional Release of AloysiusToe, Hassan Billity et al

We are writing further to Amnesty International's earlier letter indicating an interest in meeting with you to discuss a number of human rights concerns in Africa and Latin America. At the time Amnesty International highlighted Colombia and the Democratic Republic of Congo. Through this letter we are asking that any such meeting also include an opportunity to discuss Liberia. You may already be aware of the plight of the citizens of Liberia. Over the last four years, fighting between the Liberian security forces and the armed opposition Liberians United for Reconciliation and Democracy (LURD) has led to grave human rights violations committed by both sides against civilians - including summary executions, arbitrary arrest and detention, sexual and gender-based violence and rape and abduction and recruitment of child soldiers.
New Deal Movement Chronicles Harassment Against Its Members

We have invited you here today for us to address ourselves to a number of issues, which, we think, are very critical to our continuous and peaceful cohabitation and survival as a people. We should therefore extend our heartfelt and sincere thanks and appreciation to you for honoring out invitation to attend this all-important press conference.
---
Lessons From Ivory Coast's Descend Into Anarchy

Reports from the Ivory Coast indicate that the West African country, until recently regarded as the most peaceful and prosperous in the region, is rapidly descending into anarchy reminiscent of the civil wars in neighboring Liberia and Sierra Leone.
With proliferating armed factions and rapid breakdown of law and order, Ivory Coast's unfolding disintegration reflects the wisdom in an old saying that was recently echoed by Togolese President Gnassaygbe Eyadema that when your neighbor's house is on fire, it is wise to help quench the fire.
Swearing in of Judges of Sierra Leone Special War Crimes Court

CREDO for Freedom of Expression and Associated Rights welcomes the long delayed swearing in of the Judges of the Special War Crimes Court on Sierra Leone. CREDO is however very concerned at the waning enthusiasm of the international community and donor countries for the Truth and Reconciliation process in Sierra Leone.
International Federation for Human Rights' Open Letter to the Presidents Tanzania and Zanzibar

5th December 2002 - The International Federation for Human Rights (FIDH), and its members, the Legal and Human Rights Center (LHRC) are glad that the report of the independent Commission on Inquiry's report into the violations of 26-27 January 2001 was made public on 25th November 2002. We believe that the recognition of truth is important for the reconciliation process between CCM and CUF as well as the observance of human rights in Zanzibar.
---
Where Are We Heading?

I have heard lots of criticism regarding the pariah regime in our beloved country and I do agree with them. But none of the critics have come forward with a strategy that will spare the masses from touching the bottom of calamity. Many seem to favor the military options. I have pondered over what other solutions can help avoid arms confrontations to spare the common Liberians from being the belligerents' punching ball. I turned the question around for million times. But there is no easy and painless solution. However, there is one that is harder, but much painless than the present solution (arms).
What Does Koiboi Johnson Want?

L. Koiboi Johnson, Justice Minister of Liberia and a brother-in-law of Mr. Charles Taylor has called on the Catholic Justice and Peace Commission, the United States government, and local Human Rights organizations to condemn what he called LURD's act of cruelty meted out against the people of Liberia. Johnson's call came against the backdrop of a TV documentary shown nearly every night over the past three nights depicting child soldiers with knives in their hands threatening to eat the heart of a captured prisoner.
Nigeria: CREDO Welcomes "Registration of political Parties" With Caution

CREDO for Freedom of Expression of and Associated rights welcomes with caution, the "registration" of 22 political parties in Nigeria. CREDO acknowledges that while the "registration" is an improvement on the past, it does not on its own mean that the political process in Nigeria has been democratised.
How to Con Greedy Investors (AllAfrica)

In the second instalment of the Centre for Public Integrity's International Consortium of Investigative Journalists' global research series co-ordinated by PHILIP VAN NIEKERK, former editor of the Mail & Guardian of Johannesburg, we look into the operations of an international criminal purporting to deal in genuine mining ventures, with the collaboration of African heads of states and warlords Niko Shefer leaned forward and explained the competitive advantage small entrepreneurs enjoy over corporate multinationals when doing business in war-ravaged countries like Liberia and the Democratic Republic of Congo. "I move with cash. I can buy the president a Mercedes 600. How can a normal company justify that?
---
The End Of The Rope

It is hard to believe that Liberia is just a few months away from national elections. It could even sound like a dream when one looks at the conditions on the grounds. But to some, the elections are already won by the NPP. A few months ago, I reached the same conclusions, after reviewing what Taylor has been up to and how, using his tactics of fear, corruption and immorality, he would keep anyone from getting near the Executive Mansion.
---
Liberia Is Too Important To Be Abandoned To The Forces Of Destruction

Recently Charles Kwanulo Sunwabe, Jr., a no-nonsense, talented writer and astute political analyst of contemporary Liberian issues, received a threatening phone call from someone who identified himself as a General Dehmie.
French Association Welcomes Proposed Law on Mercenaries

The President of the French Association "Survie" which monitors Franco-Africa Policy Francois Xavier Verschave Wednesday welcomed the French government's decision to have Parliament pass a vote to reprimand mercenaries.Verschave was reacting to a report in a French Daily Newspaper "La Croix" published on November 13 which stated that the French foreign ministry "le Quai D'Orsay," had confirmed that the Centre Right government of President Jacques Chirac envisaged having the French National assembly vote on a Law on mercenaries.